At a Glance:
Price:
RM30 (approx. US$3.031)
Weight:
0.28g / 0.01Oz.
Made in:
USA
Likes:
Rich color, stays on well if set with powder, affordable, easily available
Gripes:
Makes my eyes feel rather uncomfortable when wearing, harder than usual formula, flakes, smudges in hot weather
You would like it if:
You would like a cheap auto eyeliner that works! :)
Repurchase:
No
Product Description:
NA
Ingredients:
Color & Pigmentation:
Pictured here next to my (near) Holy Grail Photogravure Technakohl from MAC
This eyeliner is a very rich dark brown, even darker than the
MAC Photogravure Technakohl
(which is my favourite!)! :) It is very pigmented as well - the swatch above is achieved with two swipes! :)
I find that I have to be quite precise with my application when using this, because it doesn't budge after it goes on! :P
Texture & Scent:
This eyeliner has a harder than usual formula, which I don't like because it tugs at my lids. It feels a little waxy on too!
This doesn't really have a scent to it.
Packaging:
Brand new in shrink-wrap! :D
This eyeliner comes in a typical pen-like plastic body with a twist-up mechanism and pull-off cap. It also comes with a sharpener at the other end:
I didn't find a use for it though - I just turn it from side to side when applying to keep it sharp and precise. I find that using a sharpener wastes product :P
Just alternate sides when you're using to keep it sharp! :D
You get about 1.5" of product per eyeliner: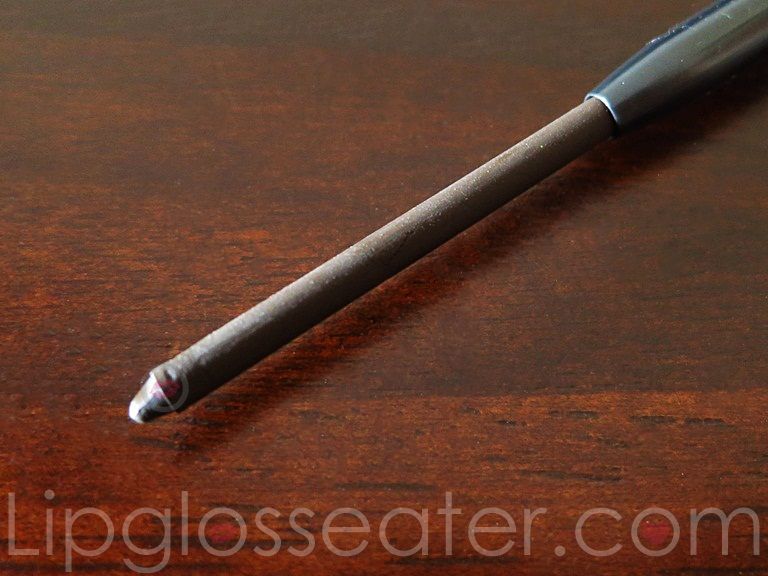 Time Test:
This eyeliner lasts an entire day on my lids if I set it with powder and stay in an air-conditioned environment. Sadly, this one doesn't really hold up in humid weather - it will start to smudge within 3 hours or so.
Price & Availability:
This eyeliner costs RM30 (approx. US$3.03) and is available at all Revlon displayers at Watsons, Guardian and Caring Pharmacies.
My $0.02:
Lol it's about time I catch up on all my reviews... this post has been in the making since 2012!! :O
I ran out of my beloved
MAC Photogravure Technakohl
, and thought I could save money and try this drugstore version out instead! :) Afterall, this is half the price of the Technakohl, so I reckon it is worth the gamble! Haha!! :D
So how did I find this drugstore product? Read on to find out! :)
What I like the most about this eyeliner is its rich, pigmented color! It's a super dark brown that is very flattering on my skin! :) It also works beautifully when I set it with powder and remain in a cool environment for the entire duration.
However, once I switch off the air-conditioner or step out into the bad, humid world (lol so drama), this smudges within 3 hours! >.< Here's a bunch of pics for you to compare and judge for yourself (left is freshly applied, the right is 8 hours later - I'll have to be fair and say that this is tested on a super HOT 35C day, with no base or setting powder):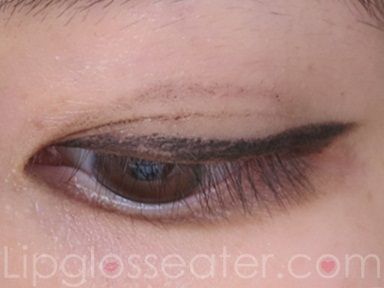 As you can see, it looks fine when I open my eyes, but when I close them, you can see that it has actually smudges all over my crease! Haha! :P
Just in case you're wondering how this compares to my favourite
MAC Photogravure Technakohl
, read on to find out! :D
The most obvious difference between the two, is of course, their price difference! The Technakohl is RM68, which is double the price of this eyeliner (RM30).
Color-wise, both are pretty pigmented, with this eyeliner being a shade darker than the MAC one, which I really like:
Texture-wise, this one is alot harder and less creamy than the MAC one, so I find that it tugs on my lids a bit when I use it. It also sets quickly and doesn't budge easily after that, making cleaning up mistakes harder than usual (you'll need to use makeup remover, sadly!).
Finally, I'm sure the most important point is how they compare in terms of staying power right? :D Here're a bunch of pics for you to see for yourself (left is the MAC, right is Revlon. The top one is freshly applied, the bottom picture, 8 hours later. Once again, this is done on a super hot and humid day with no base or setting powder):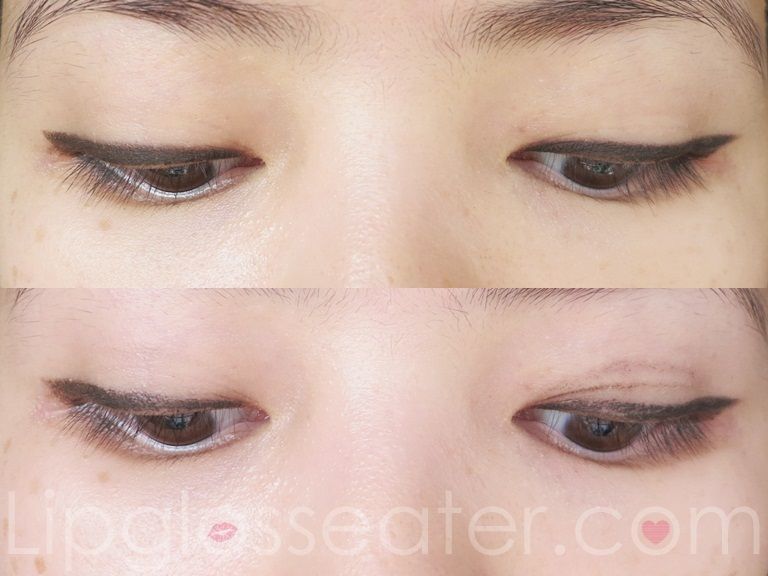 As you can see, the Technakohl held up alot better than this eyeliner, although both look pretty ok with my eyes open. I'll have to be fair and say that they're both pretty comparable in terms of staying power if I use them together with a base and setting powder, and stay away from the outdoors! At half the price, this is actually a decent drugstore option to try! :D
Still, I will NOT repurchase this one. For some reason my eyes would feel quite uncomfortable with this on, and i always end up with red eyes:
The left side was tested with the MAC Photogravure Technakohl, and the right side, with this eyeliner. See how it made my right eye really red?
This is definitely a deal-breaker for me. This aside, it is actually quite a decent drugstore eyeliner that I wouldn't mind repurchasing if not for the fact that it hurts my eyes, which is a shame!
Have you tried this eyeliner before? Do you like it? :D
This product was purchased by yours truly and opinions, as usual, are 100% my own. If you enjoyed reading and wish to help support this site, kindly consider purchasing from the affiliate links below. You'll get your product, and I'll earn a small commission which will go towards supporting the maintenance of this site - we both win! :) If you have any further questions regarding my posting policies kindly refer to my disclaimer for the nitty gritty on postings or drop me an email.