At a Glance:
Price:
RM32.90 (approx. US$10)
Amount:
30ml
Made in:
Indonesia
Likes:
Long lasting UV protection, broad spectrum and high SPF protection, affordable, easily available
Gripes:
Leaves my face looking shiny, non-existent coverage.
Repurchase:
YES!! :D
Availability: Watsons, Guardian, Caring, L'Oreal displayers at your local supermarket :D
Product Description:
Every day, your skin faces multiple aggressions such as UV rays and atmospherical pollution - that trigger the creation of free radicals, responsible for attacking cells and breaking elastin and collagen fibers. The result is a deep alteration of skin and cells functions.

L'Oreal Skincare Laboratories create UV Perfect - enriched with a powerful Anti-Oxidant Complex - for an inside/out protection against brown spots, skin darkening and premature aging.
Ingredients:
Usage:
UV PERFECT can be used at the end of your skincare routine, as a daily moisturizing makeup-base.
Pigmentation and Color: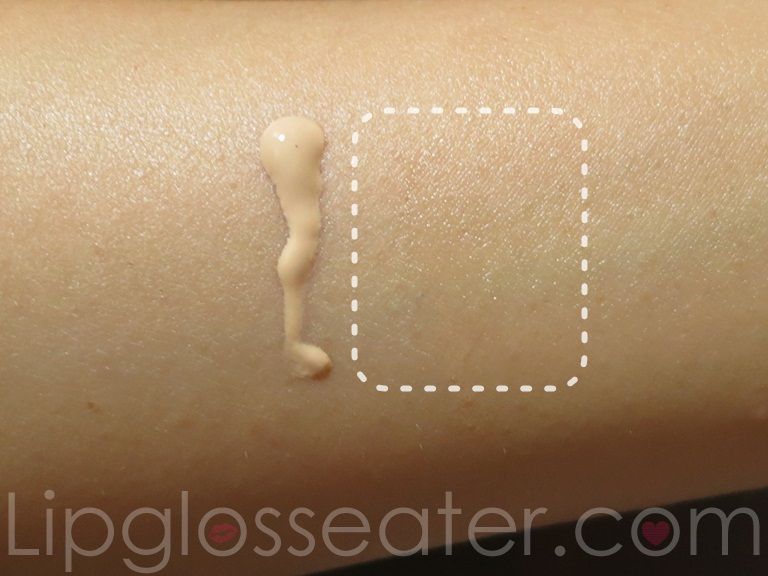 This sunblock is a light beige color fresh out of the tube, however, it goes on virtually colorless on the skin! :) Like its
predecessor the Advanced Fluid Protector
, I find that it leaves my face looking shiny. It's nothing a good dab of power can't fix though, so I can overlook this flaw! :D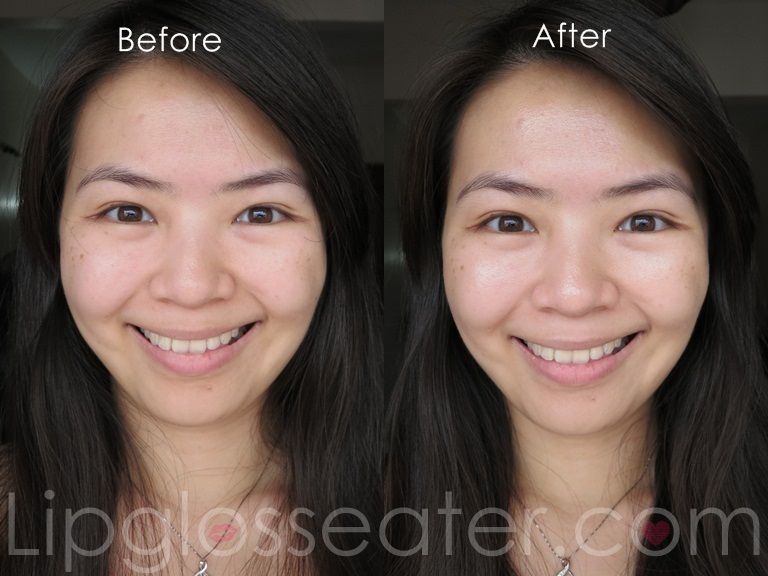 Before and after - see how shiny my face is?
Texture and Scent:
This sunblock is rather fluid, so it spreads easily unto my face. I find that it is less oily than the
previous version
, which I much preferred! :)
Packaging:
This sunblock comes in a plastic tube with a twist off cap. I super heart the small dispensing tip because I can control precisely how much product I want to use:
Also love how the manufacturing date is printed on the tube itself so I know how old this product is:
This is the box it came in: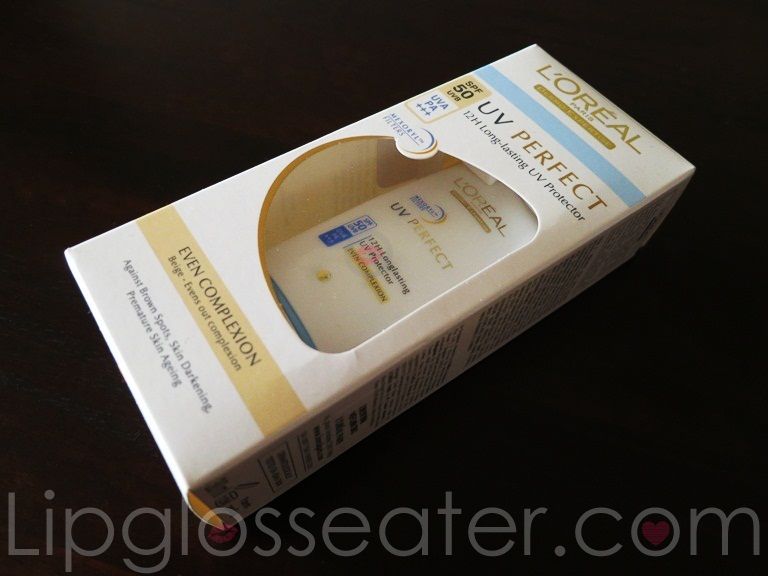 Time Test:
This product claims to protect the skin against UV rays for 12 hours! I haven't really tested it out for that long, but I do feel sufficiently protected for at least 10 hours! :)
Price & Availability:
The sunblock retails for RM32.90 (approx. US$10) each and is available at Watsons, Guardian, Caring and some supermarkets! :D
My $0.02:
Remember in my
Lancome UV Expert Review
where I compared it to the old
Loreal Advanced Fluid Protector
? I mentioned that the Lancome one lasts twice the amount of time the Loreal one did. The L'Óreal gods must be listening because not too long after, now we mere-mortals have the 12-hour protection drugstore version to enjoy too! :D *squeals and hops around the room in joy*
I have been using the UV Perfect range for almost 8 years now, and I'm happy to declare it my Holy Grail drugstore sunblock still! :D It's SPF50 PA+++, affordable, and easily available. And now even better with a 12-hour long protection to boot! Oh the joy!! :D
The only thing I don't like about this product is its tendency to leave a shiny film on my face. But it's nothing a dab of powder can't fix, so I can definitely overlook this! Also, this doesn't offer any coverage on the skin, so I find the term "even complexion" abit redundant la. For some strange reason, the Transparent Skin (clear) version is not available here... perhaps I should pick that one up the next time I'm in Thailand :)
In a nutshell, me LOVES this product to bits, and will definitely repurchase. However, as with all itchy backsides, I'm already onto another product - it's BB Max sister:
It's quite promising for now... I'll let you know once I've formed my opinion, so stay tuned! :D
Have you tried this sunblock before? Do you like it? :)
This product was purchased by yours truly and opinions, as usual, are 100% my own. If you enjoyed reading and wish to help support this site, kindly consider purchasing from the affiliate links below. You'll get your product, and I'll earn a small commission which will go towards supporting the maintenance of this site - we both win! :) If you have any further questions regarding my posting policies kindly refer to my disclaimer for the nitty gritty on postings or drop me an email.