At a Glance:
Price:
RM220 (approx. US$66.67)
Weight:
50ml / 1.7 Fl. Oz.
Made in:
USA
Likes:
Brightens complexion really well!
Gripes:
Not moisturizing enough for my combi-dry skin, thick / hard to spread texture.
You would like it if:
You already have amazing skin, and are looking for a good brightening cream.
Repurchase:
Most likely not
Availability:
All Estee Launder counters.
Product Description:
INFUSE. Replenish and restore your skin overnight, and wake up to the look of radiant health. This emollient creme, rich in nutrients, works all night long to restore skin's balance and deliver deep down hydration with pure Pomegranate Extract plus essential minerals. Helps skin reactivate its own natural defenses that may have been impared by the stresses of the day.

Can also be applied generously as an overnight mask whenever skin needs a surge of intense nourishment.

Created exclusively for and tested on Asian skin. Dermatologist-tested. Non-acnegenic.
Ingredients:
Texture and Scent:
This night cream is much thicker than your usual moisturizer - I find that it takes abit of warming up before it spreads easily unto your skin. It sinks in if I apply a thin layer, but it leaves a film on my skin if I apply a thicker layer whenever I used it as an overnight treatment.
This has a sweetish floral scent that dissipates quickly.
Packaging:
This comes in a plastic tub with a screw off cap. Love that there's another seal inside to keep the cream fresh:
Open sesame - this is how much cream you get with every tub:
As with all creams in a tub, I have a love-hate relationship with this kind of containers. On one hand, I can use up every morsel of product in the container. However, on the other hand, creams in a tub tend to spoil faster due to the added exposure. To keep contamination to the minimum, do scoop out product with a spatula (which is not included with this product).
This is the box this product came in: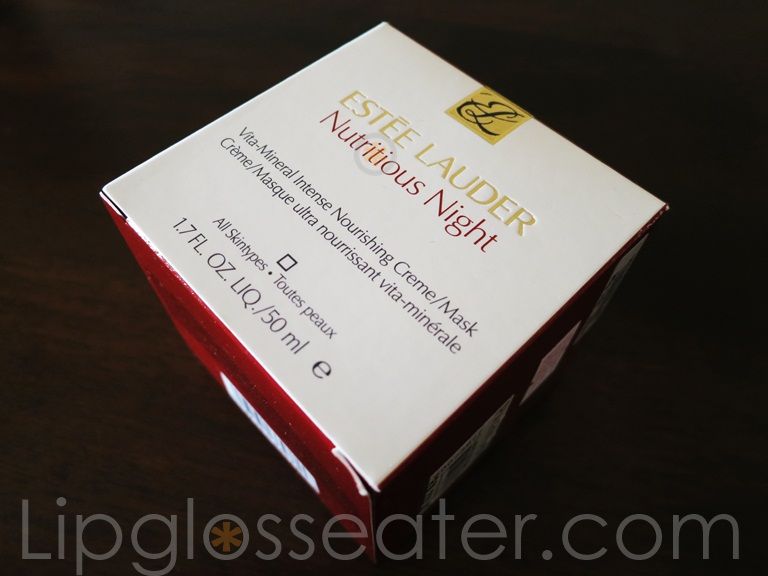 Price & Availability:
This is priced at RM220 and is available at all Estee Lauder counters! :)
My $0.02:
I was given a generous sample of the day cream version when I bought my
Advanced Night Repair
from the counter. I ADORE the day cream to bits, so I thought I'd give this one a try too! :)
At the beginning (especially the first two weeks), I loved this night cream to death! It made my skin look so RADIANT! Remember in my
skincare post
I mentioned that I'm on a quest to attain super bright skin? For a month or so, I actually thought this is it! :D
Alas, all good things must come to an end. After a month or so, I realised that this product does not brighten as well anymore. Also, my skin looked (and felt) dry. It was then that I realised that it has been about two weeks since I last ran out of my beloved
Advanced Night Repair
- it was the ANR that kept my skin hydrated and healthy so this cream and do it's magic! :(
I personally prefer to use this as a bi-weekly brightening treatment instead of a night cream because of its thicker than usual texture. I use quite abit of product on my face every night, and it can get quite overwhelming with this cream. LOL. When used this way, it makes my skin radiant and glowy the next day without compromising on hydration (as I use another moisturizer).
In a nutshell, methinks that this works best as a brightening mask / treatment instead of a night cream, because it is not moisturizing enough on its own for my combi-dry skin. It is, however, DIVINE when used with the
Advanced Night Repair
. That'being said, I'm still on the fence whether I will repurchase this product or not because of the aforementioned dilemma. Lol. For now, I'm happy to explore and try other products. But who knows, I may just repurchase this again next time when I'm missing my super glowy skin! :D
Have you tried anything from the Nutritious range before?
This product was purchased by yours truly and opinions, as usual, are 100% my own. If you enjoyed reading and wish to help support this site, kindly consider purchasing from the affiliate links below. You'll get your product, and I'll earn a small commission which will go towards supporting the maintenance of this site - we both win! :) If you have any further questions kindly refer to my disclaimer for the nitty gritty on postings or drop me an email.