At a Glance:
Price:
RM195 / US$52
Weight:
30ml / 1 Fl. Oz.
Made in:
France
Likes:
Really works to reduce the appearance of pores and redness, makes skin appear super glowy! :)
Gripes:
Expensive, tricky to use - balls up if rubbed, strong fragrance
Repurchase:
Most probably not
Product Description:
The skin-perfecting Sublime Serum visibly leaves skin looking and feeling flawless.

Ideal for all skin type or tone, The Subline Essence, with its fresh, sheer texture, helps to correct skin irregularities and reduce redness. The skin's texture is visibly refined; pores immediately appear tighter. Moisturised and plumped, skin looks velvety soft. The complexion is more even and more radiant.

This perfecting serum is made with organic extracts from two angelic flowers: white iris and angelica. A symbol of pure beauty, the velvety and luminous white iris offers its powers of sublimation. Known for its incredible hydrating properties, angelica gives the skin vitality.

Our patented, silicone-free formula leaves skin looking and feeling sublime. 
Ingredients:
Texture and Scent: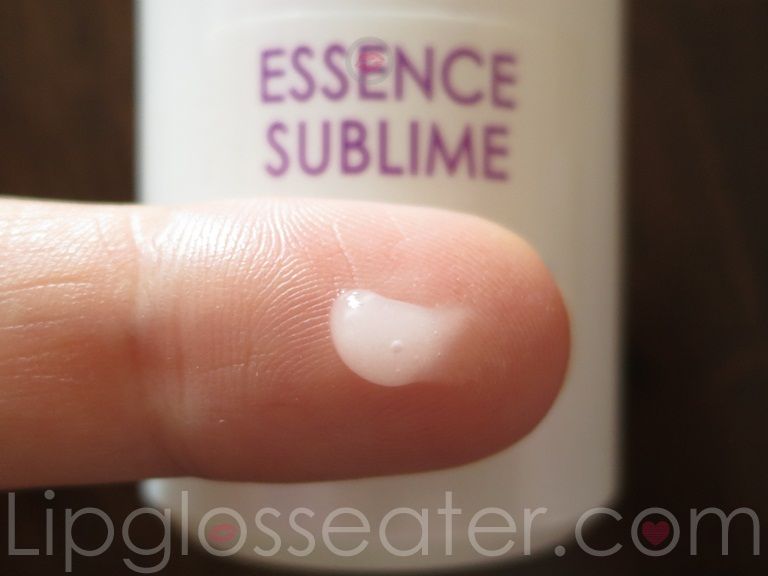 I'm really intrigued by this product - this feels just like your typical silicone-based primer so I'm really surprised that it does not contain any silicones! :D This dries quickly to form a smooth layer on the skin. However, I find that this balls up if I exert too much force when applying any other products after this! :(
This has a lovely floral scent that can be overpowering sometimes, especially if you use this together with the
BB cream
!
Packaging:
This comes in a sturdy plastic bottle with a pump. I wished that the bottle was opaque though, so that I can see how much product there is left.
This also comes in a box, but I do not have a picture of it because the one I got is a press sample.
Price & Availability:
This is priced at RM195 and is available at all L'Occitane outlets! :)
My $0.02:
Once again, a quick shout-out to the L'Occitane team for providing this product for me to try out!! THANK YOU SO MUCH!! :D
Although this product is labelled as an essence, I will personally recommend using it as a primer before your makeup due to it containing mica (glitters) and titanium dioxide (reflective pigments). It does, however, contain quite a fair bit of excellent ingredients, such as salicylic and hyaluronic acids and Vitamin E, along with the main ingredients from this line of product Iris (promotes skin renewal) and Angelica (for intense hydration) extracts :)
This product does live up to its claims for me. It effectively reduces the appearance of enlarged pores as well as redness! :)
Here's a comparison of how effective it is: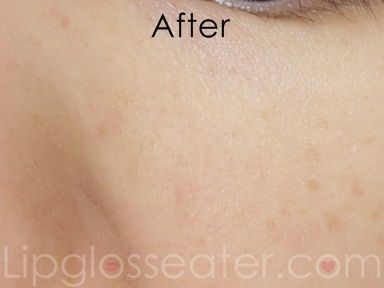 As you can see, it really does diminish the appearance of the enlarged pores around my nose and made my skin look more refined! It also toned down the redness too! <3 p="">
On the flipside, I find that this balls up if I do not use the gentlest of strokes when layering another product on top of this - it's not a very pretty sight! However, I've since found out that applying foundation over this with a stippling motion works best for me, so it's not so much of an issue for me anymore! :) I'm also not particularly crazy about the strong floral scent, especially when layered with the
BB cream
!
To be perfectly honest, it is not something that I'll personally repurchase for now - not because this is a lousy product (it is quite good, in fact), but simply because I do not currently include a primer in my makeup routine! :) One day when I have decided that I need to include primers in my makeup routine I'll definitely revisit this! :)
Have you tried this product before? What is your favourite primer? :)
This product was provided for consideration. Opinions, as usual, are 100% my own. Kindly purchase at your own discretion. For the nitty gritty on product sponsored reviews kindly refer to my disclaimer or drop me an email if you need any further clarifications :)
3>