Product Description (Taken from Maybelline.com):
Explosive Volume in Rocket Time!
8X Bigger. Smoother. Even.

Now, the most explosive, beautiful lashes ever! Volum' Express The Rocket Mascara's patented Supersonic Brush with micro bristles loads on big, sleek volume instantly.

Our fast-glide formula keeps lashes smooth.

Zero clumps!
Ingredients:

Color & Pigmentation:
This mascara comes only in Black. If I were to nitpick, this one is less black than the blackest mascara I've tried, but it's still pretty black! Haha! :)
Texture & Scent:
This mascara goes on smoothly at first, but it clumps like crazy beyond the first coat, which is quite disappointing. It is quite comfortable to wear though - I love how it doesn't give that "crunchy" feeling some mascaras give! :P
Love how this one doesn't have a strong chemical scent too! :)
Packaging: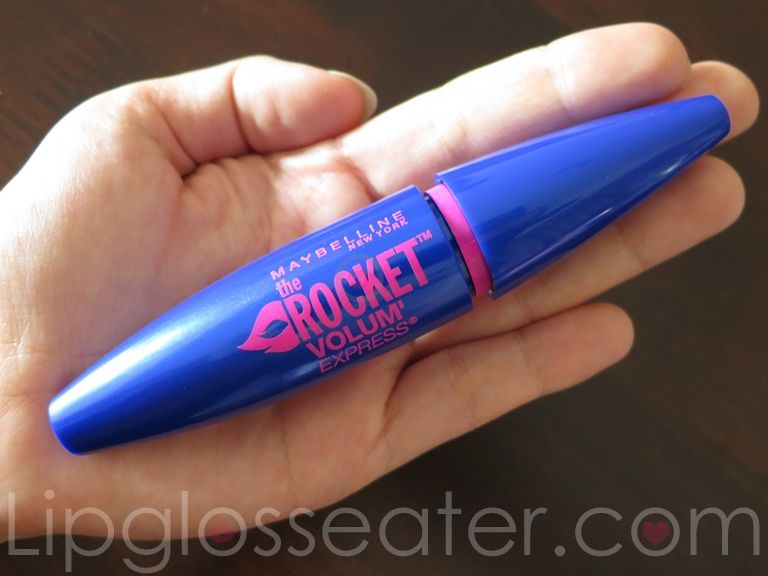 This mascara is slightly longer than the usual Volum' Express mascaras. Notice that the ones sold in US comes with a separate cap, but the ones sold here comes with the mascara wand already tucked in the tube!
Love how the manufacturing date is embossed on the tube itself instead of just printed on the shrink wrap: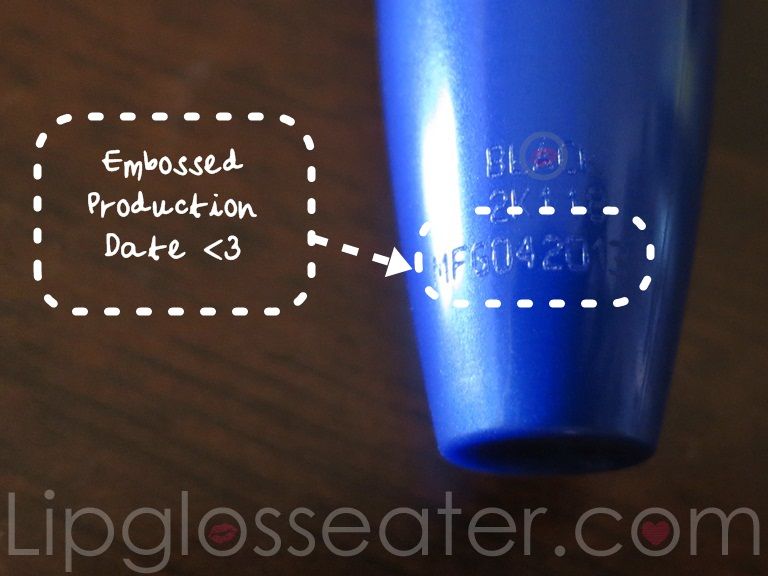 The applicator looks just like an
Easter Lily Cactus
. Be very careful when you apply this mascara though, it REALLY HURTS if you accidentally poked your eyeball with the wand (like I did! @.@):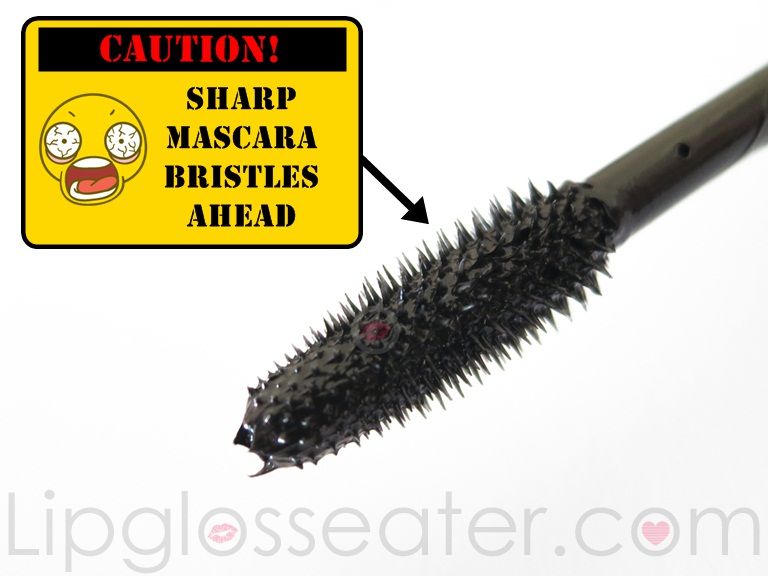 Time Test:
This mascara lasts the entire day on my lashes. Love how it doesn't smudge despite being non-waterproof! :)
Price & Availability:
This mascara costs RM39.90 and is available at all Maybelline displayers in your local pharmacies (such as Watsons, Guardian, Caring, etc) and supermarket :)
My $0.02:
This is the 4th Volum' Express mascara I've tried from Maybelline! :D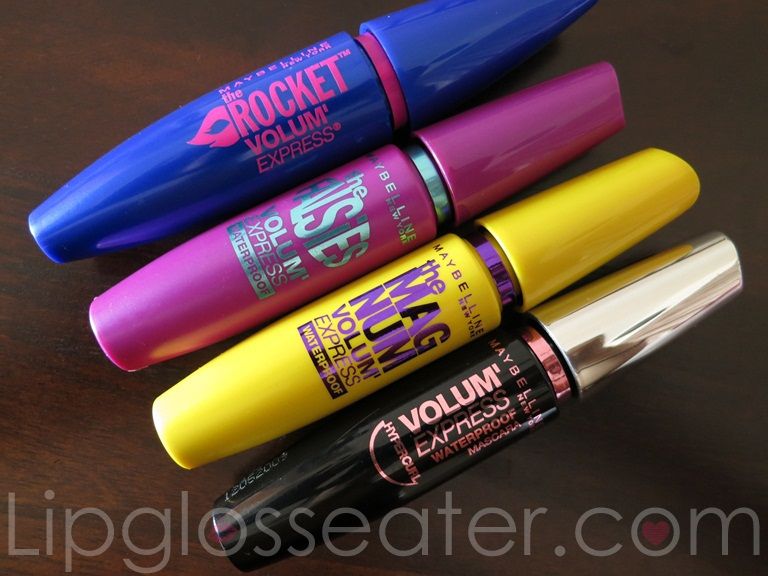 From the top: the ROCKET, the FALSIES, the MAGNUM and the Hypercurl
For some strange reason, this mascara wasn't as hyped up locally as the other previous Volum' Express launches. I didn't even know such a mascara exists until I saw the displayer at my local Watsons! Hehe! :D
My
FALSIES
tube is getting pretty clumpy now. Since I kinda liked that one, I thought I'd replace it with this new one! Being Volum' Express Sisters, they can't be
THAT
different right?
Wrong.
Other than the fact that they both have that signature Volum' Express ring below the cap and that they are both made in China, they can't be more different! Everything, from the wand, to the texture all the way to the final finish, is totally different from each other!
While the
FALSIES
give beautiful volume right from the first coat, I can't help but to notice that this mascara does not volumize as much as it claims to (8X!). The first coat makes my lashes look naturally long, and to be honest I loved that look (although I won't complain if it gives more volume). Love how it doesn't clump too, unlike the
FALSIES
!
However, from the second coat onwards, I can't seem to get a nice, even coat without busting out the eyelash comb. It clumps like CRAZY as you will see in the pictures below! :( I also didn't like how it weighs down and couldn't hold my curls.
I don't hate this mascara though. Ok, I do dislike it alot when it clumps, but if I apply just a single coat, it is magic - long, soft, separate lashes without that "crunchy" feeling! And the bonus? It doesn't smudge at all despite me doing laundry in the 34C sun! :D
Ok enough blabla for now, here's a bunch of pics for you to judge for yourself: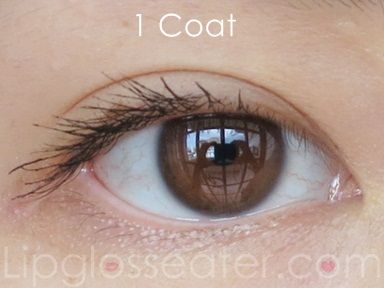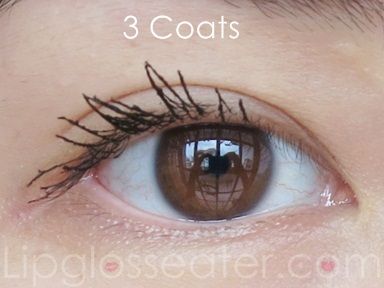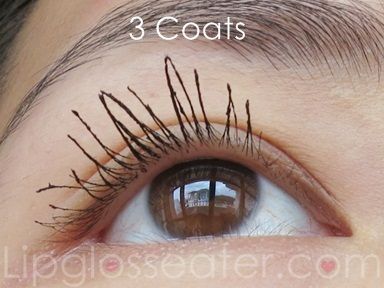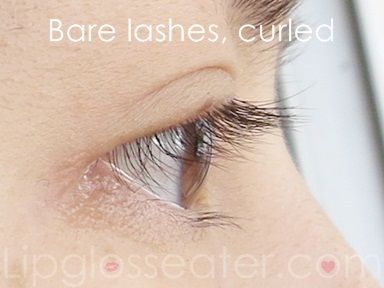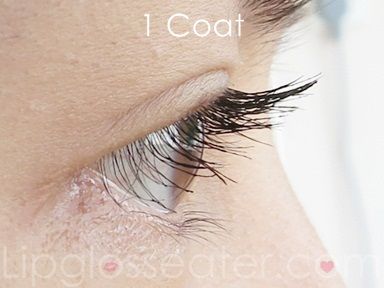 And side by side for comparison: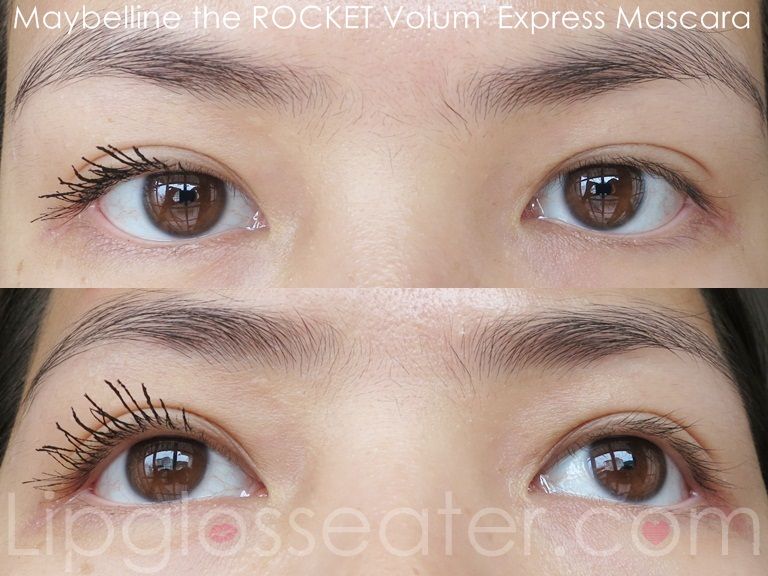 After 3 coats - grr so clumpy!! And this is AFTER using a lash comb!! >.<
I'm not having alot of luck so far with Maybelline mascaras, and I'm starting to think that I have "weird" lashes because they don't like things alot of other people do! :( Perhaps I should hunt down that elusive, seldom-heard-about-in-this-part-of-the-world Full and Soft mascara mascara to see if my weird lashes like the or not! Lol!! :P
.
. .
I have a love-hate relationship with this mascara. While I adore how naturally beautiful it makes my lashes look with a single coat, I can't seem to get the volume I needed without the clumps from subsequent coats. It has all the potential of being something really amazing, but alas it falls abit short in fulfulling what I look for in a mascara.
Price:
RM39.90 (approx. US$12.09)
Weight:
10ml / 0.34 Oz.
Made in:
China
Likes:
Lengthens really well, comfortable to wear (no "crunchy" feeling), smudge-proof, looks super nice with a single coat, easily available, no strong chemical scent, easily removed.
Gripes:
Clumps if applied more than 1 coat, dangerously sharp wand, doesn't hold a curl
You would like it if:
You're looking for a natural, one-coat
kaotim
mascara
, or if you don't have weird lashes like me! :P
Repurchase:
No
Have you tried this mascara before? Did you like it? :D
This product was purchased by yours truly and opinions, as usual, are 100% my own. If you enjoyed reading and wish to help support this site, kindly consider purchasing from the affiliate links below. You'll get your product, and I'll earn a small commission which will go to supporting the maintenance of this site - we both win! :) If you have any further questions kindly refer to my disclaimer for the nitty gritty on postings or drop me an email.