At a Glance:
Price:
RM135 / US$39
Weight:
40ml / 1.3 US. Fl. Oz.
Made in:
France
Likes:
Beautiful dewy finish, difuses skin imperfections, comfortable on skin, lasting, SPF protection
Gripes:
Expensive, strong yellow tones, turns a shade darker than my skin after oxidation, strong fragrance
Repurchase:
No
Ingredients: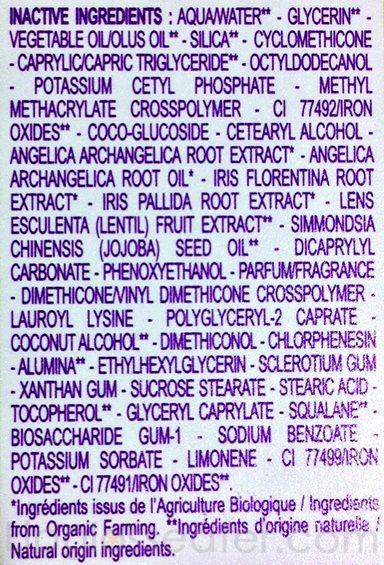 Product Description:
Achieve a perfect, flawless finish for your skin with Iris Angelica Sublime Beauty Cream.

This SPF30 sun protection BB cream combines all the benefits of a moisturiser and a light shade powdery foundation, leaving skin looking and feeling perfect without make-up. The complexion is enhanced, the appearance of blemishes is visibly reduced, the skin looks plumper, softer. Skin texture is smooth, light and supple.
The Sublime Beauty Cream is made with a patented combination of two angelic flowers: white iris and angelica. A symbol of pure beauty, the velvety and luminous white iris offers its powers of sublimation. Known for its incredible hydrating properties, angelica gives the skin vitality. Organic extracts from these two flowers leave skin looking and feeling perfect.
Pigmentation, Color and Finish:
This BB Cream comes in two different shades - Light and Medium. As you can see from the swatches above, both colors are darker than my natural skintone, but surprisingly Light is a good match for my skin (I'm NW20), albeit abit sallower that what I'd like: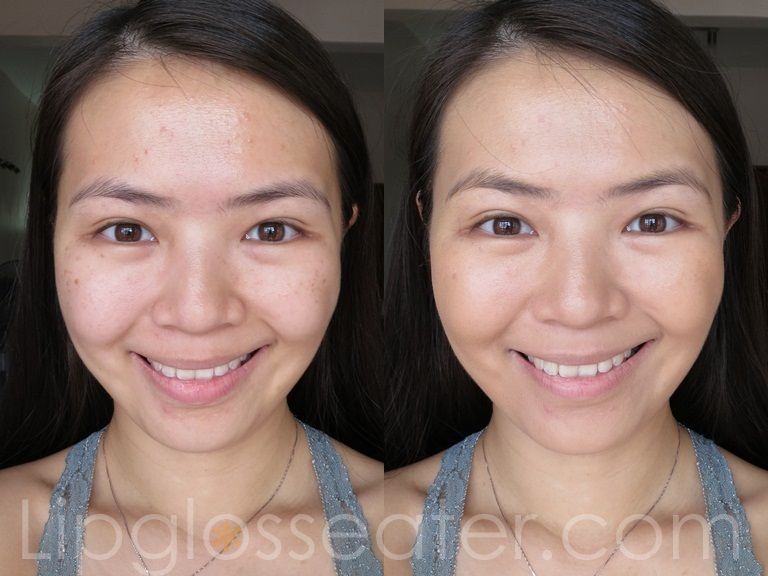 Left: Bare skin, Right: This BB Cream in Light
As with most BB creams, coverage is medium at best. I'm quite impressed with this one though - it did manage to diffuse my acne scars making them appear lighter, as well as even out my skintone! :D And, I totally ADORE the glow!! :)
Texture and Scent:
This BB cream is a little thicker than usual, but it still spreads easily unto the skin :) I can't say for sure if this is the case for every tube or if I got a bad tube, but as you can see from the picture above, the cream separates easily so there's always a oily layer that comes out together with the cream everytime I squeeze some out from the tube (despite shaking the tube vigorously before dispensing). This doesn't impact the final finish though, so it's something that I can overlook.
This product has a lovely floral scent that lasts for hours. I like it but after awhile it starts to get a bit cloying for me.
Packaging:
This BB Cream comes in a plastic squeeze tube with a twist off cap. I love how the opening is hygienically sealed when brand new: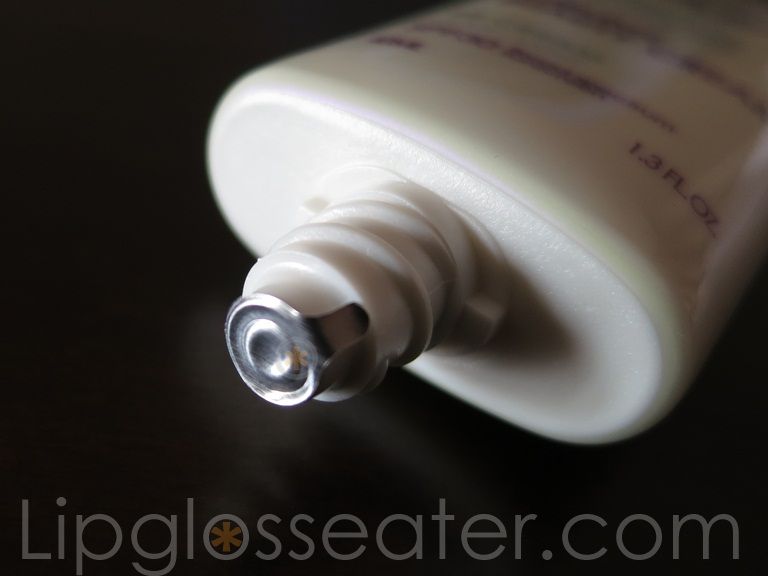 Open sesame - love how small the dispensing hole is too! Perfect control everytime! :)
Mine is a product sample, so I do not have the box to show, so sorry!
Time Test:
This BB Cream lasts the entire day on my skin, which is amazing! Unfortunately, I find that this oxidizes into a shade or two darker than my skin after 4 hours or so :(
Price & Availability:
This BB cream is priced at RM135 and is available at all L'Occitane outlets! :)
My $0.02:
First of all, I would like to thank the kind folks at L'Occitane for providing this product for me to review! THANK YOU SO MUCH! :D
I won't lie - the first time I squeezed some out of the Light tube, I was quite taken aback at how dark the shade is compared to the usual BB creams! Here's a picture to illustrate what I mean:
From left: L'Occitane Angelica Sublime Beauty Cream (Medium), L'Occitane Angelica Sublime Beauty Cream (Light), Garnier B.B Cream, Maybelline Clear Smooth Minerals BB Cream.
Very dark right? Don't be put off though, I'm thrilled to report that even more surprisingly, Light matches my NW20 skin quite well, although it leans a little too yellowish for me so methinks that those who are NC20-NC30 would find this a perfect match! :D
What I liked about this BB cream is how comfortable it is to wear! Some BB creams or foundations I've tried before makes my skin feel papery and dry, but not this one! This BB cream feels
almost
moisturizing against my skin! Hehehe! :D I also love the glow this gives my skin - makes me look really radiant from within! :D
Sadly, this BB cream is a touch sallower than my skintone, and especially so after oxidizing - it becomes a full shade darker than my original skintone after about 4 hours of wear so this is something I have to take into consideration before using.
All in all, methinks that this is a good BB cream if you have strong yellow undertones. Personally I won't repurchase this for myself as my skin is pink based, but do check it out if you're anything from NC20-NC30! :D
Have you tried this BB cream before? How do you find it? :D
This product was provided for consideration. Opinions, as usual, are 100% my own. Kindly purchase at your own discretion. For the nitty gritty on product sponsored reviews kindly refer to my disclaimer or drop me an email :)