At a Glance:
Price:
RM9.90 / US$2.50
Weight:
6ml / 0.2 US Fl. Oz.
Made in:
UK
Likes:
Really moisturizing, gives skin a nice glow, travel friendly packaging
Gripes:
Doesn't really "sink-in" - leaves a film on face
Repurchase:
Yes
Product Description (Taken from thebodyshop-usa.com):
Sink some antioxidant Vitamin E into your skin. Bring skin back to optimum moisture level with this intensely hydrating mask.
Ingredients:
Directions:
Smooth a thin layer on cleansed skin. Leave for 10 minutes, tissue off.
Texture & Scent:
This mask feels like your usual cream moisturizer. Texture-wise it spreads easily until your skin, however, I find that it doesn't really sink in totally and it leaves a film on my skin (not the goopy kind or anything - I can hardly tell until I washed my face!).
This has a powdery scent to it.
Packaging:
This mask is individually packed into their respective foil packs and is sold by the piece, which IMHO is great for travelling! :)
I also like how there is a tear-off line with a small opening to prevent spillage - super convenient: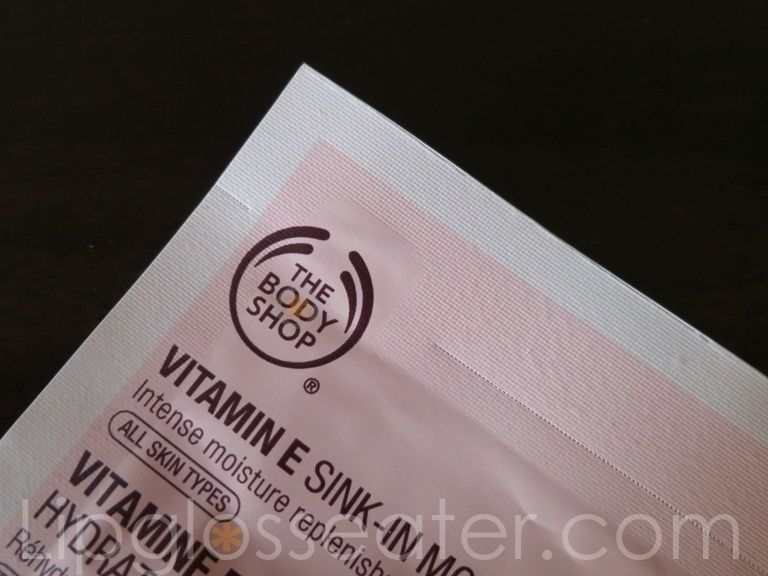 Brand new and sealed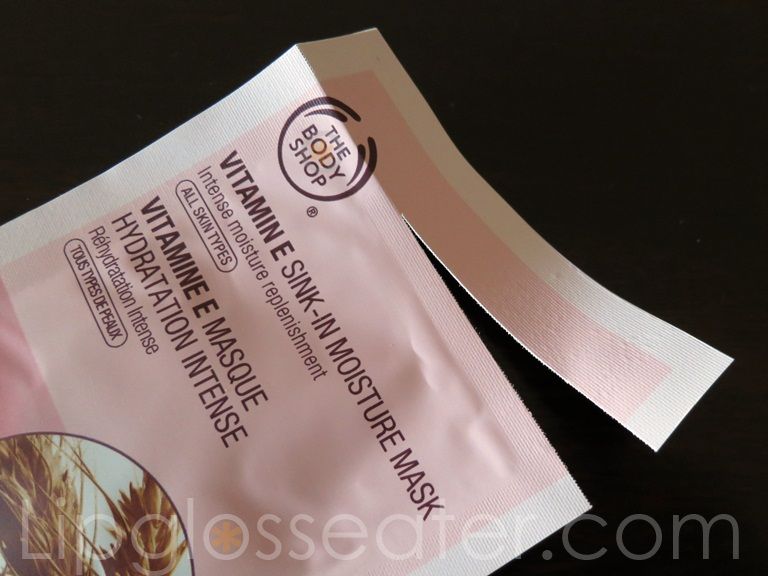 Just tear and use! :D
For regular, at-home use, there's a tub version available too! :)
Time Test:
The instruction says leave on for 10 minutes then tissue off, but I chose to ignore that and leave it on the whole night and wake up to glowy skin! :D
Price & Availability:
This mask is priced at RM9.90 / US$2.50 each and is available at all The Body Shop outlets as well as their website! :D The tub costs RM66 / US$22 for 100ml / 3.38 US Fl. Oz.
My $0.02:
This was on sale awhile ago (at just RM5 a piece! Whoots!), so I jumped at the opportunity to try out this product! :D
So far my experience with stuff from The Body Shop has been a mixed bag - there have been products that I really love (such as the
Honey & Oat 3-in-One Scrub Mask
and the
Tree Tree Body Wash
) and products that didn't quite work for me (like the
Tea Tree Blemish Gel
). And this one? I'm glad that it worked
REALLY WELL
for me! :D
This reminds me of a richer, creamier version of the
Laneige Water Sleeping Pack_Ex
. While the Laneige one sometimes leave me craving for a little more moisture for my skin, this one does the job beautifully on its own. And oh, I super love the soft, glowy skin I get in the morning! :)
Methinks that the foil pack is a great and convenient (albeit more expensive) idea for travelling (especially if you know that you'll be going off for more than a week as I was able to squeeze out four uses from a pack - not so great though for anything shorter than a week as you can't reseal the pack, unless you use it everyday or decant it into a small container but that defeats the whole purpose of getting the foil pack right? :D). I'll most likely purchase the tub for normal use as it makes more economical sense (RM66 for 100ml vs. RM10 for 6ml!), but I may repurchase the foil pack for travelling cuz it's so convenient! :D
Over to you - have you tried this mask before? How do you like it? :D
If you enjoyed reading and wish to help support this site, kindly consider purchasing from the affiliate links below. You'll get your product, and I'll earn a small commission which will go towards supporting the maintenance of this site - we both win! :) If you have any further questions kindly refer to my disclaimer for the nitty gritty on postings or drop me an email.