Warning: Gross, greasy hair pictures ahead!
At a Glance:
Price:
250 Baht / £2.99
Weight:
200ml / 6.73 Fl. Oz.
Made in:
UK
Availability:
Not available in Malaysia. It is available at Boots Pharmacies in Thailand and UK as well as Ulta and Asos.com!
Likes:
Really works, cheap! :D
Gripes:
Suffocating fumes, scent, leaves some residue on scalp, not available locally! :(
Repurchase:
Yes!! :D
Ingredients:
Product Description:
Batiste Dry Shampoo banishes oily roots, giving dull, lifeless hair the makeover it needs without any water. A quick burst revitalises hair, adds body and texture and leaves it feeling clean and fresh too. No need to worry about skipping a shampoo.
Instructions:
Shake vigorously before use.
Keeping nozzle about 30cm from hair, spray into roots. Massage through with fingertips.
Brush and style.
Texture & Scent:
Who needs a Tripod? Not me! :D
This dry shampoo comes out in a strong jet of very fine white powder, much like a hairspray! :) After massaging the powder in and brushing / shaking it off, most of it will be gone but some will remain on your scalp. Do not use too much product though - otherwise you'll end up of large patches of white on your hair: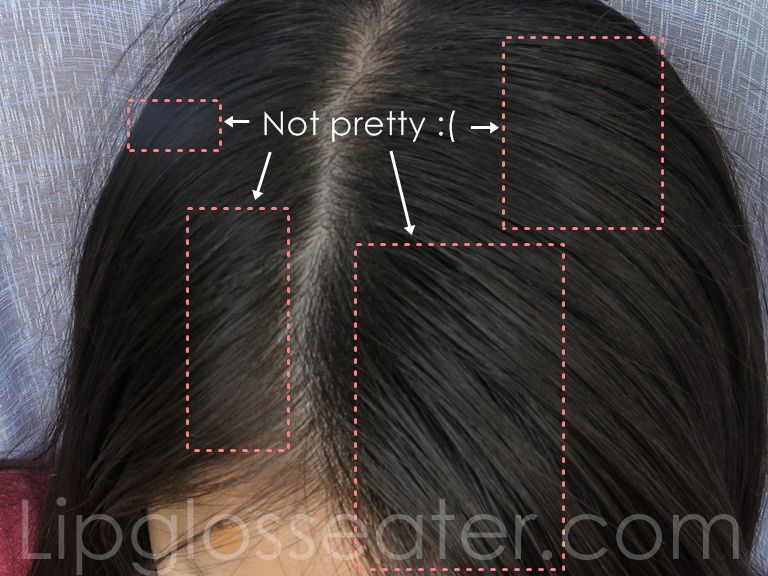 Packaging:
This dry shampoo comes in a pressurized aerosol can with a plastic cap. Unlike the nozzle on the
Avene Thermal Water
which spoils after a few uses, this one is still going strong (I'm almost done with my can! :D)
The plastic nozzle: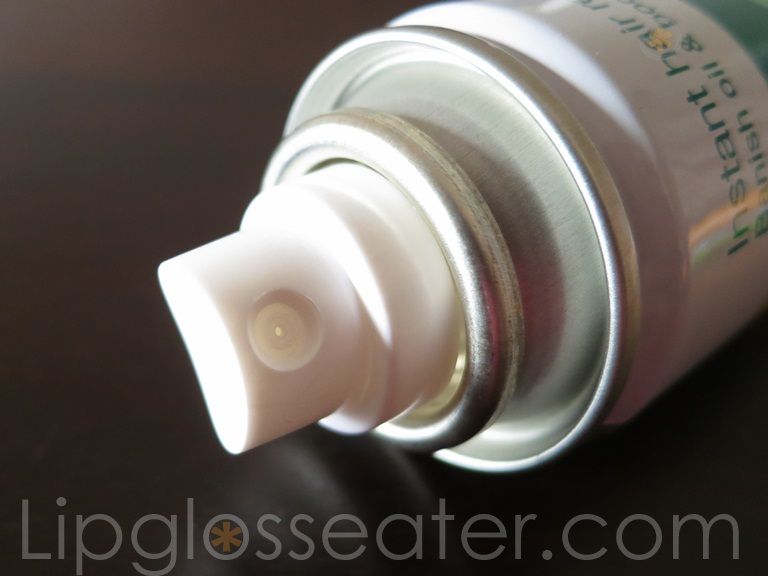 Price & Availability:
This dry shampoo is not available locally, except through online sellers. I bought my can from Boots Pharmacy in Hatyai, Thailand. It is priced at 250 Baht each.
My $0.02:
This has got to be the most UNGLAMOUROUS post I've ever written, period! Let me start by telling you that 1. I'm super adverse to oily hair, 2. I wash my hair daily, PROMISE!!! and 3. Now you how much I love all of you!! Hehehe!! :D
Ever since
a few years ago
, I noticed a change in the oil production of my scalp. I can no longer get away with washing my hair every other day without looking as if somebody poured glue over my head (ok exaggerating but you get my point). It has gotten better since - depending on which shampoo I use, it will only look like somebody poured glue over my head from the 2nd day onwards instead of just half a day like previously :P On most days my hair looks fine until evening. However, there were days when I had to attend a function right after work and wished I didn't have to make that trip home and waste time washing, drying and styling my hair before rushing off again!
Enter this dry shampoo! :D I'm really glad to report that this works beautifully for me! It removes the greasiness from my roots and gives it a little more volume.
Picture proof for you to see:
Left: Day 2 of unwashed hair, Right: after several blasts of this dry shampoo
Works, right? :D The price is not too obscene as well (approximate RM25 a can). However, one thing I can hardly stand about this product is the very strong fumes. I almost suffocated and passed out the first time I used this! The scent could use a makeover as well - at present it smells quite, er, matronly and it lingers for hours! :/
If you're wondering if you can still escape washing your hair for another day or two after this, no you can't, because the fine powder will cause quite abit of buildup in your scalp so you'll definitely need to wash your hair at the end of the day. This works more as a quick fix to refresh your hair to look my best before heading out again somewhere! :D
All in all methinks that this is a really good product that does what it's supposed to really well, but it can use some improvements in terms of the terrible fumes and the not-so-modern scent. It would be nice if any of the local drugstore chains would start distrubuting this too because it is currently not available in Malaysia :(
I really regret not stocking up during my last trip to Thailand as I wasn't sure if this was going to work for me or not. The next trip, you can bet that several cans will definitely be coming home with me though! :D
Have you tried this product before? Do you like it? :D
If you enjoyed reading and wish to help support this site, kindly consider purchasing from the affiliate links below. You'll get your product, and I'll earn a small commission which will go towards supporting the maintenance of this site - we both win! :) Opinions expressed in this post are, as usual, 100% my own. If you have any further questions kindly refer to my disclaimer for the nitty gritty on postings or drop me an email.