At a Glance:
Price:
RM9.90 (approx. US$3)
Weight:
4ml / 0.13 fl. oz.
Made in:
Poland
Likes:
Beautiful color, super glossy, even finishing, cheap! :D
Gripes:
No ingredient list, sickly sweet scent, not a fan of the applicator, has a tendency to separate
Repurchase:
Yes, in other colors
Ingredients:
NA
Product Description
Colourful lipgloss for glossy lips
Pigmentation & Color:
The one I got is called Trendsetter, which is a fuchsia berry shade that leans a little bubblegum pink! It is rather pigmented so it is possible to get a nice, opaque finish without layering it over lipstick.
Skin swatch: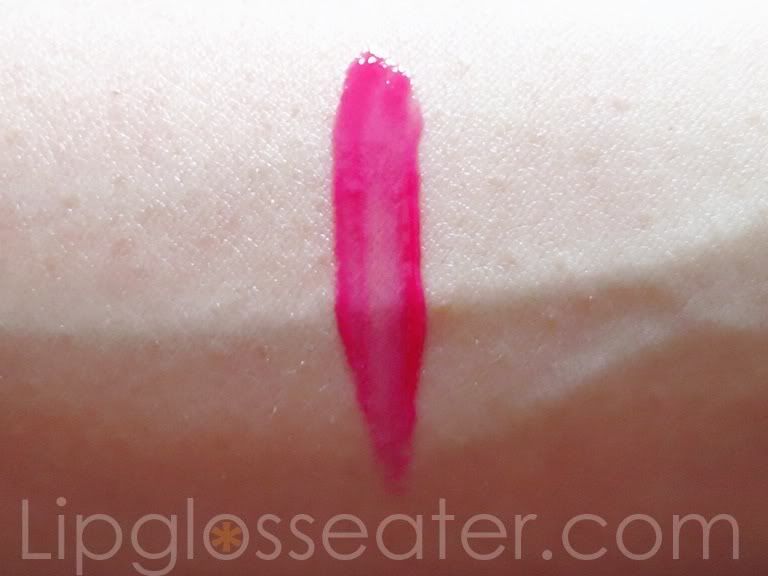 On my lips: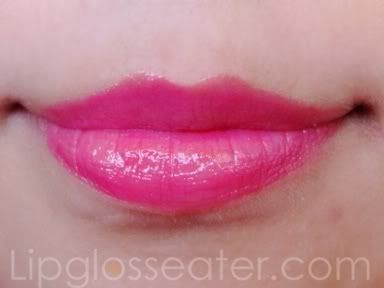 Texture & Taste:
This lipgloss has a wonderful texture! It goes on really smoothly and forms an even finish on the lips, even if your lips are dry like mine in the picture above!
This lipgloss has a strong sweetish scent that I don't like (but apparently alot of people do so don't let my opinion bother yours! :D), but it doesn't have a nasty taste to it so I guess I can live with it! :)
Packaging:
This lipgloss comes in the usual tube with a the applicator attached to the cap.
I'm not a fan of the applicator though - I find that its hourglass shape makes application a little more difficult than usual. I would much prefer to have a doe-foot or brush instead! :)
Time Test:
Unfortunately this lipgloss does not last very long on my lips - I find that it starts to disappear within the hour. It also has a tendency to separate as shown in the pictures below: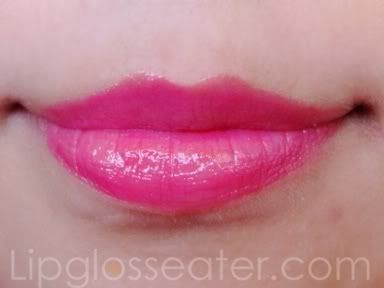 Left is freshly applied, Right shows the separation at about 1 hour after application
Price & Availability:
This is priced at RM9.90 which is super cheap! This is available at selected Watsons nationwide.
My $0.02:
I got this lipgloss as part of the now (sadly) defunct
September Fabulous Finds box
(Get well soon, Hui Ling!). This was before Essence was available locally so I'm really excited and grateful for that! :D
This lipgloss did not disappoint indeed! It's incredibly glossy, goes on evenly and oh, at that price you can afford to keep one each at the office, at home and one in your purse! :D
Sure, it isn't terribly lasting and I would love it if they included a doe-foot or brush applicator instead, but hey, in terms of finishing it looks as good as many of the mid to high end glosses I've tried so far! :D
Here's how it looks against my skintone:
Featuring this lipgloss on my lips, and the fabulous NARS Torrid on my cheeks.
This really is a drugstore gem! I will not repurchase this shade as it's not quite "ME", but I'll definitely check out the other shades! :D
Have you tried this lipgloss before? :D