I was doing quite abit of soul searching in the past few weeks. With the close of the year and the start of a brand new one, I can't help but to wonder if anything could be done differently this year.
2012
was a year with plenty of ups, but there were moments that I thought I had hit rock bottom too. One of the things that stuck me was how little memories I have of the wonderful moments I've had family and friends. Perhaps I have become exceedingly cynical and critical of things and people in general that all I do is to question people's motives and stop allowing myself to be genuinely happy for fear that once again my gut feeling was right about the person or situation.
Well, that has to stop, and stop it shall in 2013! :D I'm hereby implementing Project Smile365, which is simply a 365 project documenting at least one thing that made me smile for the day. I can't promise to post every day (I do have quite a boring life - I don't think anybody would care to read "Oh look, I poured myself a HUGE glass of ice cold coca cola WHOOTS!" anymore after the 235th time I posted it), but I do hope that at the end of the year, I will have hundreds of smiles recorded to, well, smile at! ;)
I've chosen the pink rose because it signifies perfect happiness (ok fine, it's a camellia but the only picture I had of a pink rose was one that looks half wilted so camellia it is!). It is my sincere wish that 2013 is a year filled with joy and happiness for everyone and myself! :D
You're most welcome to join me either by posting what made you smile today in the comments below or starting your own Project and sending me the link which I'll include in the daily post! Keep smiling everyone and spread the happiness! :D
Read on for today's Smile! :D
My Daddy dearest is someone who remembers every single date that matters - our birthdays, my wedding anniversary, not to mention new year and Christmas! I always get an SMS from him on that day itself and it never fails to warm my heart whenever I receive them! :) I find his formal SMSes so true to himself and and it's super endearing to me! Hehehe! :D
Right at the start of the new year, he send me this: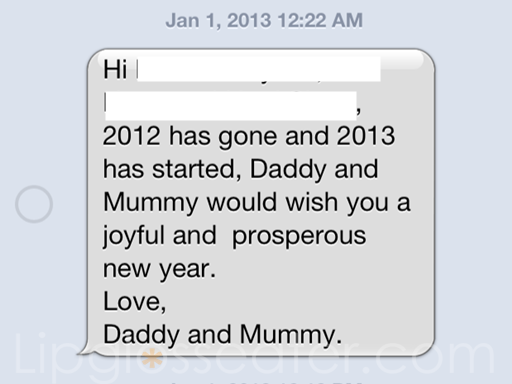 It's a really nice thing to wake up to! :)
What made you smile today?