Happy Mid-Autumn everyone! :D Ok, happy BELATED Mid-Autumn, I hope you guys had a wonderful one! :D
Guess what came in the mail two days ago? :D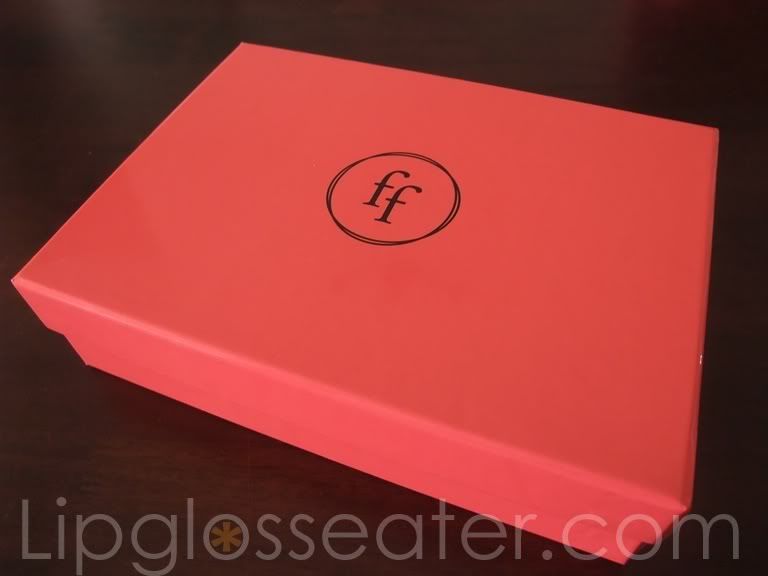 September's Fabulous Finds Beauty Box baybeh!!! :D :D :D :D :D
For those who don't know about this brand, Fabulous Finds is a beauty box subscription service based in Malaysia. For RM35 a month, subscribers will receive 4 - 5 deluxe samples from high end and niche brands which will be delivered by courier free of charge to their doorsteps. Customers can also opt for a yearly subscription for RM420 and receive an additional box for free :)
Are you excited to know what's in this month's box? :D
Wait for it...
Tada! Their signature silver paper and matching melon pink ribbon! :D
Open that up, and you'll be greeted with a personal note from the founder of
Fabulous Finds
, Hui Ling! :)
Love how my favourite quote by Coco Chanel is featured at the bottom of the note each month... a great reminder to us ladies to always be classy and fabulous! :)
Ok enough teasing! Hehehe! :D Lets look at what this month's box offers:
September's box contains the following goodies:
1 Full Sized Elizabeth Arden Gold Ultra Restorative Capsules & Gold Ultra Lift and Strengthening Eye Capsules (worth RM116.20)
1 Full Sized Essence Duo Eyeshadow (worth RM8.90)
1 Full Sized Essence Stay with Me Long-Lasting Lipgloss (RM10.90)
1 50ml Clairol Professional: Colour Radiance Shampoo
1 30ml Clairol Professional: Visible Repair Intensive Mask
1 1ml Narciso Rodriguez For Her EDT
More information is listed on the flip side of the personal note by Hui Ling:
Along with the abovementioned goodies, the box also includes a special offer to purchase a set of EDT, travel-sized EDT and Hand Cream from Narciso Rodriguez for RM378: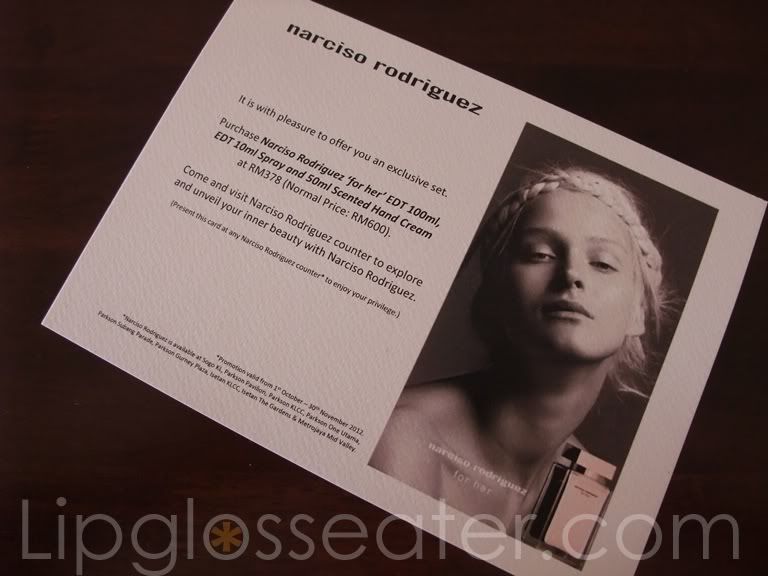 There's also a Clairol Professional catalog for your perusal :D
Personally I'm most excited about trying the cosmetics from Essence! I've been hearing about this budget brand from Europe for quite sometime now and how their stuff are cheap and good (things like that are hard to come by nowadays), and am trilled to be able to test them out (I haven't came across any shops selling this brand locally)!
The eyeshadow I got is called
10 Best Friends
- a pretty lavender and periwinkle blue duo! :)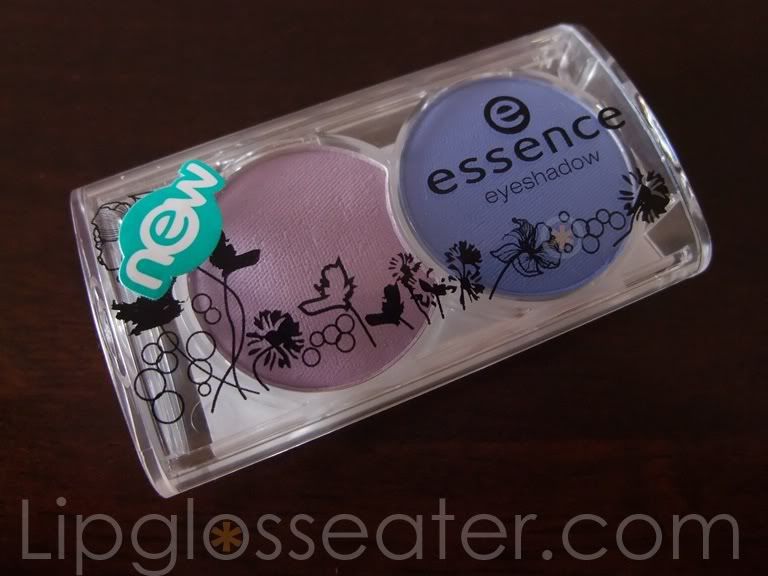 The lipgloss I got is a pretty fuschia shade called Trendsetter:
Can't wait to try them out! :D :D
Overall, methinks that Fabulous Finds did yet another great job this month! This month's box is definitely value for money, and I'm actually really eager to try out everything in this month's box! :D I know I said that I'm a little hesitant to commit to a subscription in my review for
last month's box
, but I'm definitely starting to warm up to the idea :) Keep up the good job, Hui Ling and Team! :D
September's Fabulous Finds Beauty Box is provided for consideration. I am in no way affiliated with them nor do I get compensated monetarily for this post. Kindly subscribe at your own discretion.