Fancy receiving a pretty pink box filled with surprises every month?
Fabulous Finds
may just be for you! :)
Fabulous Finds is a Beauty Box subscription service based in Malaysia. For RM35 a month, subscribers will receive 4 - 5 deluxe samples from high end and niche brands which will be delivered by courier free of charge to their doorsteps. Customers can also opt for a yearly subscription for RM420 and receive an additional box for free :)
The samples are housed in a pretty cardboard box that is rather sturdy. One can easily reuse the box to store random knick knacks! :D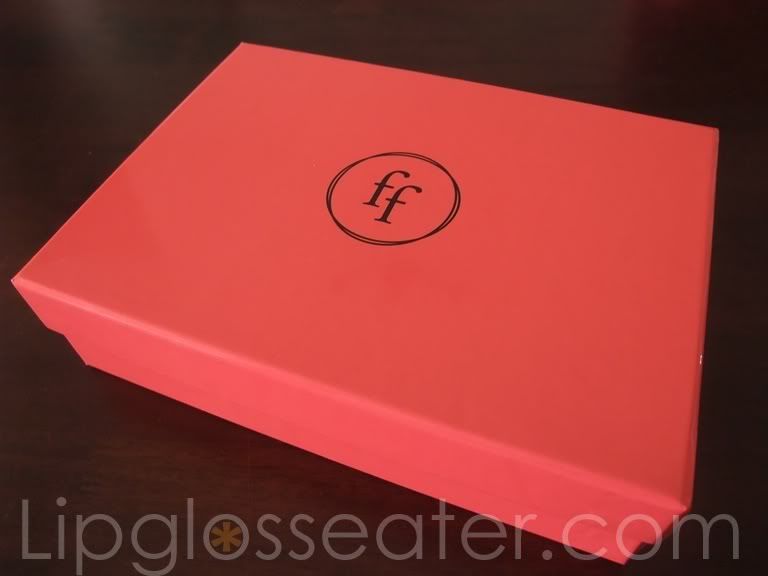 Open sesame - the samples are wrapped up with matching silver paper and melon pink ribbon! How pretty! :D
Although I have read about beauty boxes for quite sometime already, this is my first time actually receiving such a box, and I'll have to admit that I was rather excited - much like a kid who can't wait to tear open the boxes underneath the Christmas tree to find out what was in them! :D And I know that you are too... so I shall not tease you any further! Lol! Lets go on ahead and open it up! :D
Tada! :D The August beauty box consists of:
1 full sized Empro Brown and Black mascara
1 full sized Skinz Infinite Youth Recall Serum
1 30ml Wella System Professional Repair Shampoo
1 30ml Wella System Professional Repair Mask
1 15ml Jurlique Balancing Day Care Cream
1 10ml Olive & Tebe Hand Moisturizing Cream
1 2ml Lanvin Jeanne Couture EDP
1 pc My Beauty Diary 2-Step Oceania Firming Pack
Along with the abovementioned goodies, the box also includes 2 vouchers - one each from Jurlique and Beaubelle:
Methinks that the August box is rather value for money, considering that the Skinz Infinite serum and Empro mascara are full sized items retailing at RM59.90 each. I'm also particularly excited to receive the Wella shampoo and hairmask as I may be going on a trip soon and they will definitely come in handy then! :) But the thing I really like and respect this company for is the fact that they contribute back to society by employing women from disadvantaged backgrounds to pack the boxes. How nice if all businesses do the same!
Personally I think that the RM35 price point is a reasonable price for the masses, but I were to be perfectly honest, I'm still a little hesitant to commit to a subscription, simply because I have quite abit of samples on hand currently to go through already! Also, another concern of mine is getting products that either do not suit my skin type or getting something that I know that I will not use that will eventually go to waste. I'm not a brand snob but admitedly there will be products and brands that excite me more than others. I guess this is the challenge for all Beauty Box services - maintaining the delicate balance between introducing new products to customers that they won't otherwise discover yet still be somewhat relevant to the customer! :)
Overall, I'm quite happy with my August box and I'm excited to find out what's in store for the subsequent months to come. If Fabulous Finds keeps churning out these value-for-money boxes, then I may just give in and treat myself to a subscription! ;)
What do you think about Beauty Boxes? Are you tempted to subscribe to them? :D
August's Fabulous Finds Beauty Box is provided for consideration. I am in no way affiliated with them nor do I get compensated monetarily for this post. Kindly subscribe at your own discretion.