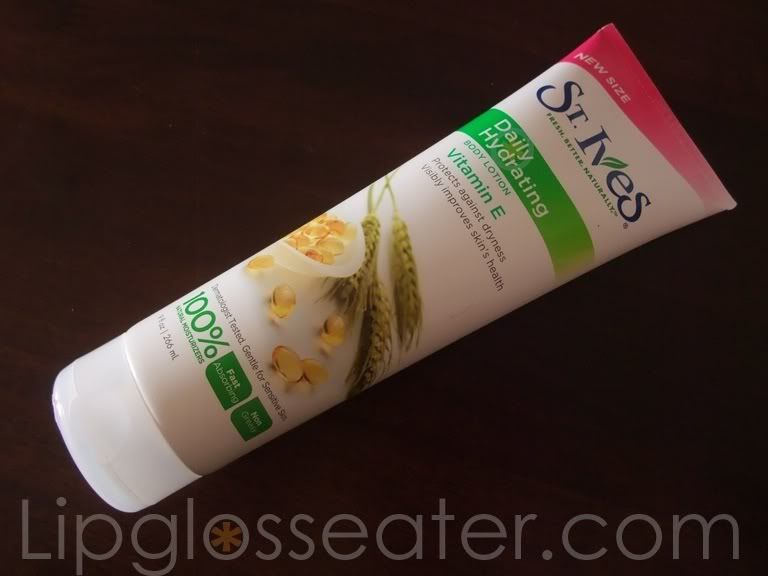 At a Glance:
Price:
RM14.80 (approx. US$4.77)
Weight:
266ml / 9 Fl. Oz.
Made in:
USA
Likes:
Absorbs into the skin quickly, does not leave a sticky residue, lovely scent, affordable
Gripes:
Not moisturizing enough for very dry areas
Availability:
Watsons, Guardian, Amazon.com
Repurchase:
Maybe
Ingredients:

Product Description:
MADE WITH NATURAL INGREDIENTS
Hypo-allergenic
Packed with the powerful antioxidants of Vitamin E, this formula provides immediate moisture, while helping to protect against future dry skin. Apply daily to maintain hydrated skin that looks and feels soft, smooth and healthy


Formulated without Parabens or Phthalates

Does not contain animal ingredients
Texture & Scent:
This body lotion has a rather light texture, so it spreads easily unto your skin. It absorbs into the skin really quickly too!! :D
This has a wonderful fresh scent that I really like! :D
Packaging: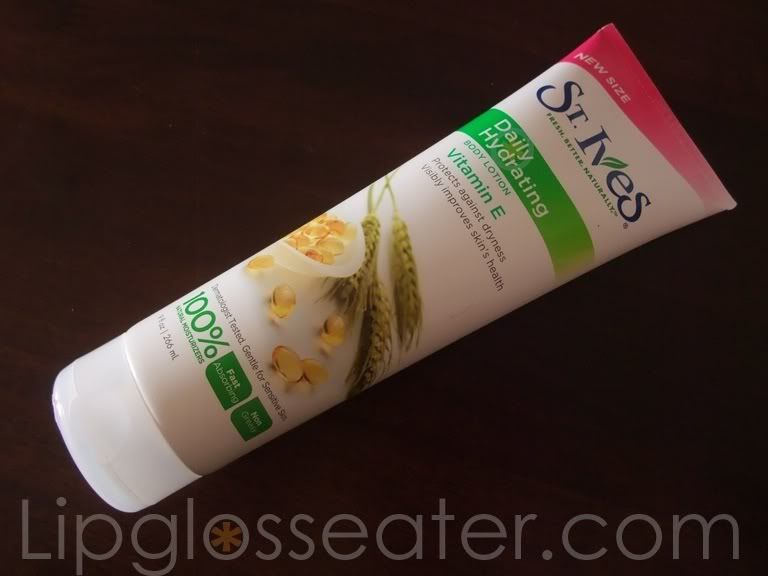 This body lotion comes in a plastic squeeze tube with a flip-top cap. I'm a huge fan of this kind of packaging for body lotions because it's simply much easier to squeeze a tube than a bottle! Plus, this packaging also means that there is always product at the bottom so dispensing it is much easier (especially when its running low) than the regular lotions in bottles! :)
I would expect a body lotion to have a bigger dispensing hole, but since this lotion is quite runny this works too:
Price & Availability:
This lotion is priced at RM14.80. There is a bigger 621ml pump bottle available, and that retails for RM25.80. This lotion is available at most Watsons and Guardian outlets. Girls in the US can purchase this off Amazon! :)
My $0.02:
St. Ives have always been a brand that flew under my radar for some reason! The one and only product I've tried from this brand is the discontinued
Cucumber & Elastin Eye Stress Gel
I reviewed almost four years ago! Lol! This is why we beauty bloggers love PRs - they really provide us with products that we won't otherwise try or discover ourselves! :)
I was given this body lotion (along with the Oatmeal one, which I will save for another review) to try out. The first thing that captivated me was its scent - it's so fresh and lovely! Hehehe!! :D
I love how non-sticky this lotion is and also the fact that it sinks into the skin really quickly. I'm not fussed about either, but some of you out there will be glad to know that this does not contain Parabens nor animal ingredients.
This body lotion moisturizes ok for the most part, but I find this not moisturizing enough for my parched shins. Since I'm in an air-conditioned place for most part of the day I tend to gravitate towards richer moisturizers to keep my skin as hydrated as possible, especially at night. That being said, I may repurchase to use it at work since it is non-sticky and smells lovely! ;)
What is your favourite body lotion? Have you tried this one before? :D
This product is provided for consideration. I am in no way affiliated with them nor do I get compensated monetarily for this post. Kindly purchase at your own discretion.