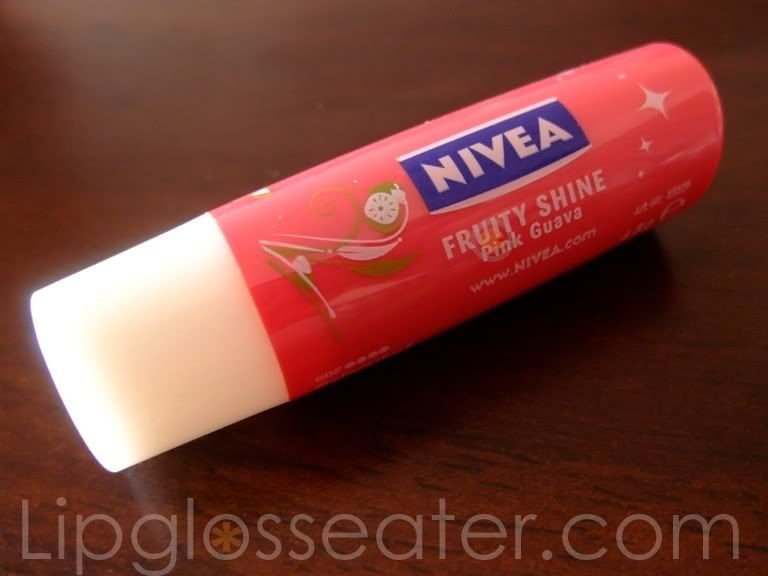 At a Glance:
Price:
RM8.90
Weight:
4.8g
Made in:
Thailand
Likes:
Moisturizing, lovely color, affordable.
Gripes:
Funny taste
Availability:
Most major pharmacies
Repurchase:
Yes!
Ingredients:

Product Description
The innovative formula of NIVEA® Fruity Shine with Pink Guava extract and shimmering pigments combines long lasting moisturisation and an exotic fruity flavour, leaving a touch of pink colour on soft and smooth lips.


Delights young delicate lips with fruity flavour and smoothing, long lasting care

Naturally enhances your lips with shimmering pigments and a soft glossy colour

Contains SPF10, protection against UVA and UVB rays

Skin compatibility dermatologically approved.
Pigmentation & Color: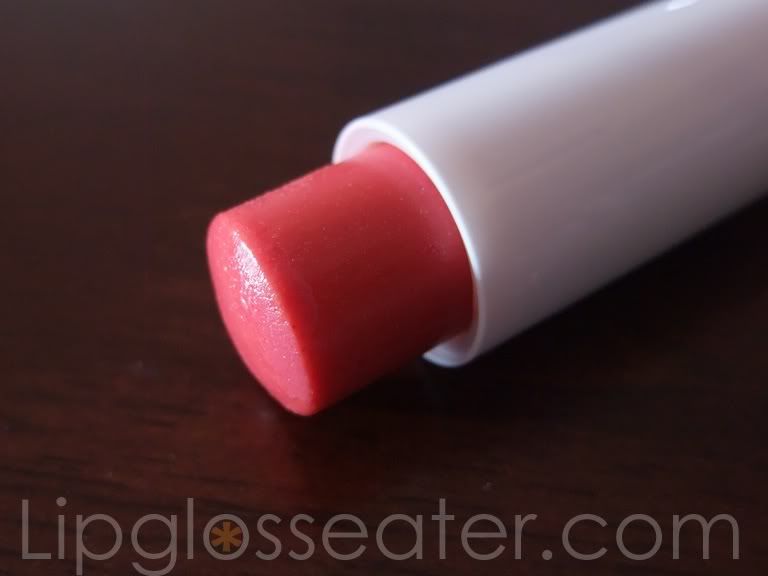 This lip balm gives a very light hint of pink to the lips. Although it is shimmery when swatched, it doesn't really appear that way on the lips! I also like how it makes the lips look smooth and glossy! :)
Swatch: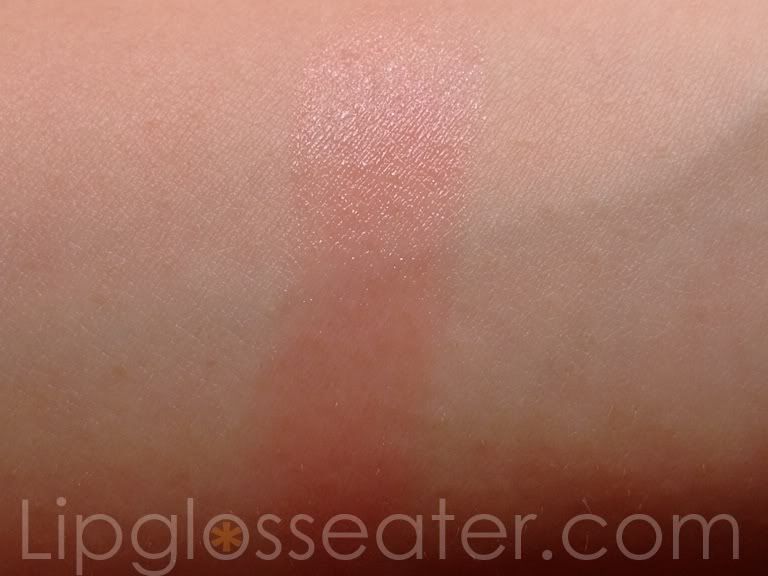 And on my lips (left is bare):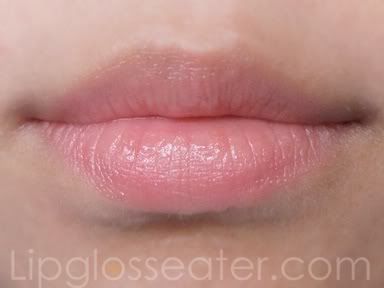 Texture & Scent:
This lip balm slicks on smoothly, but its not too oily until it slides right off your mouth. I personally think that this is perfect under lipsticks because it provides a nice, smooth layer as a base for the lipstick! :)
This has a wonderful fruity scent that I love, but it tastes abit weird! >.<
Packaging: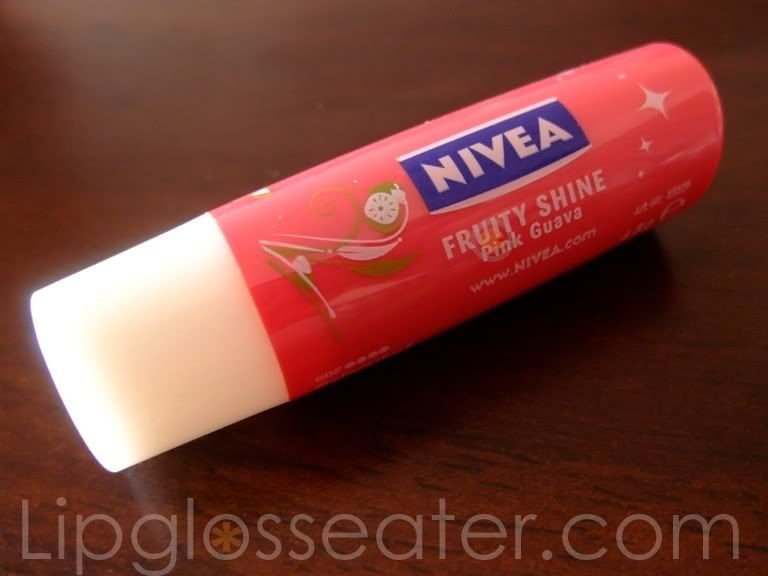 The lipbalm comes in the usual plastic twist-up tube with a pull-off cap. You get slightly lesser than 1.5 inches of product with each tube:
And this is how its packaging looks like: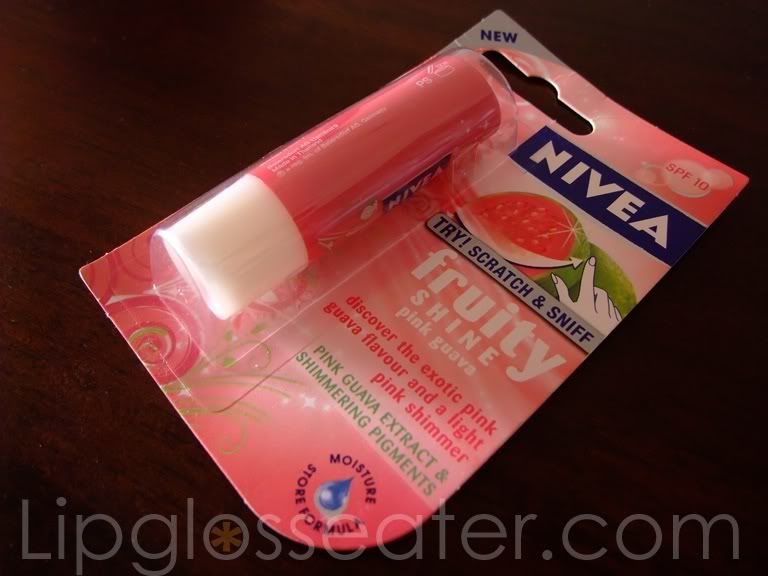 Time Test:
One application lasts me the entire day - I'm super amazed! :D
Price & Availability:
This lip balm is priced at RM7.90, and is available at most major pharmacies such as Watsons and Guardian! :)
My $0.02:
I'm super tardy when it comes to product reviews (I know right!!)! This is part of my birthday present LAST YEAR from my girl
Plue
! Kakaka! Ok time to remedy that now... as you all can tell, I have been good for the past few weeks so lets keep it that way! :D
I'm truly thankful to Plue for gifting this to me because I would never try this out for myself! I vividly remember being forced to use tubes after tubes of the old, horrid Nivea lipbalm as a child with chapped, bleedy lips, and I would never have picked this one up myself if I were not given it because believe it or not, I can still TASTE the old horrid one in my mouth until today!! Bleurgh! >.<
Before applying this to my lips I gave it a whiff, and am immediately relieved to not detect any trace of the old scent. And it just keeps on getting better after that! I slicked it on and am pleasantly surprised by its texture. Its SO COMFORTABLE to wear without that heavy, oily feel on the lips and oh, the fruity scent doesn't hurt either. I also love how this gives a hint of color to my lips, nothing too bright or scary so it's perfect for those no-makeup days! :)
The only thing I didn't like about this lipbalm is that it does have a weird taste, but nothing too terrible so I'm more than willing to overlook this.
At this affordable price, I'd say that its really all-round, amazing lipbalm, and I'll definitely repurchase when I run out! :D