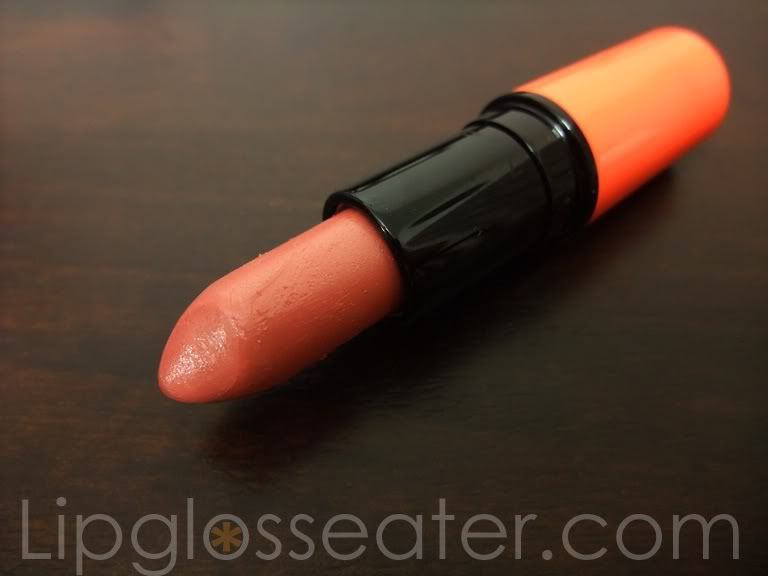 Sorry, I realise how hideous my lipstick looks in the picture above. This is because it actually broke in transit - so everytime I wind it up some of the sides get scraped off by the tube! *sobs*
At a Glance:
Price:
US$15 / RM68
Weight:
3g / 0.10 US Oz.
Made in:
Canada
Likes:
Perfect MLBB (My Lips But Better) color, non-drying.
Gripes:
Limited edition, hard to get an even application, accentuates flaky lips, sheer
Repurchase:
No
Ingredients:

Product Description
NA
Pigmentation & Color: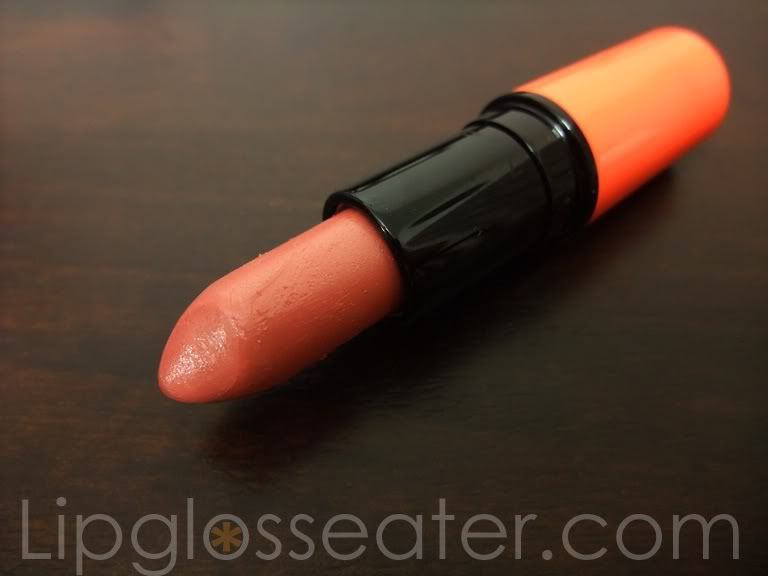 MAC describes this shade as a "creamy peach", and I would agree. This lipstick goes on pretty sheer, and I don't think you will ever achieve a fully opaque layer without some of your natural lip color showing through.
Swatch: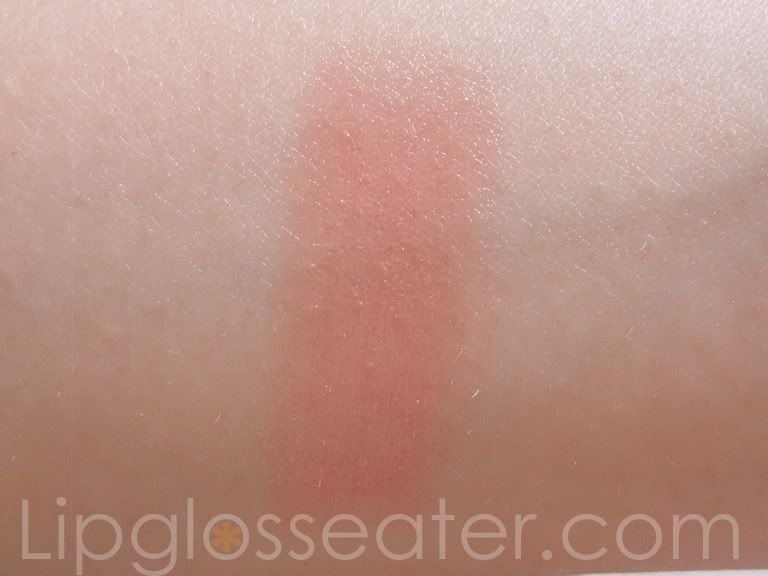 And on my lips (left is bare):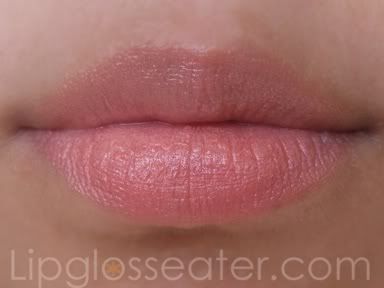 Texture & Scent:
This being a Glaze lipstick slicks on smoothly, but I find that it tends to snag on and accentuates the flakies on your lips if you don't exfoliate beforehand. It is quite comfortable to wear - I do not find it drying.
Like all MAC lipsticks, this has their signature vanilla scent that I love! :)
Packaging:
The one I have (and shown in the earlier pictures) is from the earlier Neo Sci-Fi collection, hence the bright orange packaging. The one that is repromoted currently comes in the usual black bullet with a pull off cap.
This lipstick comes in a box. My tube comes with a matching orange box, and I have included a regular glaze lipstick box for your reference! :)
Time Test:
This lipstick lasts about 2 hours on my lips before it fades, which is typically shorter than most other MAC lipsticks :(
Price & Availability:
This lipstick was priced at US$15 / RM68, and should be available at all MAC stores as well as their website. Hurry though, because this is limited edition! :D
My $0.02:
When this was first launched, it flew out of the shelves so quickly that many people (including yours truly) have to scour for it high and low just to own this! It is being repromoted again in the
Heavenly Creature collection
recently, and I'm sure many people out there are happy to learn that! :D
This lipstick, being a Glaze, is rather sheer. And because it is sheer and peachy, it would imagine that it should flatter many different skintones. What I love most about this lipstick is that it looks SO NATURAL on my lips:
Featuring this lippie on my lips,
MAC Hipness blush
on cheeks.
However, i find that this lipstick tends to accentuate dry lips. It is also hard to achieve an even layer due to its frostiness. Nevertheless it is still very pretty, and I'm sure many girls are willing to overlook that! Personally I will not repurchase this shade, simply because I prefer something easier to work with.
Do you own this lipstick? What do you think about it? Do share with me! :D