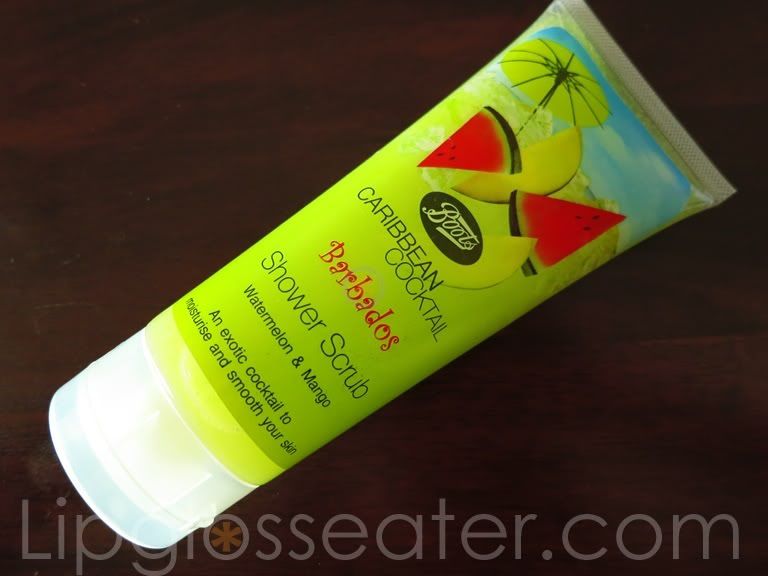 At a Glance:
Price:
200 baht (approximately RM20.83)
Weight:
200ml / 6.7 US Fl. Oz.
Made in:
Thailand
Likes:
Cleanses well, does not dry out the skin, lovely scent, cheap! :D
Gripes:
Not scrubby enough, not available locally! T_T
Repurchase:
Yes!! :D
Ingredients: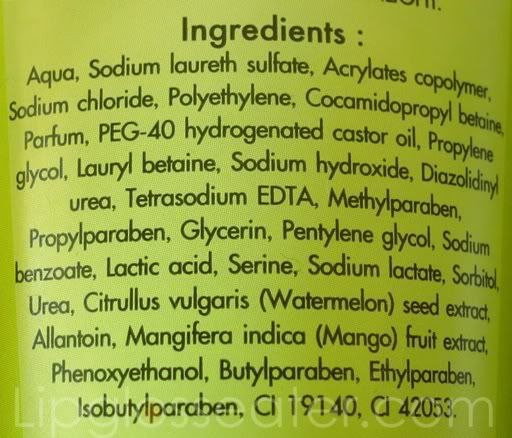 Product Description:
Transport yourself to the Caribbean with this shower scrub containing an exotic blend of ingredients. With Watermelon, Mango and scrub beads to exfoliate and revive your skin, leaving it soft, smooth and refreshed.
Texture & Scent:
This shower scrub is not as runny as the
Aruba Dream
one, but it's still pretty runny! :) This being a scrub has some scrubby bits in it, but not quite sufficient to thoroughly exfoliate the skin.
This is quite foamy so it spreads unto your skin easily! :D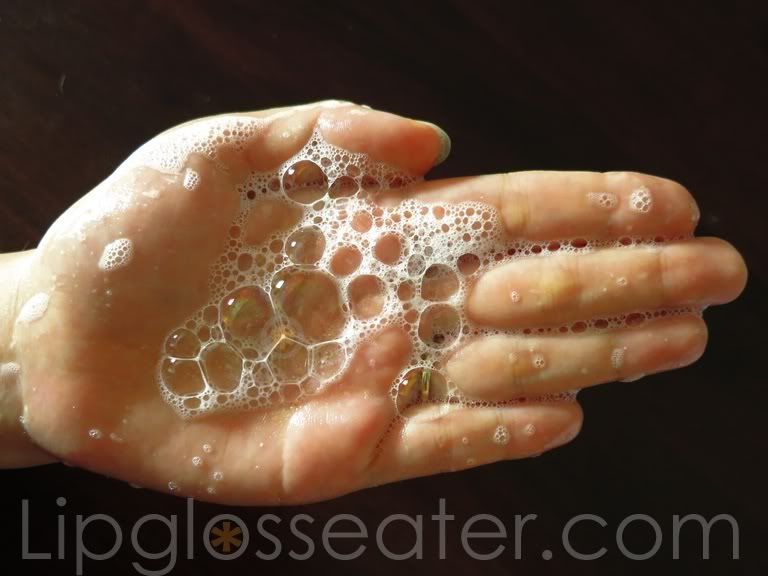 This has a really lovely scent that I love! It's not quite watermelon or mango, but it's fruity and fresh at the same time! :D
Packaging: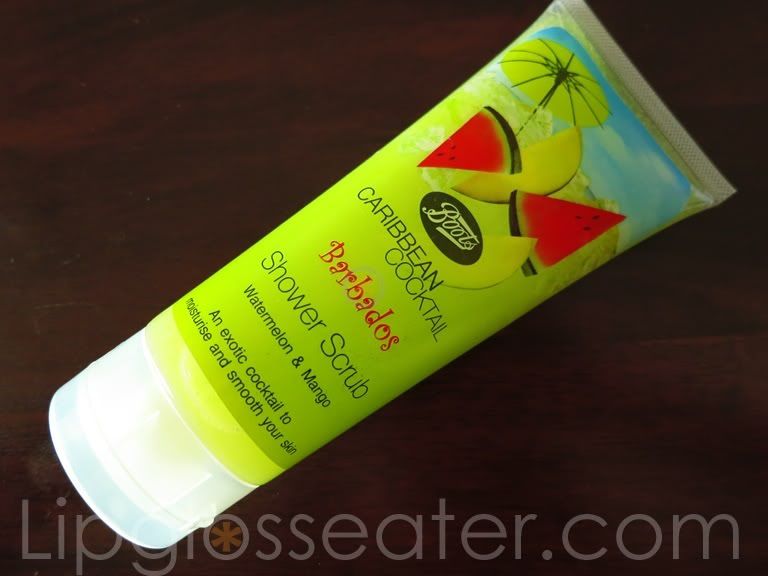 This scrub comes in a plastic squeeze tube with a flip top cap which I find super practical to use in the shower! :)
The dispensing hole:
Price & Availability:
This shower gel is priced at 200 baht and is available at all Boots pharmacies in Thailand. It frequently goes on sale (sometimes even buy 1, free 1) so keep an eye out for those discounts! :D
My $0.02:
The first thing I make a beeline for whenever I'm in a Boots store in Bangkok is their shower gels, especially the Caribbean Cocktail ones. I've tried
Aruba Dream
, Barbados and Margarita Handshake so far - and all 3 from this range have the most AMAZING scent ever! :D
This scrub is no different. It smells divine and is such a joy to use after a long day out. It rinses clean and doesn't dry out the skin. And it goes on sale frequently - what's not to love?
The only critique I have for this shower scrub is that it is simply not scrubby enough to function as an actual body scrub. But it's still a wonderful shower gel and needless to say, I'll definitely repurchase! :)
Have you tried this shower scrub before? I've officially used up my Boots shower gel stash - wish that Boots is available in Malaysia so that I can buy more! :(