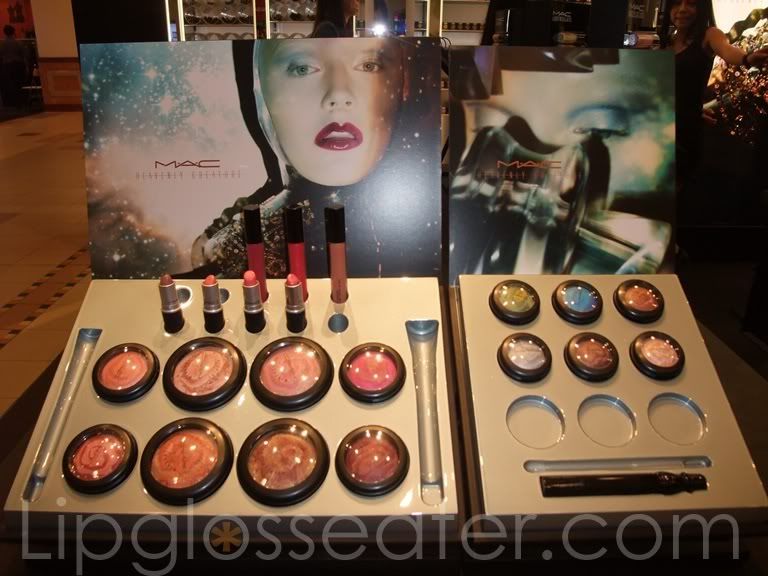 This is the annual collection that fans of the Mineralize products look out for - the usual features are the Mineralize Skinfinishes (MSF), Blushes and Eye Shadows, but I'm happy to report that this year they actually married the Mineralize and Charged Water to form the... *drumrolls* Mineralize Charged Water range! lol! Ok I realise that I STILL owe you guys a review of the Charged Water... I'm getting on it
soonish
... I PROMISE!! :D :D They also brought back the famous Volcanic Ash Exfoliator... or infamous depending on how you feel about this product! Lol! Anyhow I am pretty sure that there are TONS of people out there who are dying to stock up on this baby! :)
This year's theme is based on Celestial objects - from the product faces that resemble galaxies, to names like Light Year and Ring of Saturn, they all do tie in beautifully to the theme. On a whole, methinks that this collection is abit of a mixed bag for myself. I'm always excited about the MSFs, Blushes and Eyeshadows, but the lipsticks and glosses did not exactly rock my socks. Don't get me wrong, they are indeed beautiful shades, but after being a fan of MAC for 5 years, I believe I have seen enough of these "universally flattering shades" to be easily excited anymore. Lol.
Alright, enough blabla for now. Lets go on straight to the swatches, starting with the Heavenly Creature Colour collection:
Mineralize Blushes (US23.50 / RM95):
These blushes felt a little hard to swatch compared to the ones MAC has put out in the past, but they are beautiful shades nevertheless. Solar Ray is the sheerest and most glittery of the lot, but I believe all are buildable in terms of coverage.
Solar Ray
- Peach and gold melange.
Ring of Saturn
- Terracotta and gold melange
Stratus
- Amethyst and gold brown melange
Supernova
- Magenta and burnished gold melange
Mineralize Skinfinishes (US$29 / RM115):
These MSFs are the stars of this collection, they are SO BEAUTIFUL!!! :D They are a nice change from
last year's glitterbombs
, and are totally wearable as blushes too.
Light Year
- Peachy pink with gold shimmer
Star Wonder
- Plumy pink with multi-dimensional pearl
Center of the Universe
- Coral with gold shimmer
Earthshine
- Tarnished bronze with gold pearl and pink reflects
Lipsticks (US$15 / RM68):
As mentioned earlier, the lipsticks from this collection are not terribly exciting, but if you're a MLBB girl, you would be drawn to these lipsticks, because they are sheer and should flatter a wide range of skintones.
Pleasureseeker
(Glaze) - Creamy peach. Repromoted from the Neo Sci-Fi collection (2008)
Cut a Caper
(Lustre) - Midtone peachy pink. Repromoted from the
A Tartan Tale collection (2010)
Venus
(Lustre) - Sheer yellow pink with pearl
Cusp of Dawn
(Lustre) - Beiged pink
Not pictured:
Fire Sign
(Lustre) - Red-pink
Cremesheen Glasses (US$19.50 / RM80):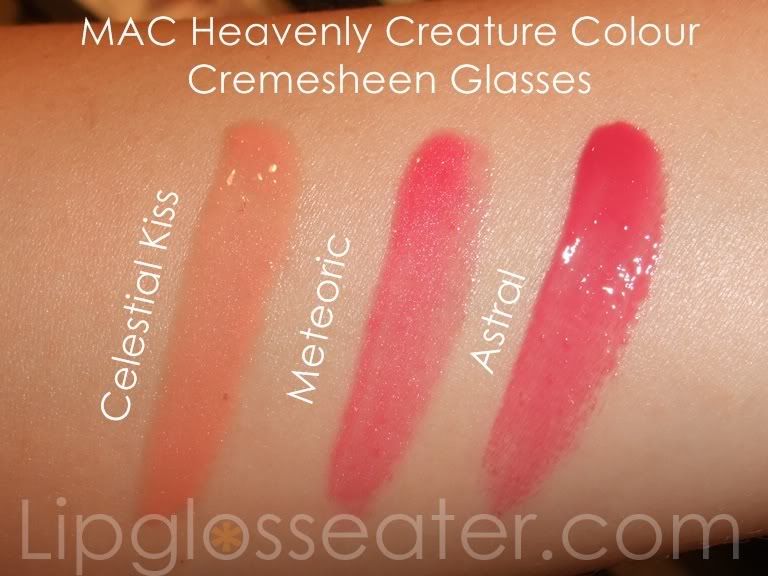 I personally LOVE the Cremesheen Glasses because they make my lips look so plump and juicy! :D Although they are not meant to provide an opaque finish, these are probably some of the more pigmented ones that have been offered so far! :)
Celestial Kiss
- Pale cool peach
Meteoric
- Midtone vibrant coral
Astral
- Bright yellow pink
Not pictured:
Strictly Plutonic
- Midtone pink-brown
Galaxy Rose
- Midtone violet pink
This collection also features their cult-status 187 and 188 Duo Fibre Face Brushes (US$42 / RM180 & US$35 / RM140 respectively):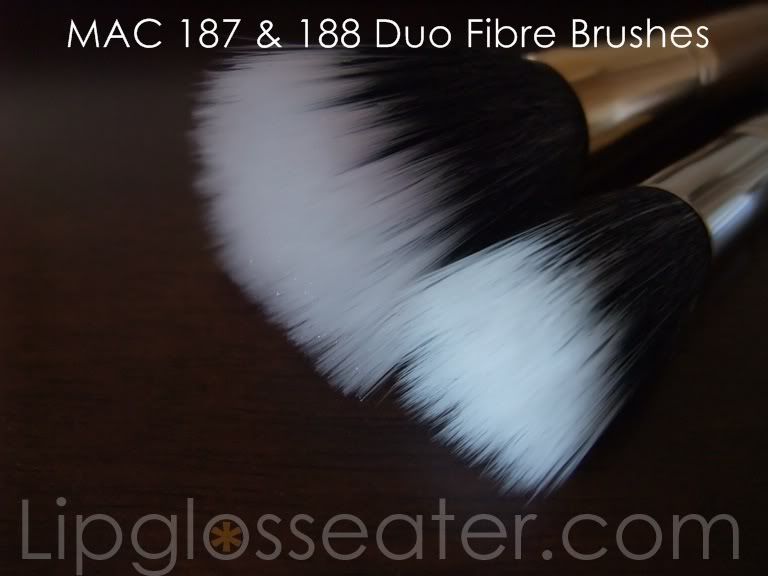 The second collection features nine Mineralize Eye Shadows, a mascara and an eye brush.
Mineralize Eye Shadows (US$21 / RM85):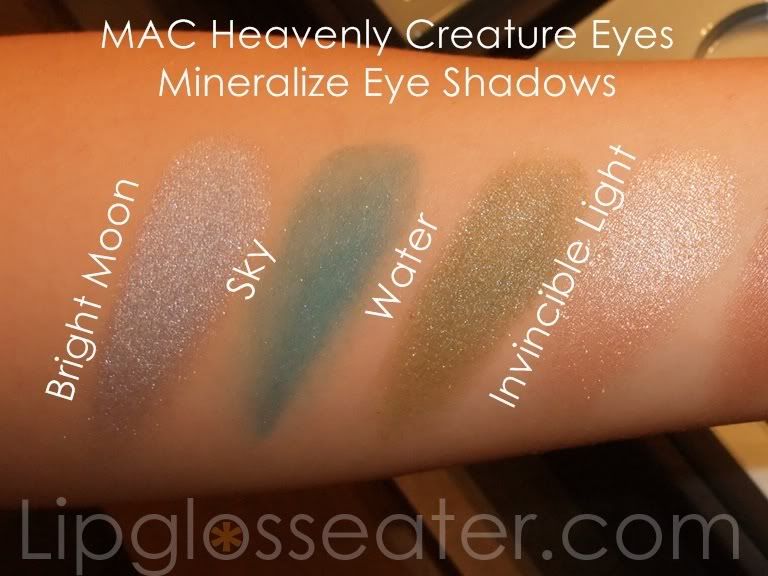 We only got eight out of the nine shades, so I apologize for not having swatches of Universal Appeal. All shades have a beautifully smooth texture that is easy to apply, with the exception of Sky, which is surprisingly chalky :(
Bright Moon
- Grey, silver and icy green melange
Sky
- Green gold, turquoise and cobalt melange
Water
- Yellow, lime green and blue melange
Invincible Light
- Icy white, lavender and warm gold melange
Aurora
- Peach, green and brown melange
Neo Nebula
- Cream, warm amethyst and warm pink melange
Magnetic Attraction
- Orange, pink and gold melange
Earthly
- Beige, peach and cool brown melange
Not pictured:
Universal Appeal
- Gold, bronze and violet melange
This collection also features the
False Lashes Mascara (US$20 / RM85)
and the
286 Duo Fibre Blending Brush (US$31 / RM138)
:
The final collection features four skin care items:
As mentioned before, I'm super excited about the Mineralize Charged Water marriage, because I'm such a fan of the Charged Water. My beloved MA gave me a generous sample of each, and I can't wait to try them for myself! :D I have personally owned a tube of the much raved about Volcanic Ash Exfoliator a few years back and I don't remember liking it alot (too drying). But do let me know if you happen to like it or not, because I do know personally know a few people who SWEAR by this product! :O
Mineralize Charged Water Cleanser - US$23 / RM98
Mineralise Charged Water Moisture Eye Cream - US$35 / RM150
Mineralise Charged water Moisture Gel - US$37 / RM165
Volcanic Ash Exfoliator - US$28 / RM115
Thats all for now. Didcha get anything from this collection? Are you literally star-struck, or are you seeing stars now? Lol sorry, couldnt resist saying that! XD Anyhow, do enjoy your weekend ya! :D
Credits: All shade descriptions taken from Maccosmetics.com.