At a Glance:
Price:
US$19.50 / RM84
Weight:
1.92g / 0.06 Us. Oz.
Made in:
USA
Likes:
Super lasting, super shiny! :D
Gripes:
Limited edition, expensive, quite sticky! :(
Repurchase:
Yes!
Ingredients:

Product Description
Taken from their website:

Lipcolour that dazzles with light and shine to bring an exciting dimensional pop to your lips. Large particle pearls reflect and refract light to mimic the brilliance of quartz and opal crystal. Provides exceptional shine with a crystalline iridescence. Non-sticky, non-tacky, lightweight and moisturizing. Glides on. Wear alone, or layer over lipstick or Lipglass for dramatic effect. Features our signature M·A·C vanilla aroma.
Pigmentation & Color:
This dazzleglass is basically a clear gloss with silver, teal and violet glitters. This lipgloss is like a discoball on steroids, it's SUPER BLING! :D
Skin swatch:
On my lips: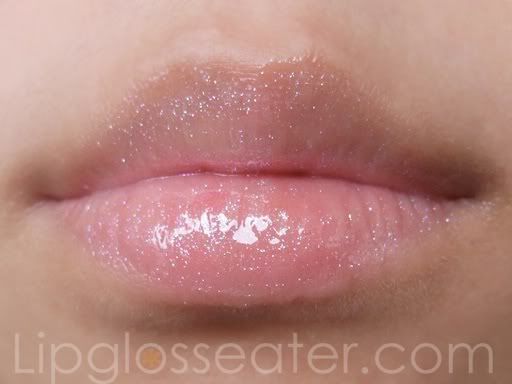 Texture & Taste:
This dazzleglass is probably one of the stickiest I've had! >.<
Packaging:
This lipgloss comes in the usual tube with a brush applicator:
The brush applicator:
The box it came in: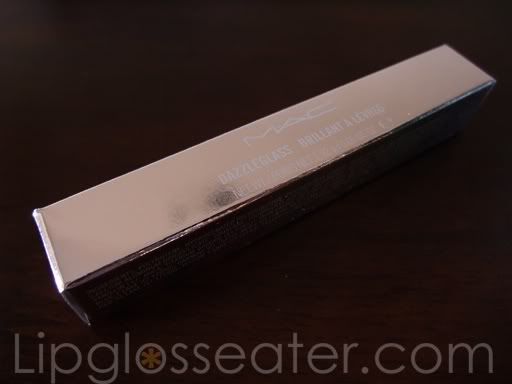 Time Test:
I don't know if the stickiness of this gloss had anything to do with its lasting power, but it lasted 8 hours on my lips - even after a meal its some of it is still there! :O
Price & Availability:
This is priced at RM84 each and should be available at all MAC outlets as well as on their website, but it is limited edition.
Usage:
Because of the glitters, I would reserve this for special occasions :)
My $0.02:
I didn't get this one when it first came out with the original Dazzleglass collection, and have been kicking myself ever since. I for one refuse to pay ridiculous ebay prices for this baby. Imagine my joy when I learnt that this will be repromoted with
this year's holiday collection
! I can now stop kicking myself and tell those e(vil)bay sellers to go kick themselves instead! Hehehe! :D
This dazzleglass is still as pretty as I remember it to be! It's so shiny and bling, more so than all of the other dazzleglasses! :D
This, however, is rather sticky. As mentioned above I'm not sure if this had anything to do with its lasting power though, cuz this lasted more than 8 hours on my lips! :D
All in all I'm really loving this shade, and I'll surely repurchase, if I run out that is! :D