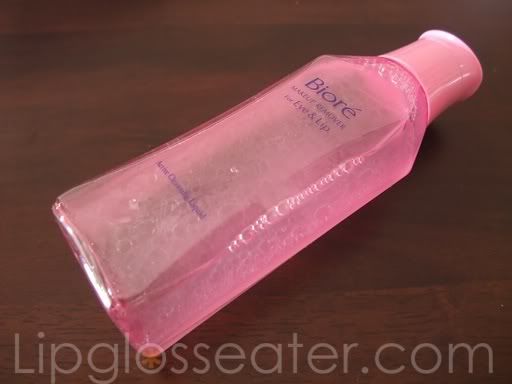 At a Glance:
Price:
RM29.90 (approx. US$9.96)
Weight:
130ml
Made in:
Japan
Likes:
Non-oily, removes everything, the bottle is pink, affordable, easily available! :D :D
Gripes:
None
Repurchase:
Yes! :D
Ingredients:

Product Description
Worried about losing precious eyelashes from excessive wiping or stressing this delicate area that is prone to wrinkles and fine lines?

Biore micro cleansing formula removes eye & lip makeup quickly!
Thorough removal: Softens even heavily layered waterproof mascara and thoroughly cleanses from root to tip and in-between lashes. Also removes eye makeup like gel, liquid eyeliner and glitter eye shadow.
Gentle on eyes & lashes: Reduces need for excessive, hard and repeated wiping around eyes

Dermatologically and Ophthalmologically tested.
Contains Hyaluronic acid, a moisturizing ingredient, to keep skin around eyes moist.
Leaves no oily residue.
Directions: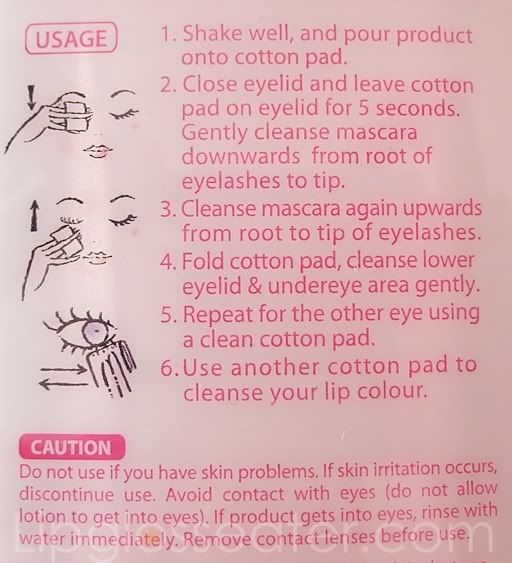 Texture & Scent: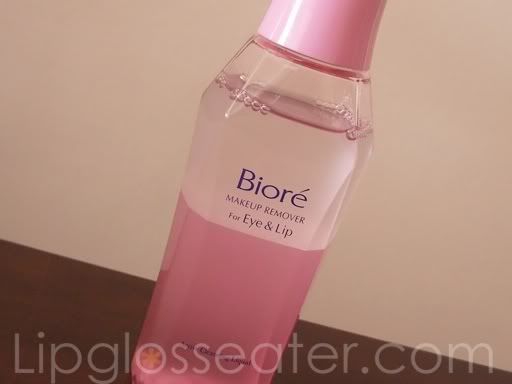 Typical of makeup removers that take off waterproof stuff, this remover has two layers - an oily layer on top and a runny layer underneath that according to the packaging, contains Hyaluronic acid.
The most surprising part for me is its non-oily texture! I was expecting this to leave an oily residue on my face because most waterproof makeup removers do, but hey, it didn't! It's seriously good stuff! :D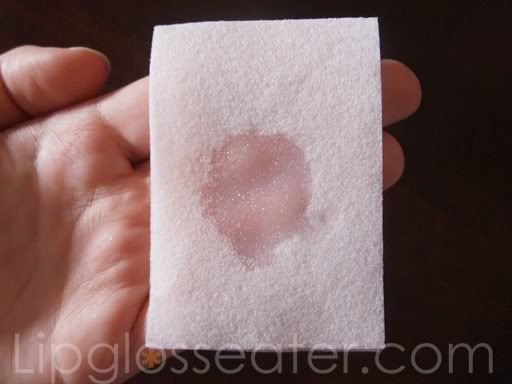 This product is fragrance free.
Packaging: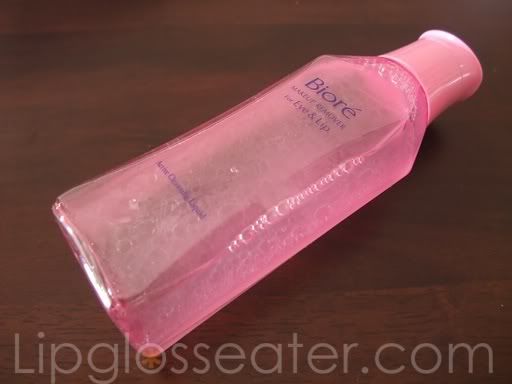 This makeup remover comes in a pretty pink plastic bottle with a flip top cap. The size of the dispensing hole is just nice to control the amount you pour out from the bottle: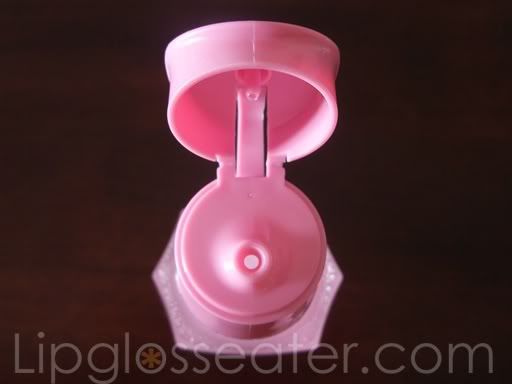 This product comes in a plastic box: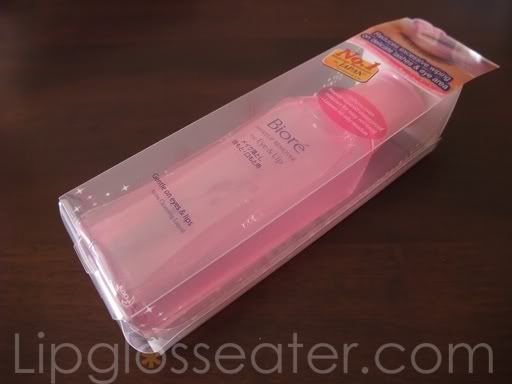 Price & Availability:
This makeup remover is priced at RM29.90 each and is available at Watsons, Guardian, Sasa, Caring, Jusco and Aeon Wellness :)
My $0.02:
A quick shoutout to the Biore team for sending me this product - THANK YOU SO MUCH! :D Gotta love the personalized packaging this arrived in too: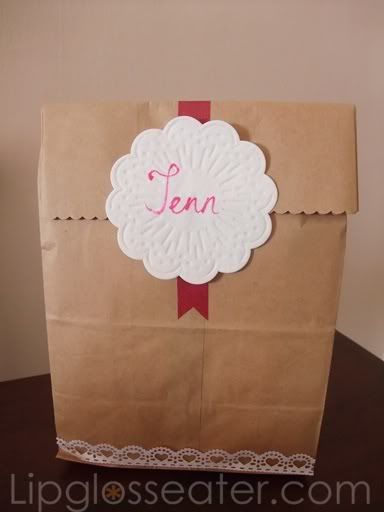 Whoots! :D
I'm experiencing abit of a blogger's block now, so i'll let the pictures speak for themselves: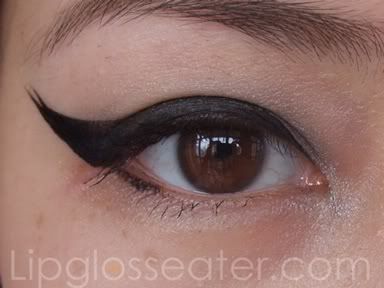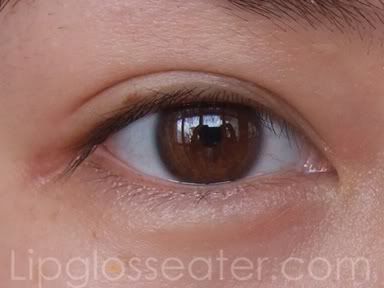 Liquid eyeliner - check! Waterproof mascara - check! Glitter eyeliner - check! Eyeshadow - check! No oily residue - check check check!! :D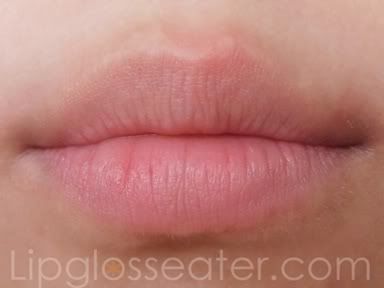 The two obvious red lines on the right are not lipstick residue, it is my freakin cracked lip! T_T
No full-faced picture because those two look absolutely atrocious when put together, but you get the idea! This removes all traces of makeup without leaving an oily film on my face! I also like how efficient it is - it takes about 3 swipes per eye to completely remove all that gunk shown in the picture above! :D
At this price, it is an affordable option. I seriously can't fault this in anyway, and I'll definitely repurchase! :)
Ps: Along with the full-sized bottle, I got a baby bottle of this too: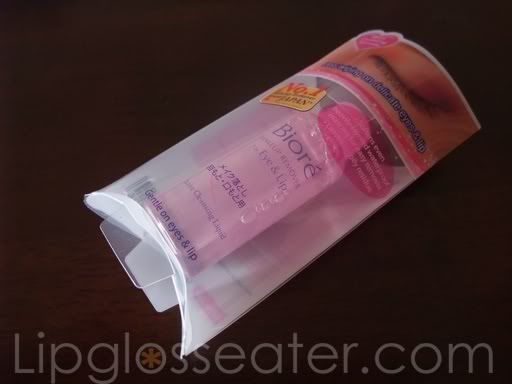 Look at how small it is: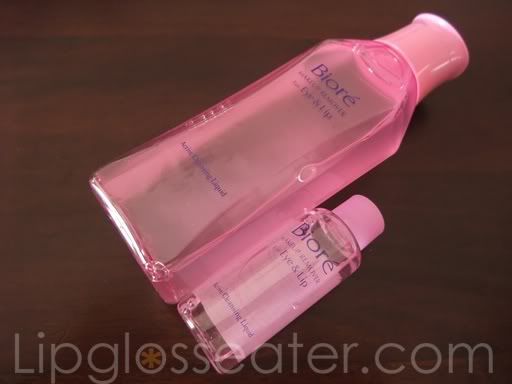 So cute! It's perfect for travelling! :D
Want to give this a whirl and see if you like it or not? You're in luck! The kind folks at Biore has offered to give the adorable 18ml sample shown above to 30 lucky Malaysian readers!
To get your free sample: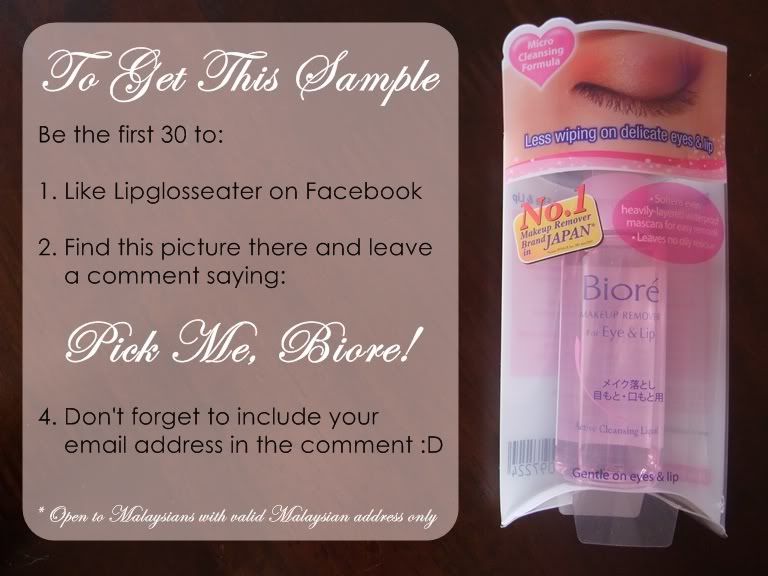 It's that easy! Once all 30 spots are filled, I will email you lucky 30 for your contact details to be forwarded to Biore. Kindly reply in 48 hours, otherwise your sample will be given to the next in list. Then just sit back, relax, and wait for your sample to arrive at your doorstep!
Faster go get your sample already! Don't forget to let me know how you like it when you have tried it! :D
This item is sent to yours truly by Kao for consideration. I am in no way affiliated with them nor do I get compensated monetarily for this post. Kindly purchase at your own discretion. Please read my disclaimer for the nitty gritty on sponsored products :)