Warning: Picture heavy post!
Ok, this is a loooooooong belated post promised from
wayyy back then
. I've finally gotten my lazy behind around to take pictures, so thank you for your patience! :D
Contrary to popular belief I do think that I don't have alot of stuff (don't listen to the husband, some men are clueless creatures who can survive using a bar of soap from head to toe so anything more than that is considered "alot" to them!! Lalalala! :P), and this is further proven in the pics below.
Ok enough blabla, lets go straight to the pics! This is my dresser: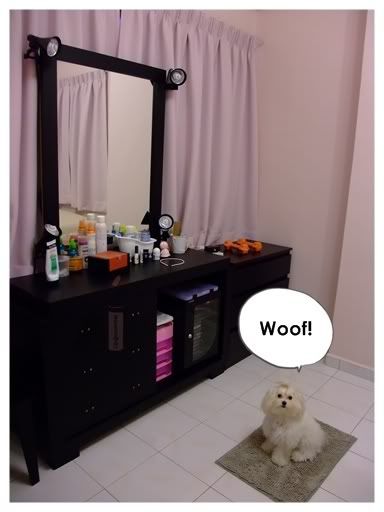 Lets start with my dresser top! :D Being abit OCD i arrange my stuff according to height and function, and i like to keep my dresser top as clutter free as possible. Stuff that i use daily or often are placed there, the rest are covered and tucked away to keep dust out.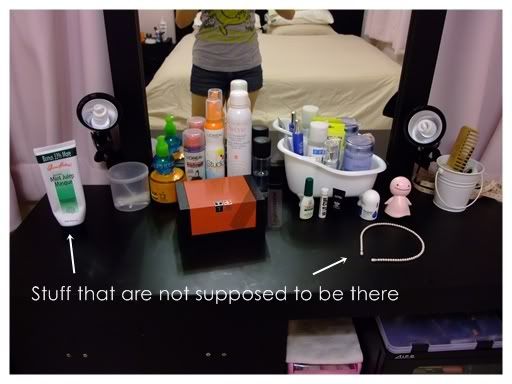 My hair and facial sprays (my super distracting reflection covered - i think you all would much prefer to look at the cute cartoon instead! haha! :D):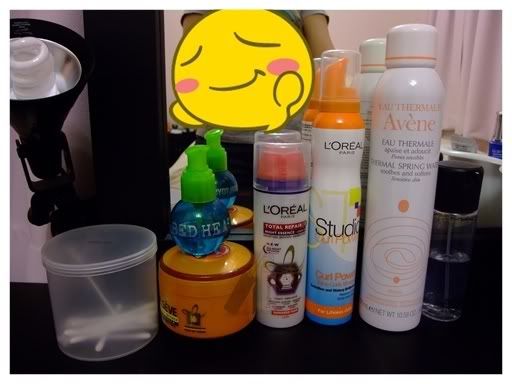 From left: cotton buds, bed head Girl Toys (top),
Loreal Elseve Smooth-Intense Ultra-Rich Leave-In Mask
, Loreal Total Repair Night Essence (review coming up soon! :D), Loreal Studio Curl Power mousse,
Avene Thermal Spring Water
, MAC Charged Water (Super heart this! Review to be done as well :D)
In my little bath tub are all the skin care items that i'm currently using: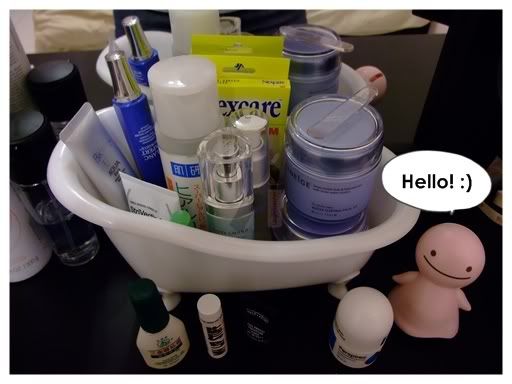 Biore UV Aqua Rich Watery Mousse SPF50+ PA+++
, my Holy Grail Lancome spot eraser,
Hada Labo lotion
, Strivectin-SD eye cream, The Body Shop blemish pen (the green dot), Estee Lauder whitening serum, Bioglo pore refiner (sad that they have changed the formula - it used to be awesome but it sucks now :( ),
3M acne patch
, Laneige night cream (bottom), Laneige Water Bank (top). Outside the tub are a watermelon powder spray for my ulcers,
My Lip Stuff Natural Lip Balm in Passionfruit-Orange-Guava
, a sample of the MAC Prep + Prime sunblock, my
Perspirex anti-perspirant
that i can't live without and my absolutely cute pink Nohohon! :D
In the small bucket:
Mine and the husband's combs, tweezers, nail brush, nail clipper, blackhead remover loop and a body fat analyzer.
Moving on to the closed compartment on the left! :D Here I keep all my bath and body stuff, as well as all some other things that I don't use all that often. Open sesame: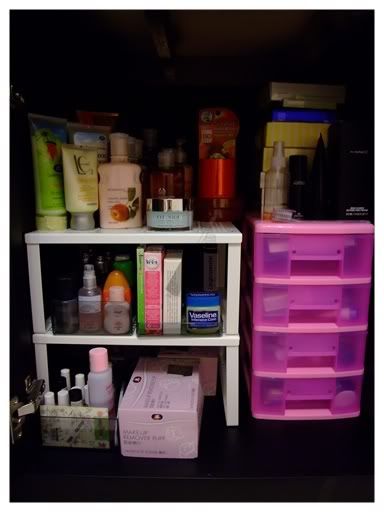 On the first layer on the left:
Backups of my shampoos, shower gels, scrubs, sunblock and body lotions. My clay masks go here too (the silver cap one is the
Cellnique clay mask
). The out-of-place in pic #2
Queen Helene mask
goes here too :)
In the 2nd shelf are my travel-sized stuff (shampoo, shower gels, cleansing oil, etc) on the left: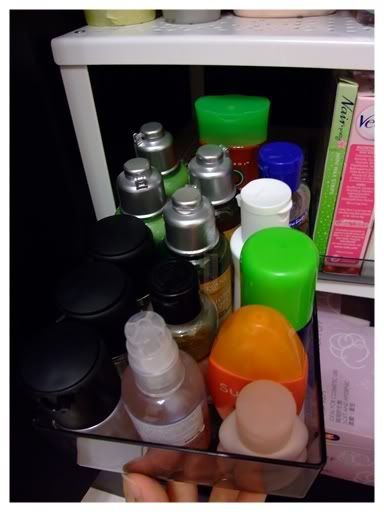 I find that putting all items on the 2nd and last shelves in plastic containers makes it more convenient to retrieve stuff placed at the back - I can just slide the whole container out and just grab whatever i want instead of taking them one by one out, get whatever i want then putting them all back again one by one! :)
On the right are random stuff: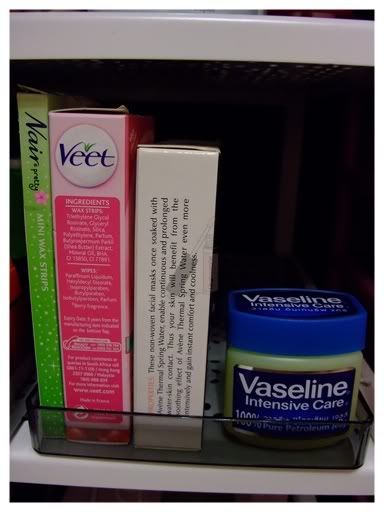 Wax strips, Avene facial masks and Vaseline.
On the last layer is my nail stuff (polishes, remover, cotton pads, etc.):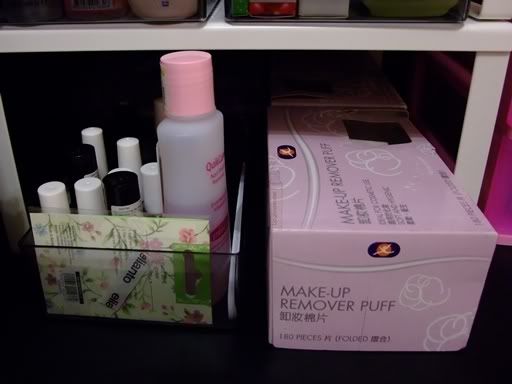 Moving on to the right side! On the top of my pink plastic drawers are backups of my sheet masks at the back. In front are my brush cleanser in a spray bottle, the MAC Prep + Prime, the MAC Volcanic Ash mask and a backup of the
MAC Brush Cleanser
. The toothbrush is to clean my lash comb! lol! :D
In the first drawer are single sheet masks:
2nd drawer are skincare samples that i intend to use soon :D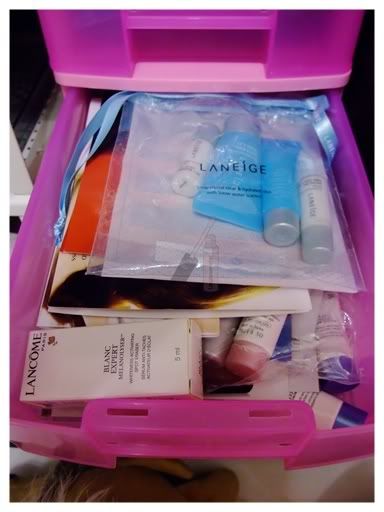 3rd drawer contains all other samples that i have either used and didn't like, or just simply unloved but feel guilty of throwing them away :P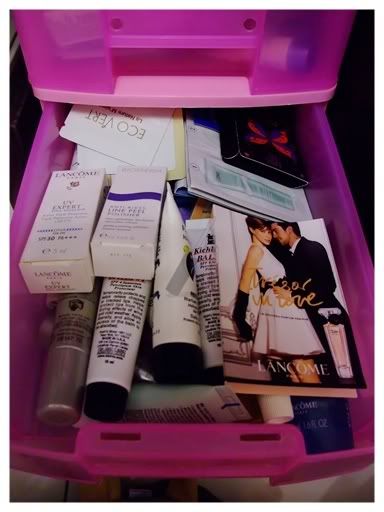 The last drawer contains makeup sponges / empty containers and a MAC sharpener that i've bought eons ago but yet to use =X
Wow! I actually didn't realise that there were so many pictures! >.< I think i'll split the makeup section into another post so I'll stop here for now. Part 2 coming up shortly so stay tuned! :D
I'm sooooo glad for the weekend already because I was having a rather poopy week! Looking forward to a girls day out tomorrow and simply just catching up on sleep during the weekend.
What about you? What do you have planned? Have a great one ya! :D