At a Glance:
Price:
US$12 / RM29.90
Weight:
250ml / 8.4 US Fl. Oz.
Made in:
UK
Likes:
Cleanses well, does not dry out the skin, scent lasts longer than usual shower gels! :D
Gripes:
Expensive
Repurchase:
Only when its on sale! :D
Ingredients:
Product Description:
100% biodegradable shower gel. 100% recycled plastic bottle. No sulphates. No parabens. No colourants. Soap Free.
Texture & Scent:
This shower gel is rather runny, so don't squeeze the bottle too hard to avoid dispensing too much product. It rinses out clean and doesn't leave my skin feeling dry.
This doesn't lather up a great deal: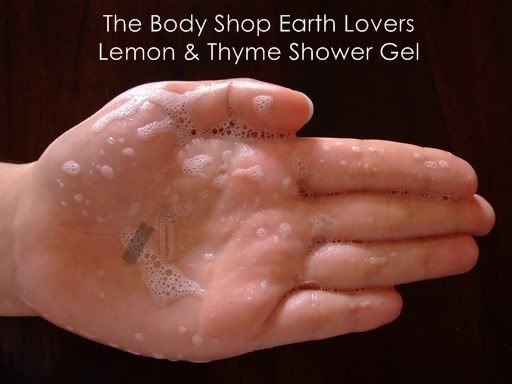 This has a refreshing yet musky smell that is quite lovely, and it lasts longer than the average shower gel! :D
Packaging:
This shower gel comes in a plastic squeeze bottle with a flip top cap.
The dispensing hole:
Price & Availability:
Hmmm, did TBS revise the pricing for their shower gels? Seems like they're back down to RM19.90 now from RM24.90! :D Anyways, this shower is RM10 more expensive than the usual ones at RM29.90, and it's available at all TBS stores.
My $0.02:
This is a gift from a friend, so thank you, if you're reading this! :D
To be honest i wouldn't have picked this up myself if it wasn't on sale. At 10 cents short of thirty bucks it is considered expensive, considering how a bottle barely lasts me a month!
This does everything a standard shower gel does. I can't really fault it for anything, except for its price. But after using it, i do think that it is worth the price tag, especially if you're paranoid about the existence of sulphates in your shower gels (suspected carcinogen). There aren't too many of these in the market. I also liked how the scent lingers a little longer than the usual shower gels, which is nice :)
Since this is the best smelling one from the Earth Lovers line, I will repurchase this when it goes on sale :)