At a Glance:
Price:
RM15.90 / US$9.95
Website:
Shiseido.co.jp/tsubaki
Weight:
220ml
Made in:
Japan
Likes:
Cleanses well, rinses clean, cheap, easily available! :D
Gripes:
Could be a little more moisturizing!
Repurchase:
Yes
Jenn's Rating:
4 Stars! Me likey! :D :D
Ingredients:
Product Description:
Beautifully glossy hair. For hair that is manageable and glossy right down to the ends.
Actual Product Pic: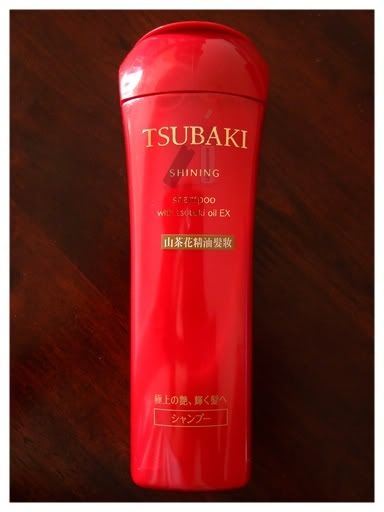 Texture & Scent: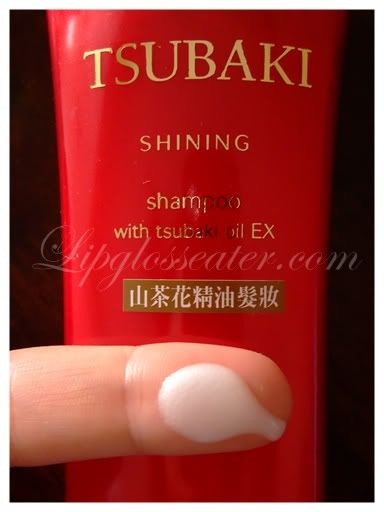 This shampoo is a little thicker in consistency compared to other shampoos, but it still lathers up nicely: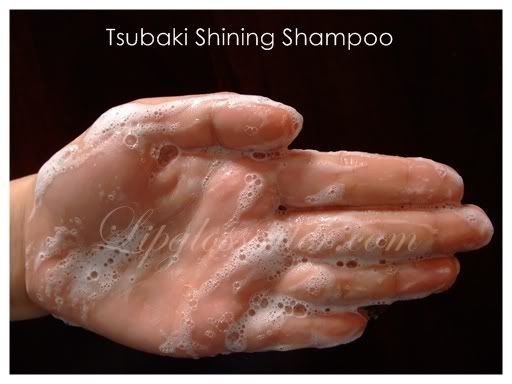 It rinses out easily after that, but i find that it sometimes leave my hair a little tangled (dry).
This has a fresh scent that i LOVE!!
Packaging: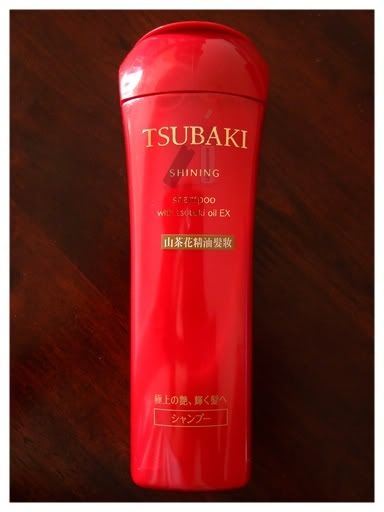 This shampoo comes in a striking plastic bottle with a flip top cap. I like how the bottle is semi opaque too - i can easily see how much product i have left! :) The dispensing hole is perfectly sized to ensure minimal wastage: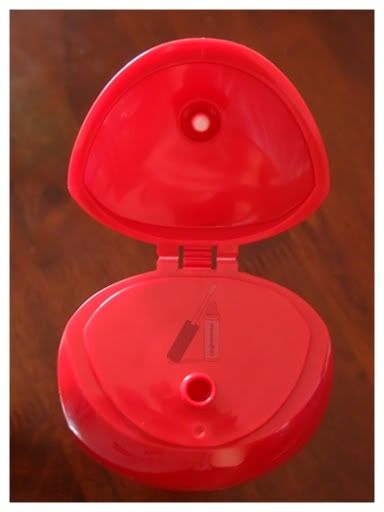 It snaps tightly shut, so it travels well! :)
Price & Availability:
This shampoo is priced at RM15.90 for 220ml. There's a bigger 550ml pump bottle available as well, that goes for RM32.90 per bottle. You can get this locally at most Watsons outlets as well as Jusco! Girls in the US can get this off Amazon at $9.95.
My $0.02:
The moment i took a whiff of this shampoo, it took me back to my childhood days when my dad used to travel for business really frequently. He always brings back a set of the hotel shampoo and body wash for keepsake. I remember having a particular affinity for one such bottle of shampoo my dad brought back from Japan because of its cute egg-shaped bottle. Whenever he's away and I miss him, I always open the bottle and sniff at it, and somehow the scent always comforted me. Weird right? But I was a funny kid growing up! :P
I don't think Tsubaki has been around for that long (I could be wrong though), but that particular hotel must have commissioned Shiseido to fill in those cute little egg-shaped bottles because the scent is EXACTLY the same as this shampoo! So nostalgic for me! :)
Enough blabla, lets go onto my $0.02! This shampoo is not bad for its price - it cleanses and rinses out well, smells nice and is easily available too. I find that this leaves my hair feeling a little dry sometimes, but my hair is quite damaged and its really nothing a good conditioner / hair mask can't fix so I'm ok with that.
Quite a few people reported that this gave them dandruff / an itchy scalp, but thankfully mine agrees with this product! I know the Watsons at Queensbay is giving out samples of this shampoo now - so do drop by if you're keen to get one to try out :)
All in all, methinks that this is quite a good shampoo, and I'll most likely repurchase! :)
Credits: Product pic from
Amazon.com
.