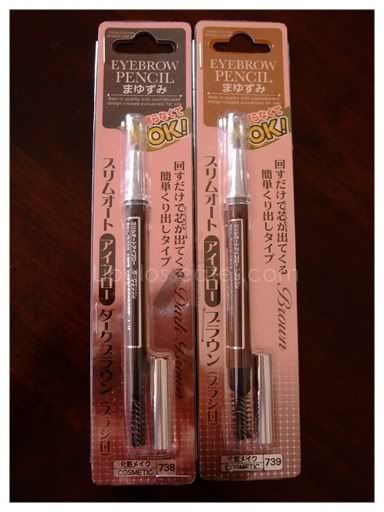 At a Glance:
Price:
RM5 (US$1.67)
Website:
NA
Weight:
NA
Made in:
Japan
Likes:
Super cheap, easy to use, lasts!!
Gripes:
No ingredient list.
Repurchase:
Yes!! :D
Jenn's Rating:
4.5 Stars! Me really likey!!! :D
Ingredients:
NA
Product Description
Best in quality with sophisticated design created exclusively for you
Pigmentation & Color:
There are four colors available - Dark Brown, Brown, Black and Grey. I bought the Dark Brown and Brown ones. Dark Brown is a dark chocolate brown, and Brown is a medium gold brown. These two are quite pigmented - one swipe is all it takes for the color to show, but the intensity is definitely buildable.
Swatches: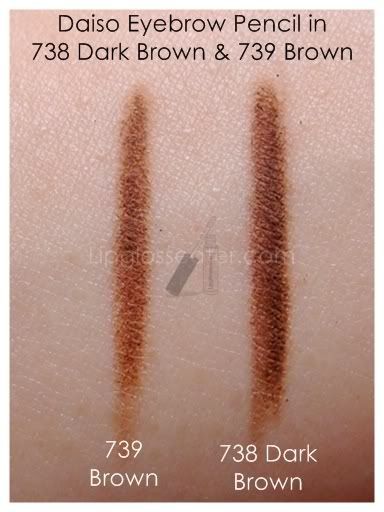 On my brows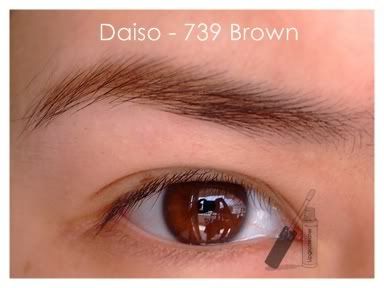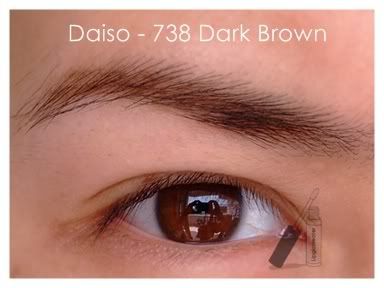 I'm using the Dark Brown one in my
FOTD here
.
Texture & Scent:
This eyebrow pencil goes on a little waxy, but thats the way with most auto brow pencils. It does applies smoothly though.
There's a very faint plastic scent for this product, but i can hardly smell it once on!
Packaging: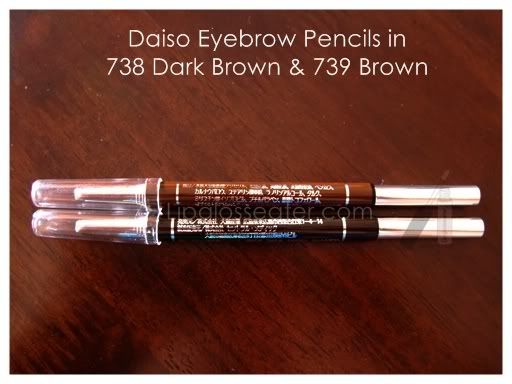 This eyebrow pencil is typical of your usual "auto" eyebrow pencils - it comes with a twist-up mechanism on one end, and a brow comb on the other end (which is really fantastic btw!).
The lash comb ends: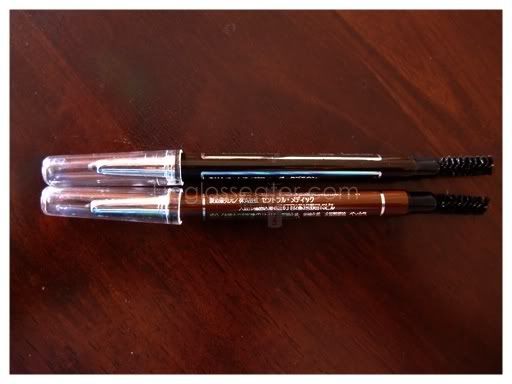 You get about an inch of product in each tube: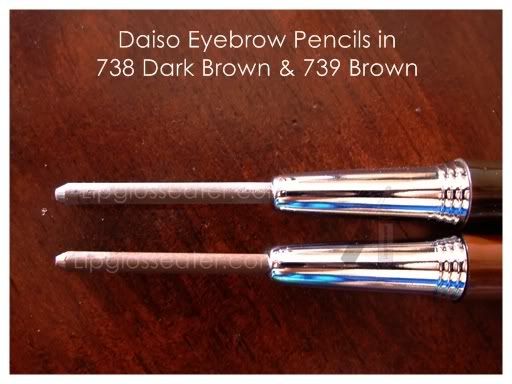 The packaging it came in: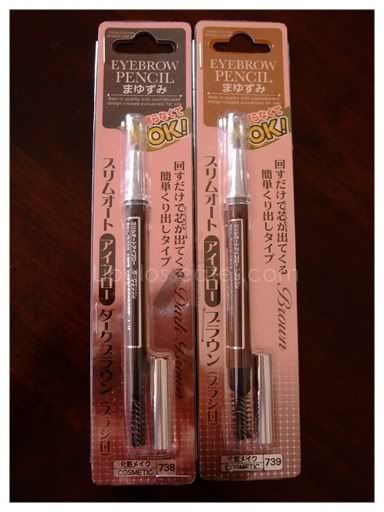 Time Test:
This one lasts more than 8 hours on my lids, but fades quickly in humid weather!
Price & Availability:
This liner is priced at RM5 and is available at most Daiso stores.
My $0.02:
Alot of people love the old Daiso brow pencil, so when Daiso came to my island, i thought i'd pick one up and try! Unfortunately the old packaging is nowhere to be seen and is probably discontinued already, so i thought i'd just give these a try since they are so cheap!
And you know what? I'm really loving it!! :D The Brown one is a little too light for my skintone, but the Dark Brown one is a perfect match for me! :D
Its twist up mechanism is literally idiot proof! And because its an automatic one, you don't ever have to sharpen it :) And oh, the lash comb is great and so convenient! :D
The only complaint i have is the lack of the ingredient list on the packaging. I would want to know what is the pencil made of.
At RM5 each it's really dirt cheap. I don't think i'll be getting the MAC one anytime soon because i could've gotten 13 of these at that price, but i'll let you know how they compare if I do! :D
Needless to say i'll definitely repurchase! :D