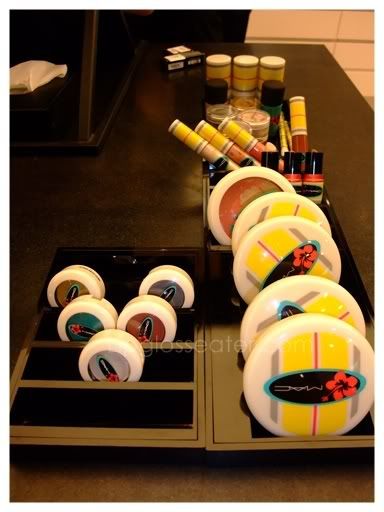 This is the annual summer collection from MAC. Can you believe that it has been a year already since
To The Beach
? I have stuff from that collection that i've yet to use! :O
I wasn't very excited about this collection when i first saw sneak peeks of it online, and that level of enthusiasm remained when i checked it out in person. I'm not a fan of the surfer girl inspired design, and the color selection didn't wow me either. This is just a "meh" collection for me.
Lipsticks (US$15.50 / RM69):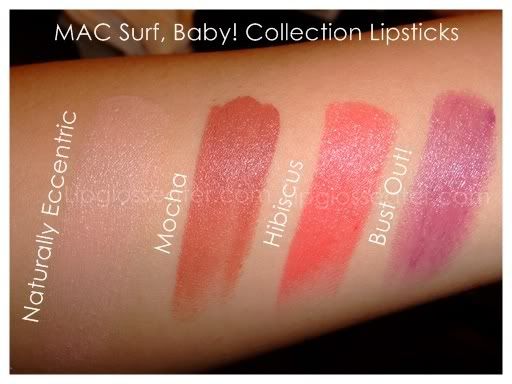 Out of all the lippies, I was most drawn to Hibiscus. It swatches less scarily than it looks in the tube, and sheered out i think it will make an absolutely beautiful lip color! :D Mocha is super pretty as well, but this color is permanent so no hurries in getting it! :D
Naturally Eccentric
(Lustre) - Creamy white nude
Mocha
(Satin) - Peachy yellow-brown. This is permanent.
Hibiscus
(Cremesheen) - Bright orange coral
Bust Out!
(Lustre) - Dirty midtone violet
Lipglasses ((US$15.50 / RM69):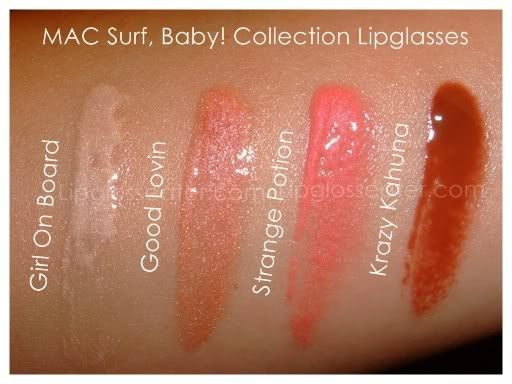 All four lipglasses in this collection have medium pigmentation, with the most opaque being Krazy Kahuna. I have Strange Potion from last year's
Venomous Villians collection
, and it reminded me that i've yet to use it! :P It's absolutely beautiful, on its own or layered over a similarly colored lipstick!
Girl On Board
- Pale white gold
Good Lovin
- Soft peachy pink
Strange Potion
- Soft coral pink
Krazy Kahuna
- Warm midtone brown
Suntints (US$15.50 / RM68):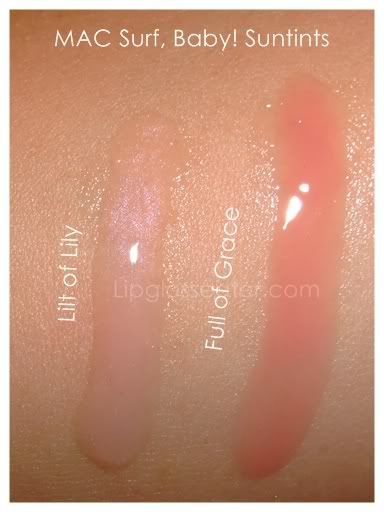 Lilt of Lily
- Soft creamy pale pink
Pink Tinge
- Clean bright yellow pink
Full of Grace
- Soft sheer rose
Eyeshadows (US$15.50 / RM63):

I was quite surprised by the Satins in this collection. They swatch beautifully and are quite pigmented! :D Out of the 5, Surf USA is the chalkiest of them all.
Short Shorts
(Frost) - Frosty white champagne
Sun Blonde
(Frost) - Dirty yellow gold
Saffron
(Satin) - Deep coral caramel
Surf USA
(Frost) - Frosted teal
Swell Baby
(Satin) - Mid-tone grey
Crushed Metallic Pigment (US$32.50 / RM135):
These pigments come in a similar packaging as the ones introduced in the
Spring Forecast collection
last year - 4 plastic containers that screw onto each other. I'm not a fan of the packaging, but I have nothing to fault the pigments themselves for - they're absolutely gorgeous (especially Surf the Ocean) and oh so metallic! :D
Summer Stash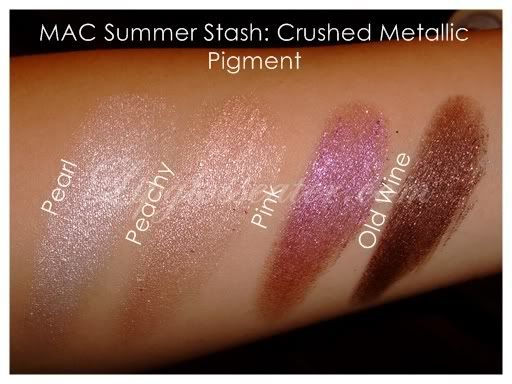 Pearl
- Light white pearl
Peachy
- Light pink champagne
Pink
- Light violet with silver pearl
Old Wine
- Brown bronze with gold pearl
Surf the Ocean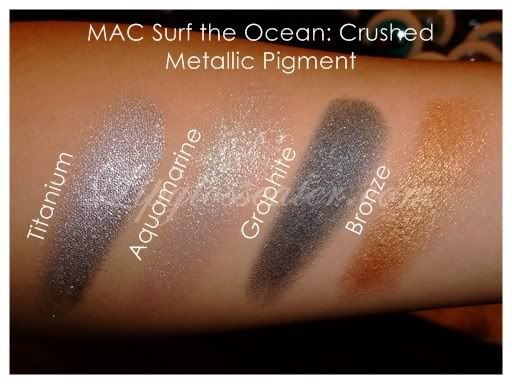 Titanium
- Frosty platinum
Aquamarine
- Light yellow green
Graphite
- Dirty graphite with silver pearl
Bronze
- Gold bronze
Powerpoint Eye Pencils (US$15.50 / RM65):
Both liners are very pretty and versatile, but i don't think that they're safe to use on the waterline because they contain glitters.
Gilded White
- Yellow white frost
Blue Noon
- Teal with gold pearl
Skinsheen Bronzing Stick (US$29.50 / RM120):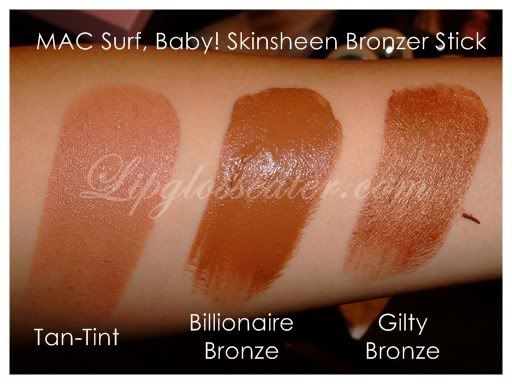 These are creamy upon application, but they're a PITA to blend! >.<
Tan-Tint
- Soft suntan bronze
Billionaire Bronze
- Warm golden tan
Gilty Bronze
- Coppery bronze with gold
Studio Careblend / Pressed Powder (US$28 / RM115):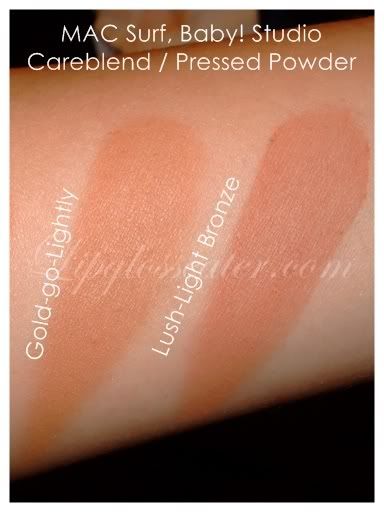 I'm truly in LOVE with these powders - super smooth and finely milled and they blend beautifully! My colleagues got me Gold-go-Lightly and I LOVE it to bits (just in case they're reading: I love you guys toooo! Hahaha!!)!! <3
Gold-go-Lightly
- Mid tone golden tan brown
Lush-Light Bronze
- Mid tone rosy pink brown
Bronzing Powder (US$24 / RM98):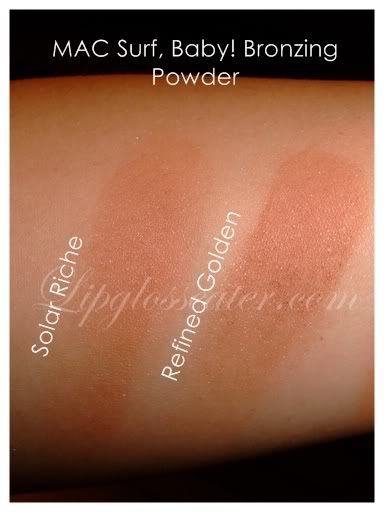 This is the n-th time MAC has put out these two bronzers in their summer collection (
here
and again
here
)! >.<
Solar Riche
- Midtone deep orange brown.
Refined Golden
- Finely spun golden with soft pearl finish
Nail Lacquers (US$15 / RM44):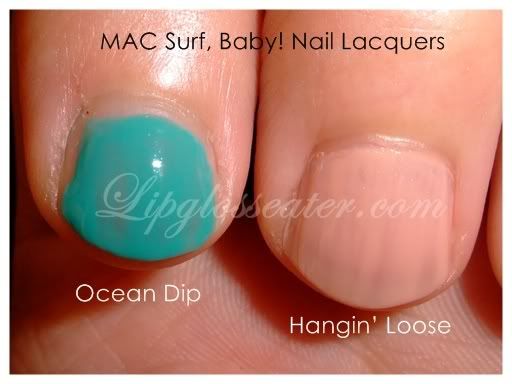 The nail lacquers go on streaky :(
Hangin' Loose
- Dirty pink nude
Ocean Dip
- Midtone creamy aqua
My Paradise Blush (US$28 / RM121):
Last but not the least - the prettiest item of the collection! :D This blush is super pigmented and can be abit too orange for some people, but when used with a light hand it looks absolutely stunning! :D I love how the overspray is of a thicker layer this time too so it'll last through a few uses! :)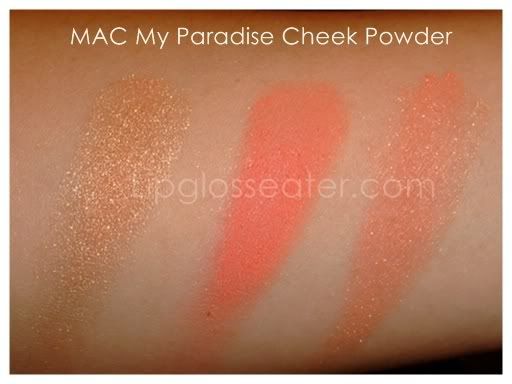 Left to right: Overspray, Blush, both together
My Paradise
- Peach shade with gold hibiscus overspray.
Thats all for now!! Sorry for the brief review of each items - this post was done in a hurry because this collection has been out for sometime already. Didcha get anything from here? :D