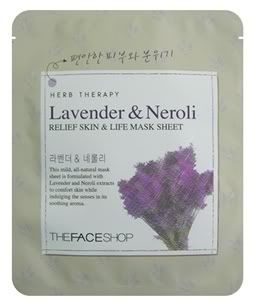 At a Glance:
Price:
RM6.90 (approx. US$2.30)
Website:
http://www.thefaceshopen.com/
Weight:
20ml / 0.67 Fl. Oz.
Made in:
Korea
Likes:
Moisturizes and brightens skin well!! :D
Gripes:
Not a fan of the scent, contains alcohol.
Repurchase:
No
Jenn's Rating:




3.5 Stars! Not bad, but i don't like the fragrance! >.<
Ingredients:

Product Description
This mild, all-natural mask sheet is formulated with Lavender and Neroli extracts to comfort skin while indulging the senses in its soothing aroma.
Aroma therapeutic benefits of Lavender:
Calms body and mind
Soothes flushed skin
Aroma therapeutic benefits of Neroli:
Relieves tension
Delights and nurtures sensitive skin
Directions:
Actual Product Pic: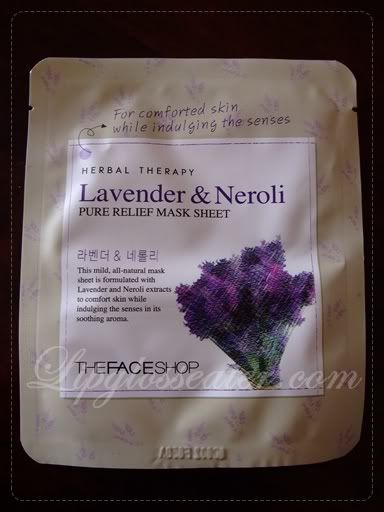 Texture & Scent:
This mask is quite wet, so you're getting your money's worth of essence with this mask! :D The essence takes some effort to sink it, but once it does it doesn't leave a sticky feeling on the skin.
This smells like lavender, which i don't really like.
Packaging: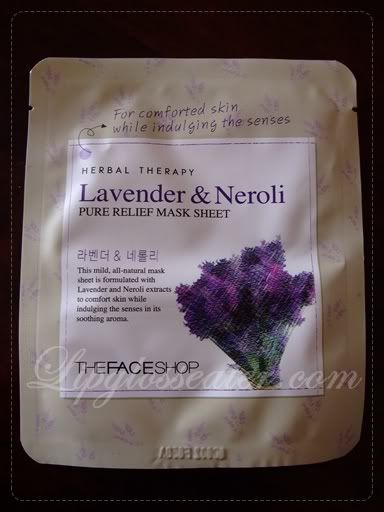 This mask is individually packed into their respective packs and is sold by the piece. As usual, the mask sheet fits my face well except for the mouth part:
Time Test:
15-20 minutes!
Price & Availability:
This mask is priced at RM6.90 each and is available at all The Face Shop outlets.
My $0.02:

Hello again!! :D Did you all miss Masking Mondays? :D I can't promise that its fully resumed now, but i promise i'll post whenever i can k! :D
This mask moisturizes and brightens my face well, which is great. But on the downside, the essence takes sometime to sink into my skin, so its definitely not something you can plaster on your face and dash out of the door after that!
This is how i look after using this mask:
At RM6.90 each, it's not too bad! Unfortunately i don't really like the scent (it reminds me of floor cleaners! >.<), so i guess i won't be repurchasing!
Photo credit: Product photo from
Thefaceshopen.com
.