At a Glance:
Price:
US$7 / RM29
Website:
Kiehls.com
Weight:
15ml
Made in:
USA
Likes:
Wears well under and over lipstick, nice sturdy packaging.
Gripes:
Pricey for what it is, leaves a film on my lips, didnt moisturize my lips at all! :(
Repurchase:
No
Jenn's Rating:


2 Stars!! Abit pointless to have...
Ingredients:
Product Description:
Temporarily protects and helps relieve chapped or cracked lips. Helps protect lips from the drying effects of wind and cold weather.
Actual Product Pic:
Texture & Scent:
This lipbalm feels kinda like petroleum jelly - it has a gel-like texture that spreads easily. I find that it leaves a film on my lips though. This one doesn't have a scent to it.
This is how it looks on my bare lips: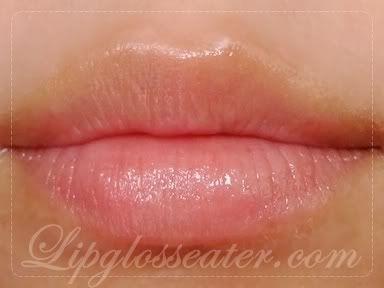 Packaging:
This lip balm comes in a squeeze tube with a twist off cap and it travels well! :)
The dispensing hole: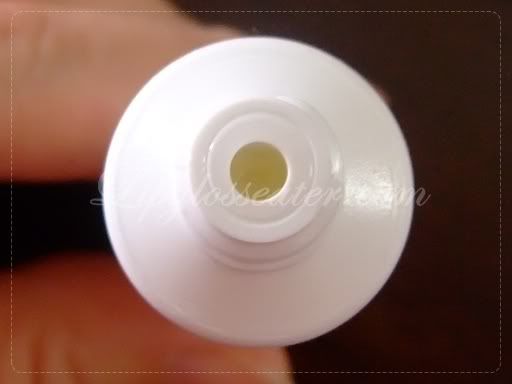 Time Test:
This lasts about 8 hours on my lips before it fades.
Price & Availability:
This lip balm is priced at US$7 / RM29 each and is available at all Kiehl's stores.
Usage:
This is works well under lipstick :)
My $0.02:

I've been wanting to try out this one for AGES, since i've been reading raves after raves about this baby! So glad to get this as a door gift when Kiehl's opened its doors here in Penang! :D
Sadly, it did not work for me! :( Instead of moisturizing my lips, i find that it dries them out further. Also, it leaves an uncomfortable film on my lips instead of sinking in! >.<
Not all is bad about this lip balm though - i find that it travels well. The small and light tube fits into my handbag / pocket easily. I also like how it wears well under lipsticks, though i personally prefer a more moisturizing balm underneath.
At US$7 / RM29 per tube it is not the cheapest lip balm there is out there, so naturally i'm a little disappointed. I'm sticking to my beloved
Badger Vanilla Madagascar Lip Balm
, which i love to death (at about half the price too)! :)
Thats all for now! The
MAC Wonder Woman collection
premieres locally tomorrow at Gurney Plaza, so do pay them a visit if you want to grab something yeah (but save some for me! lol!)! :D
Photo credit: Product pic from Kiehls.com