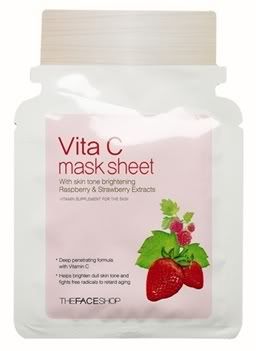 At a Glance:
Price:
RM6.90 (approx. US$2.30)
Website:
http://www.thefaceshopen.com/
Weight:
23ml / 0.67 Fl. Oz.
Made in:
Korea
Likes:
Moisturizes and brightens skin really well, essence absorbs into skin quickly, no sticky after feel! :D
Gripes:
Contains alcohol! T_T
Repurchase:
No
Jenn's Rating:




4 Stars! Love the effect but not the alcohol content! :(
Ingredients:
Product Description
With skin tone brightening Raspberry & Strawberry Extracts.
Formulated with Vitamin C and extracts of Raspberry and Strawberry, this vitamin drenched sheet mask helps brighten dull skin tone.
Vitamin C brightens skin tone and fights free radicals.
Patented Phytolex Nanoliposome effectively delivers beneficial ingredients deep into the skin and helps protect tired, rough skin from environmental damages.
What is Phytolex Nanoliposome?
Phytolex Nanoliposome is a composite of Ceramide and natural plant extracts of Mung Bean, White Birch and Rumex Crispus L.
Directions:
Actual Product Pic:
Texture & Scent:
This mask is really wet, so you're getting your money's worth of essence with this one. The essence in this mask is actually opaque in color - a creamy pink! Nevertheless it sinks in clear (phew!)! :D
I was expecting this to smell like candied strawberries, but it doesn't! It smells flowery just like the other ones from this range! :)
Packaging:
This mask is individually packed into their respective foil packs and is sold by the piece. Like I've mentioned before, I'm thankful that the mask sheets in this range actually FITS my face! :D
Time Test:
15-20 minutes!
Price & Availability:
This mask is priced at RM6.90 each and is available at all The Face Shop outlets.
My $0.02:

Once again, this looks, feels, smells and works like its
Vita A
and
Vita B
sisters. With the exception that the essence from this mask being creamy opaque of course, otherwise i think they're virtually similar!! :D
Out of the 3, this one brightens the best! :) This is how i look after using this mask:
My face looks really radiant after using this mask. However, i don't think i will be repurchasing this one due to the alcohol content in it! :(
Photo credit: Product photo from
Thefaceshopen.com
.