At a Glance:
Price:
US$3 / £2.45
Website:
Badgerbalm.com
Weight:
0.15 Oz
Made in:
USA
Likes:
Super delicious scent, cheap, crazy moisturizing, pairs perfectly with lipstick! :)
Gripes:
Not available locally! :(
Repurchase:
Yes, but i'd like to try out other flavours first! :D
Jenn's Rating:





5 Stars!! My favourite lip balm to date! <3
Ingredients:
Product Description:
Subtle natural flavor and fragrance blends soothe and smooth lips, and they can be used to refresh dry skin anywhere on the body.

They also sport the antioxidant powers of Seabuckthorn Berry and Rose Hip Extracts, as well as an organic Aloe Vera Extract for added dry weather soothing.
Actual Product Pic:
Texture & Scent: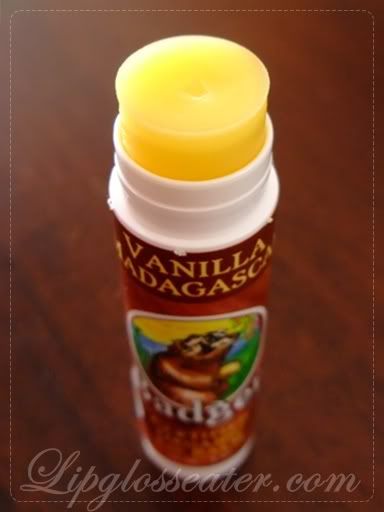 This lipbalm feels a little more "solid" than the usual lipbalm, but it slicks on smoothly nevertheless. I like how this doesn't feel waxy or overly oily so it sits perfectly under your lipsticks! :D
This is how it looks on my bare lips: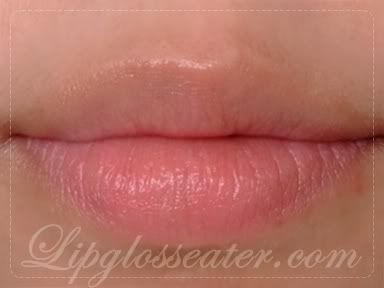 Ignore the pimple on the right side. My skin is sooo bad nowadays! T_T
This has a wonderful vanilla scent which i'm absolutely addicted too!! <3
Packaging:
This lip balm comes in the usual twist up tube. You get about 1.5 inches of product:
Time Test:
This lasts about 6 hours on my lips before it fades.
Price & Availability:
This lip balm is priced at US$3 each and is available at their website. There are a few
distributors
selling badger products but do call before going because not all stores carry this lip balm.
Usage:
This is perfect under lipsticks since it's not oily! :D
My $0.02:

Before i begin, here's a special shout out Dan of SuperSmoocher.com! Thanks so much for sending me this balm to try out! :D
Badger is one brand that i've read about but have always just slipped under my radar. So when i was presented with the opportunity to check this one out, i JUMPED at the chance! lol! :D
This lippie balm is everything i ever wanted in a lipbalm, and more! It's not waxy, it actually sinks into your lips rather than just staying on top, its very moisturizing, its perfect under lipsticks and it's cheap! And oh, its the PERFECT vanilla scent - not artificial / cloying / overpowering at all, but just plain PERFECT! :D
Honestly i can't think of anything i don't like about this lip balm, except that its not available locally (where i live anyways). But with the convinience of online shopping, that's hardly a gripe anymore! :D
Itching to get one now? The kind folks at Supersmoocher.com have kindly provided you all with a discount code - enter
GLOSSEATER
at checkout and get 10% off your order (excluding shipping and sale items)! This code expires 31st March! :D Girls in the UK get free shipping! The rest of the world need not worry as well - shipping is very reasonable! :)

This item is sent to yours truly by Supersmoocher.com for review. Please read my disclaimer for the nitty gritty of product reviews for sponsored products and affiliate programs.
Photo credit: Product pic from Supersmoocher.com