I know... this collection is soooo yesteryear (and probably taken off the shelves by now)!! Sooo sorry!! My draft + pics went along with my laptop :( I didn't want to post this at first since it's terribly outdated, but decided to go ahead anyway since I already took the pictures and still have them in my camera memory card! I hope some of you do find this useful! :D
This is a typical End Winter / Spring collection - with soft pastels and nudes prominently featured in its color story. Those who know me well can probably tell that this is soooo NOT up my alley, but I do happen to like a few things (which you'll find out later)! :) I do apologize for not having pictures of the Nail Lacquers - I left my brains at home and forgot to swatch them! We did not get the skin care stuff as well :(
Ok lets start with the
Chromagraphic , Eye Kohl and Kohl Power Eye Pencils (US$14.50 / RM62 each)
! :D
Chromagraphic Pencils in NC15 / NW20 & NW25 / NC30
- These look just like foundation in pencil form, but apparently they can be used as concealer / eyeliner / highlighter! Glad to see that they have found their way here this time (we did not get these pencils with the
Prêt-à-Papier collection
! :)
Eye Kohl in I Get No Kick
-
Metallic nude. Can't really see this as an actual eyeliner - methinks that it works better as a highlighter! :)
Kohl Power Eye Pencil in Feline -
Rich black. The ever popular Feline makes its appearance here once again (last seen in the Love Lace collection!)! MAC should make this permanent already!
Caviar Dreams Eyeshadow Quad (US$36 / RM140):
This is the perfect quad for pastel lovers - the colors are just so soft and feminine! All 4 colors swatch beautifully! :)
Brule (Satin) - Soft creamy beige. This is permanent.
Retrospeck (Lustre) - Beached blonde. This is permanent too! :)
Et tu, Bouquet? (Frost)
- Frosted pale pink gold. This is a repromote from
A Rose Romance
and its still as beautiful as ever! :)
Caviar Dreams (Frost) - Dirty Frosted Pewter. My favourite color of the bunch for obvious reasons! :D
Lipsticks (US$14.50 / RM65):

All lippies are permanent except Quiet, Please which is repromoted from
Red She said
:)
Tanarama (Frost) - Soft pale golden beige with golden metallic shimmer
Flustered (Frost)
-
Frosted pale bronze
Quiet, Please (Lustre)
-
Frosted pink champagne
. I don't remember it being this pink though. See my lip swatch
here
! :)
Gel (Frost) - Sheer metallic beige
Lipgelées (US$14.50 / RM65):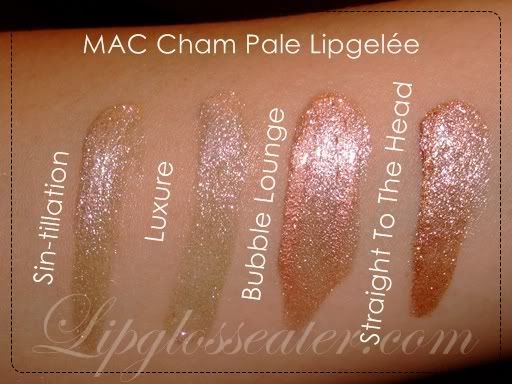 The lipgelées are like glitters on steroids - as you can see they're literally glitterbombs! :D
Sin-tillation
- Sparkly pale icy pink.
Luxure
- Off-white with pink pearl.
Bubble Lounge
- Sparkly pink peach.
Straight to the Head
- Sparkly bronze brown.
Paint Pots (US$16.50 / RM70):
All limited edition this time. These work well alone but i think they'll look even better with a matching shadow over them! :D
Dangerous Cuvée
- Frosted cool grey
Chilled on Ice
- Frosted white gold
Vintage Selection
- Frosted dirty peach
Let Me Pop
- Frosted light copper
Special Reserve Highlight Powders (US$28 / RM115):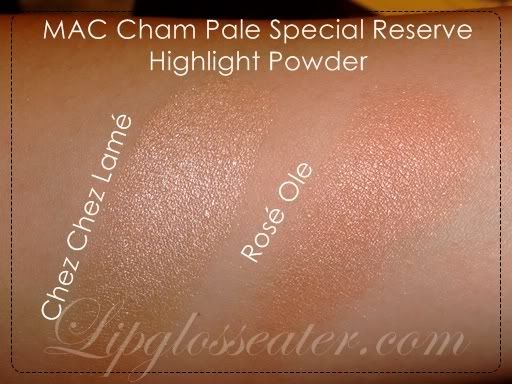 The highlight of the collection!! :D I'm loving the crinkly surface they spot! :)
Chez Chez Lamé
- Soft gold with silver shimmer. Kicking myself now for not getting this... T_T
Rosé Ole
- Soft pink with gold shimmer. Beautiful in every single way!! I'm loving it!! :D
That's all for now! I have a review of Rose Olé scheduled next week, and Peacocky is next so stay tuned! :)
Credits: Collection pic from
Maccosmetics.com