At a Glance:
Price:
RM12.50 (approx. US$4.16)
Website:
Cosway.com.my
Weight:
230ml
Made in:
NA
Likes:
Works like a cham, makes jewellery so shiny! :D
Gripes:
Smells funny
Repurchase:
Of course! :D
Jenn's Rating:
5 Stars! Wish I've found this sooner!!
Ingredients:
NA
Product Description:
Cleans & Restores the Original Shine of Jewellery
Effectively removes dirt, grime and tarnish on even hard-to-reach areas to restore the original brilliance to jewellery.
Leaves a protective layer on jewellery for a sleek, smooth finish and longer lasting shine.
Non-abrasive formula is suitable for various types of jewellery - gold, silver, platinum, copper, stainless steel and costume jewellery.
Also suitable for restoring old coins, trophies, brass and silverwares, costume chain belts and other metal applicances.
Actual Product Pic: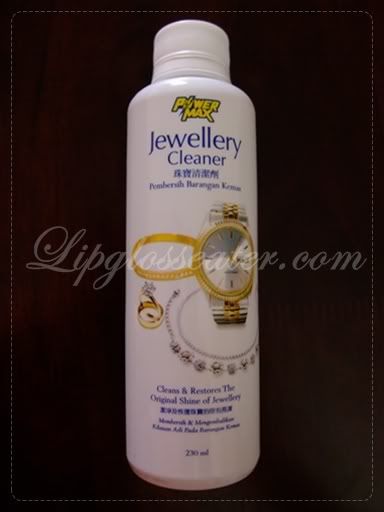 Texture & Scent: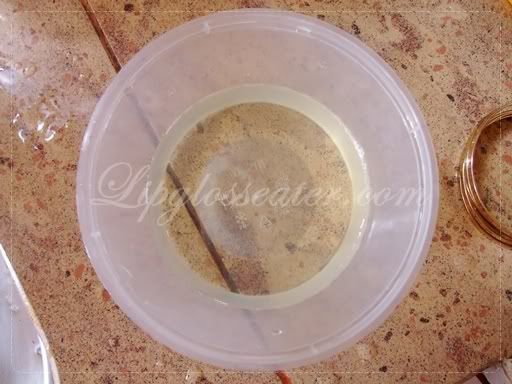 Check out how shiny my newly-cleaned bangles look on the right!! <3
This jewellery cleaner is quite runny, so be careful when you pour it out of the bottle. This foams up a little when you brush / scrub it against your jewellery, but it rinses out quickly and easily.
This has a very strong chemical scent that i don't like! >.<
Packaging: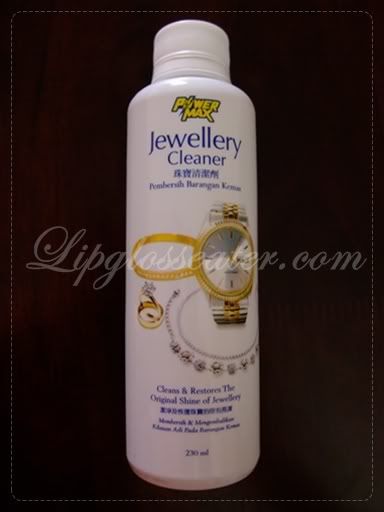 This comes in a fuss-free plastic bottle. The dispensing hole is huge though, so becareful when you pour the solution out:
Price & Availability:
This product is priced at RM12.50 but it goes on sale often (I got mine for RM9.50 or something). It's available solely at Cosway outlets.
Click here to find a stockist near you
.
Directions:
Soak jewellery for at least 10 minutes. Longer soaking time and light brushing are required for difficult stains and larger items. I used an old toothbrush to scrub them, but i guess a polishing cloth works too! :)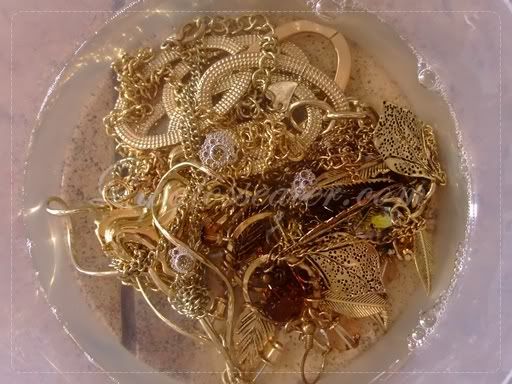 Another sneak peak - see how shiny they are?? :D :D
Rinse thoroughly under running water and dry with a clean cloth. Solution can be reused. Discard solution when it turns murky.
CAUTION: DO NOT USE on aluminium and porous jewellery like pearls, amber, opals, corals, lapis lazuli and jewellery with water soluble glue or fixings. If in doubt, do a spot test first. Dab the solution onto a hidden area and wait for 5-10 minutes. Keep out reach of children.
My $0.02:
Mums really know best!! I was complaining to my mum that I had no choice but to throw away all my costume jewellery because they've all oxidized and tarnished like crazy when she suggested that I gave this product a whirl and see if it helps remove the darkened stuff on my jewellery or not. I'm sooo glad that I did because it really works!! :D
Talk is cheap so i'll show you pictures to prove it! :D
2 of my necklaces - tarnished and ugly! :(
After soaking and cleaning with this solution: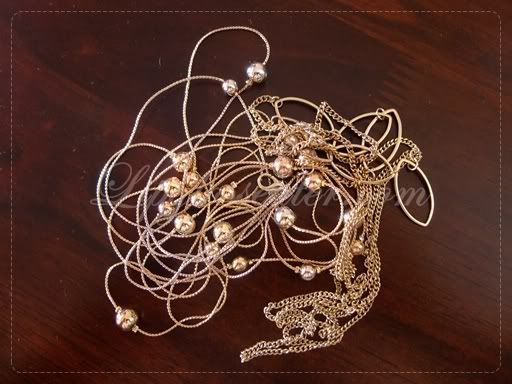 A side by size cloze up so you can see the difference clearer: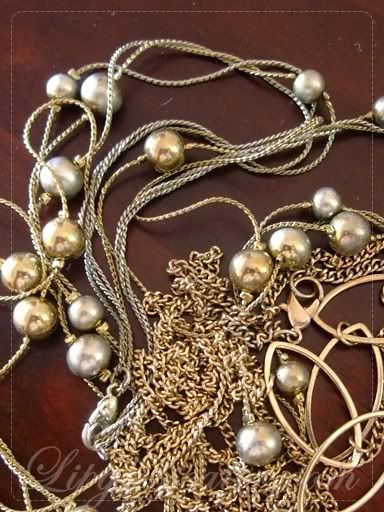 Once I found out that this actually works, i spent several hours cleaning every single jewellery i have, and this worked beautifully for all of them!! Now I have my full range of stuff to accessorize my outfits with again! I'm beyond happy!! Thanks mum for helping me save hundreds of ringgit!! :D :D
Credit: Product pic from Cosway.com.my.