At a Glance:
Price:
RM6.90 (approx. US$2.09)
Website:
http://www.thefaceshopen.com/
Weight:
22ml / 0.74 Fl. Oz.
Made in:
Korea
Likes:
Moisturizes ok, brightens skin well! :)
Gripes:
Contains alcohol.
Repurchase:
Maybe
Jenn's Rating:



3.5 Stars! Not bad!! :D
Ingredients:

Product Description
A Pearl Mask Sheet for clearer skin
What is Pearl?
A rare, precious stone rich in calcium which helps illuminate, clarify and hydrate lackluster skin.
The concentrations of Pearl in this gentle mask sheet are effectively absorbed to clarify and refine skin.
Directions:
Actual Product Pic: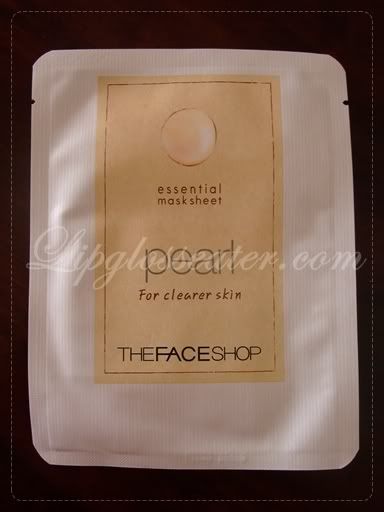 Texture & Scent:
This mask is quite moist, so you're getting your money's worth with this one! :) After removing the mask, the essence sinks into your skin quickly without leaving a sticky feeling behind, which I love!
This has a light floral fragrance! :)
Packaging: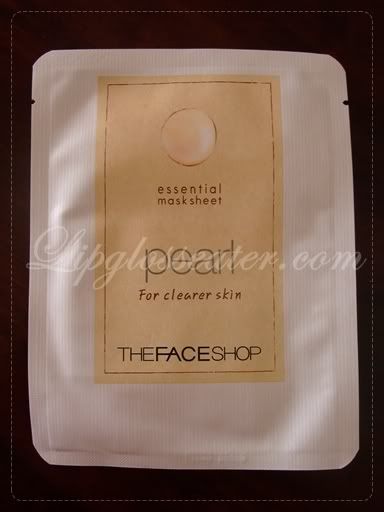 This mask is individually packed into their respective foil packs and is sold by the piece.
Like the other masks from this brand, the mouth part is ridiculously huge:
Time Test:
15-20 minutes!
Price & Availability:
This mask is priced at RM6.90 each and is available at all The Face Shop outlets.
My $0.02:

Finally, a DECENT one from this range!! :D
After being disappointed by its
Hyaluronic Acid
and
CO-Q10
sisters, naturally i didn't have any lofty expectations for this mask. Afterall, once bitten twice shy!
This manage to surprise me! :D While it could be more moisturizing, this does an okay job at moisturizing my skin. The thing that made it decent for me is its brightening effects:
Though that effect only lasted about half a day or so, i did get a compliment from the husband about how glowy i looked! lol! :D
I may repurchase this one next time, but i'll have to say that it might take sometime for me to revisit this again (will probably only buy this if there's a sale). There are products out there at can do the same thing (and better) at this price! :)
Photo credit: Product photo from
Thefaceshopen.com
.