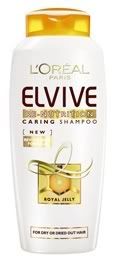 At a Glance:
Price:
RM11.90
Website:
NA
Weight:
250ml
Made in:
Indonesia
Likes:
Makes hair soft and bouncy, cleanses well, cheap, easily available
Gripes:
Not a fan of the scent
Repurchase:
Yes
Jenn's Rating:
4 Stars! Me likey! :D :D
Ingredients: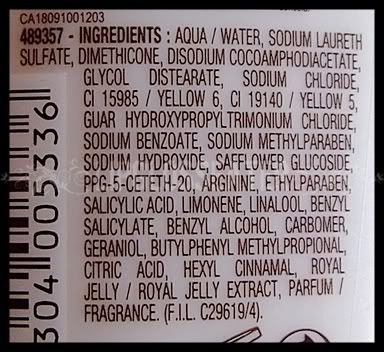 Product Description:
Royal Jelly, a rare and precious natural ingredient, is a balanced complex with an exceptional concentration of combined elements (glucids, lipids, proteins, amino acids, vitamins, oligo-elements).
For the first time, the Loreal laboratories have incorporated Royal Jelly in a caring, creamy formula that bathes the hair in nourishing ingredients, without weighing it down. Hair instantly feels replenished and revitalized.
Actual Product Pic: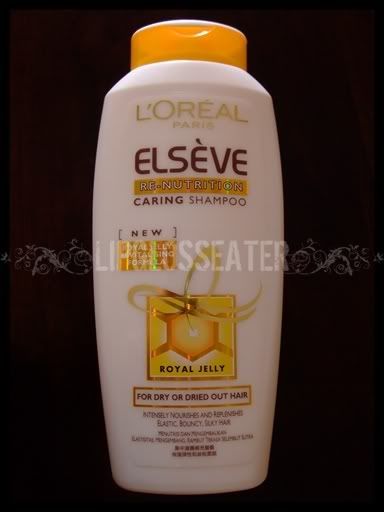 Texture & Scent:
This shampoo is quite runny, and it doesn't lather up a whole deal so I find that i have to use quite a bit of product for my waist long hair.
This smells like an old lady's perfume, which I don't like! >.<
Packaging: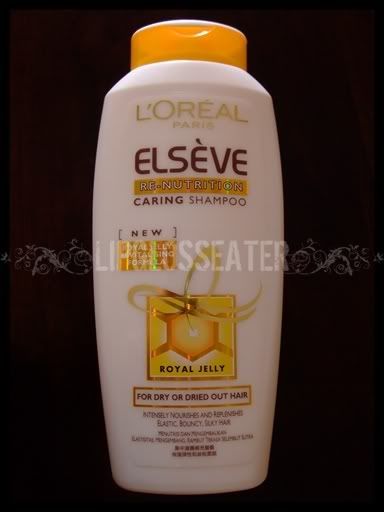 This shampoo comes in the usual plastic bottle with a flip top cap. It travels well! :)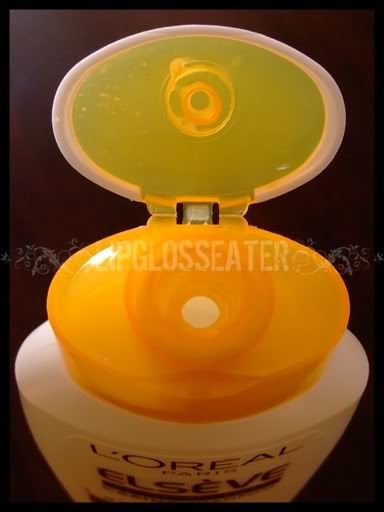 Price & Availability:
This shampoo is priced at RM11.90 and should be available at all Watsons / Guardian outlets as well as you local supermarket! :) There's a bigger 400ml bottle available, and that goes for RM18.90 each! :)
My $0.02:
Ok, this review is wayyyyy overdue! But since it's still available on the shelves so I guess its still relevant yeah? :P
I bought this shampoo together with its
Hair Mask
sister
last year
, and when used together, i didn't really liked the effect, so this got ignored while i went through several bottles of the
other
two
shampoos i rotate with. One fine day while cleaning out my shower rack, I thought that I'd give this one a final spin before tossing it out, and lo and behold, I really liked it, especially when paired with the
Pantene Hair Fall Control Conditioner
! :D
That combi gives me super soft, bouncy and silky hair like never before! I even liked this so much that my beloved
Clairol Herbal Essences Shampoo
got ignored for awhile! lol!! :D
The only thing i didn't like about this shampoo is its scent. It's musky and it makes me feel 30 years older!! >.< Thankfully the scent doesn't really last so it's still alright.
All in all I'm loving this shampoo, and I'll repurchase next time! I want to try out their Color Care range next!! :D :D
Credits: Product pic from
Google Images
.