At a Glance:
Price:
RM6.90 (approx. US$2.09)
Website:
http://www.thefaceshopen.com/
Weight:
20ml / 0.67 Fl. Oz.
Made in:
Korea
Likes:
Moisturizes and brightens skin well!! :D
Gripes:
Fragrance a little too strong, contains alcohol albeit quite low down the ingredient list.
Repurchase:
Maybe
Jenn's Rating:




4 Stars! Me likey! :D
Ingredients:

Product Description
This mild, all-natural mask sheet is formulated with Rose and Pine extracts to hydrate skin and improve elasticity while indulging the senses in its romantic aroma.
Aroma therapeutic benefits of Rose:
Relieves tension and stress
Purifies skin
Aroma therapeutic benefits of Pine:
Refreshes and combats fatigue
Helps protect against eczema and infection
Directions:

Actual Product Pic: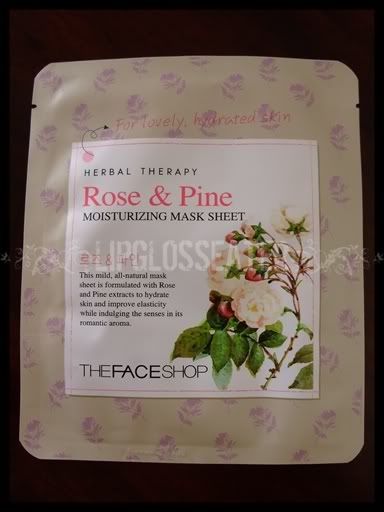 Texture & Scent:
This mask is quite moist, and it remains so until you removed it from your face! :D The essence takes sometime to sink it, but its not sticky or anything so it's still alright for me! :D
The fragrance is quite strong, and I do think that they have changed the fragrance. I remember this one to be alot more rose-y! :(
Packaging: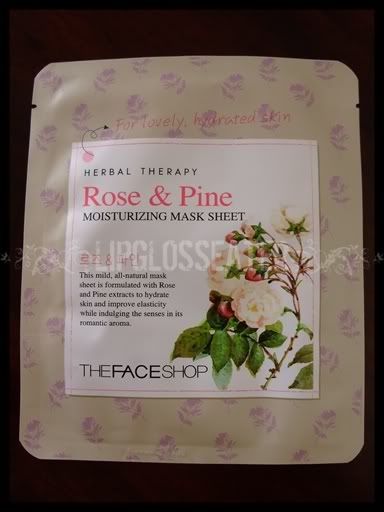 This mask is individually packed into their respective packs and is sold by the piece. Assss usual, the mask sheet fits my face well except for the mouth part:
Time Test:
15-20 minutes!
Price & Availability:
This mask is priced at RM5.90 each and is available at all The Face Shop outlets.
My $0.02:

It's been years since I've used this one, and I'll have to say that I still like it! :D
I like how this mask moisturizes quite well and brightens up my complexion too! At RM5.90 its probably the cheapest mask from TFS, even more during their sales period! :D
This is how i look after using this mask: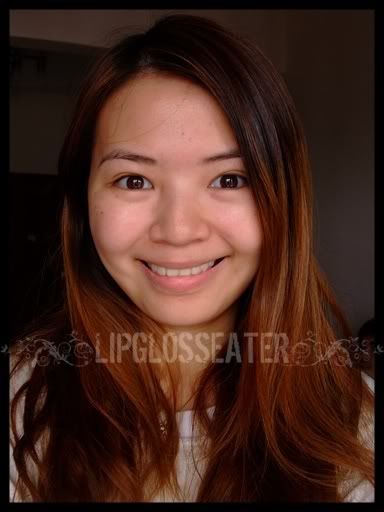 I do remember this to smell better (and less strong) back then though! But other than that, its not a bad mask, and I might purchase this one! :D
Photo credit: Product photo from
Thefaceshopen.com
.