At a Glance:
Price:
RM22
Website:
Thebodyshop.com.hk
Weight:
0.169 US. Fl. Oz / 5 ml
Made in:
USA
Likes:
Beautiful color, dries quickly, lasts!
Gripes:
Glitters hard to remove, limited edition!
Repurchase:
Yes
Jenn's Rating:
4.5 Stars! Me really likey!! :D
Ingredients:
NA
Product Description
This sparkly black nail polish contains silver glitter particles. It is quick-drying and chip-resistant.
Actual Product Pic: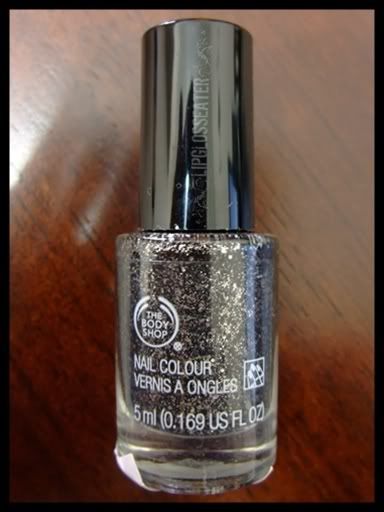 Pigmentation & Color:
This is a gorgeous glossy black with large silver particles! Two coats gives a beautifully opaque finish! :)
This is me wearing two coats:
Texture & Scent:
This nail polish, though thick, it applies smoothly and it dries quickly. This smells like nail polish!! lol!! :D
Packaging: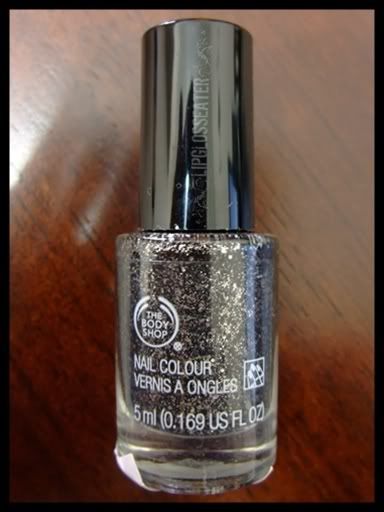 This nail polish comes in a glass bottle with the usual brush applicator attached to the cap! The brush is a little shorter than I prefer, but it works well nevertheless.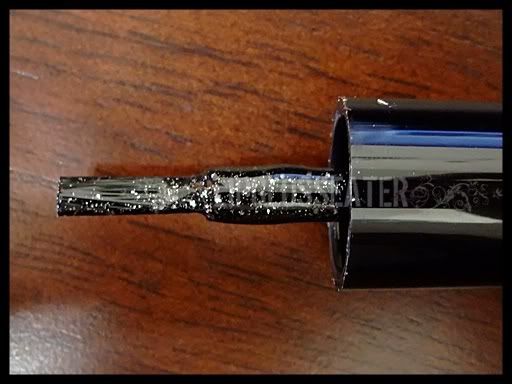 Time Test:
This lasts more than a week on my digits with only one small chip! :D
Price & Availability:
This nail polish costs RM22, and should be available at all The Body Shop outlets.
My $0.02:
This is definitely an impulse purchase because you know i'm not crazy over nail polishes! I was simply smitten by the dark glossy black and pretty silver particles!! :D
This polish applies like a dream and dries in a jiffy too. Most importantly, it lasts and lasts on me, which is amazing considering most polishes don't even last through a hair wash everytime!! :D
This is how it looks like on the 6th day with no top coat:
Still no chips!! Amazing yeah?? :D :D
Wondering how its 02 Sparkling Pink sister looks like? This is my friend wearing it:
According to her, it applies beautifully too, and this photo is taken after a week. As you can see, it has minimal chips, which is amazing considering that she is a kindy teacher!! lol!! :D
All in all i really like this polish, and will repurchase if its available again! :D
Photo credit: Product picture from Thebodyshop.com.hk