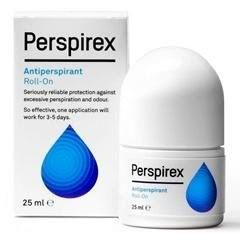 At a Glance:
Price:
RM55.90
Website:
Perspirex.com
Weight:
25ml
Made in:
Denmark
Likes:
Once a week application, works!!!
Gripes:
Takes awhile to dry, bottle does not travel well, will make your skin SUPER ITCHY if not applied to 100% dry skin!
Repurchase:
Yes!! :D
Jenn's Rating:
5 Stars! I can't live without it!!
Ingredients: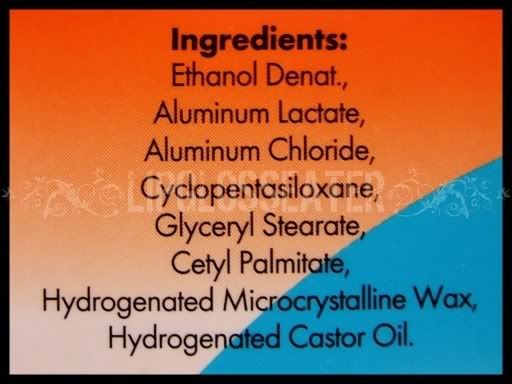 Product Description:
Seriously reliable protection against excessive perspiration and odour.
So effective, one application will work for 3.-5 days.
Perspirex is clinically proven to provide lasting protection against sweat and odour. No sweat, no smell.
Directions and Precautions: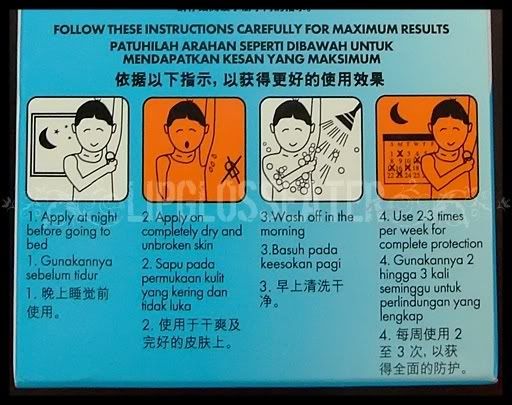 Please note:
The skin must be completely dry before application. Use a hairdryer at a cool setting, if necessary.
Never apply Perspirex on damaged / irritated skin. Do not use for 48 hours after shaving, waxing or use of depilatories. For external use only; avoid contact with the eyes and other mucous membranes.
In rare cases PErspirex may cause skin irritation or an allergic skin reaction. If this occurs, discontinue use.
Do not use on children. Perspiration problems rarely occur before puberty.
Perspirex may discolour and perish the fabrics you wera on the night of application. Avoid contact with jewellery and other polished metal surfaces.
Caution:
Stinging and itching may be experienced if
The skin is not completely dry and intact before application
you do not allow Perspirex to dry fully after application
you apply too much of Perspirex
Actual Product Pic: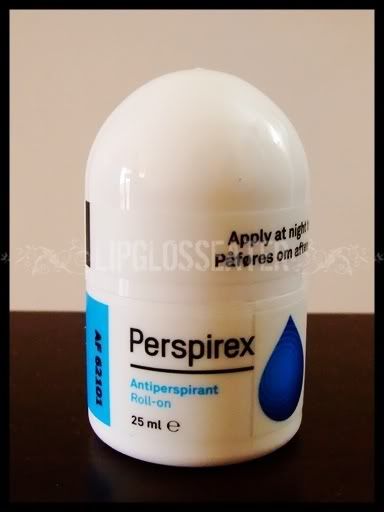 Texture & Scent:
This anti-perspirant feels just like your usual roll ons once you apply it, but somehow this one takes quite sometime to dry! You've gotta make sure that this dries COMPLETELY before you put your arms down, otherwise your armpits will itch like crazy for some strange reason! >.<
This smells just like alcohol freshly applied, but once it dries there is no scent!
Packaging: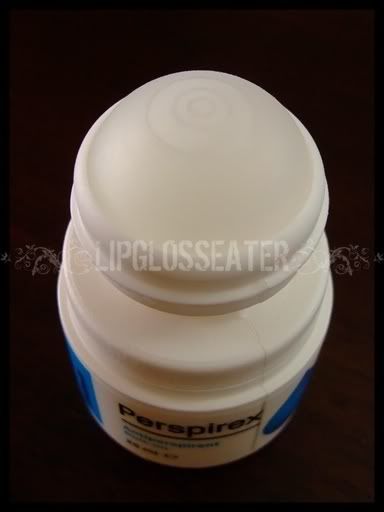 This anti-perspirant comes in your usual plastic bottle with a roller ball. This doesn't travel well - the product leaks out from the roller ball if not stored uptight, so if you're bringing this along with you on your holidays do remember to pack it in a ziplock bag yeah? :D
They've changed the label for this recently, but don't worry, it's still the same thing! :D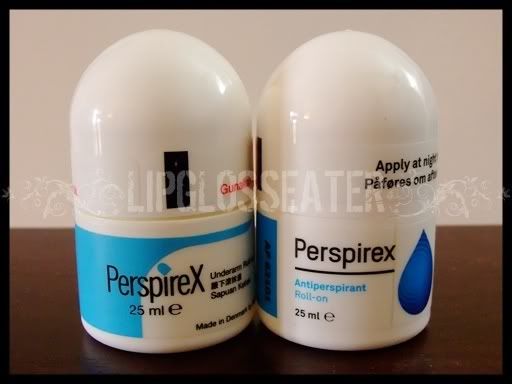 Old on the left, new on the right! :D
The box it came in: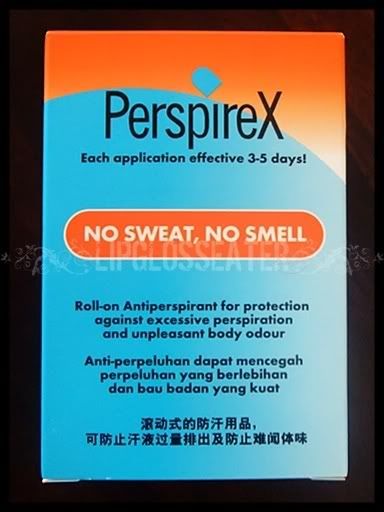 Price & Availability:
This anti-perspirant goes for RM55.90 (approx. US$18) per bottle, which is quite expensive! But then again you'll only need to apply this 1-3 times per week, so one bottle will last you quite awhile!
This is available at Guardian and Caring pharmacies! :)
My $0.02:
I can't believe I haven't wrote a review on this yet!!
This has been my lifesaver for 5 years now. I'm sure that most of you know that its quite embarassing to walk around with sweaty pits right! Unfortunately I was born with these cursed hyperactive sudoriferous glands that go into overdrive everytime i'm nervous / hot / cold (yes!! what the heck right?! >.<)! After trying out countless products that didnt work for me and being told that "sweating is a natural thing - deal with it!", i'm sooooo glad that i finally found this baby, and have never looked back since!
This really works to keep my underarm area dry for a week with only one application! Yes, you heard that right, A WEEK! Lazy people with sweaty pits rejoice now! lol! It kept me dry during sports and even in the infamously hot Chatuchak market in Bangkok too! lol! :D
On the down side, this does require some effort to use! You'll need to ensure that your pits are totally dry before applying this product. And i mean 100% dry! Otherwise you'll experience some pretty nasty itching (which you can't scratch for obvious reasons)! This applies to AFTER you apply the product as well - you'll need to ensure that the product dries off totally before putting your arms down, otherwise its itchy scratchy again! >.<
The price isn't too wallet friendly either, but I'd figure that since I only need to use this once a week, one bottle lasts me well over a year, which means that it costs me just less than RM1 per application, a super reasonable price I gladly pay to spare myself from the discomfort and embarassment i could've faced! :P Also, this product doesn't really travel well - it leaks if its not stored uptight! What a waste of product!! >.<
Soooo, to sum it all up, this is my Holy Grail Antiperspirant which I can't live without, and I will definitely repurchase this again and again!! :D
Credits: Product pic from
Perspirex.com
.