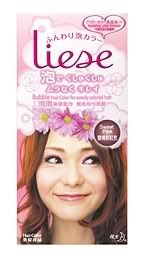 At a Glance:
Price:
RM37.80
Website:
Kao.com
Weight:
Hair Color: 40ml, Developer: 60ml, Hair Lotion: 4g
Made in:
Japan
Likes:
Lovely color, fun and super easy to use, easily available! :)
Gripes:
Super strong ammonia smell, dries out hair a little, doesn't really cover darker hair "regrowth", result can be patchy if not worked into hair evenly, color fades quickly.
Repurchase:
No
Jenn's Rating:
2.5 Stars! Just alright.
Ingredients:
Product Description:
Bubble Hair Color for evenly colored hair.
Instructions: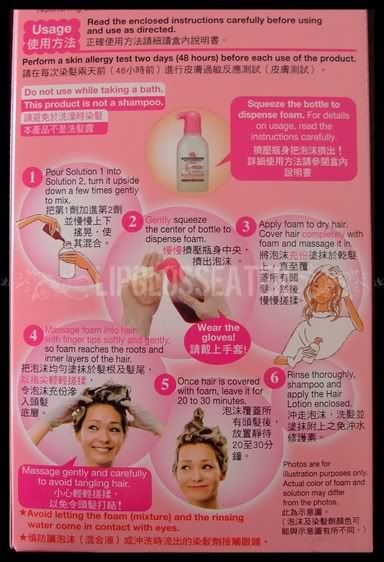 Actual Product Pic:
Texture & Scent: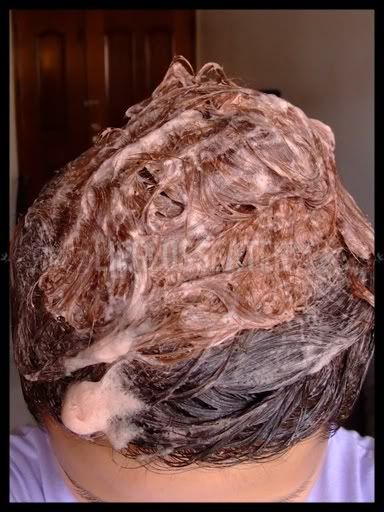 This hair dye is really interesting - it's actually FOAM! :D Do make sure to comb it through your hair though for an even finish. I followed the instruction to RUB the foam into my hair blindly - and end up with patchy parts! >.<
This hair dye really REEKS of ammonia. Do use this in a well ventilated place!
The lotion that comes with this hair dye is rather runny - so it spreads easily into your hair.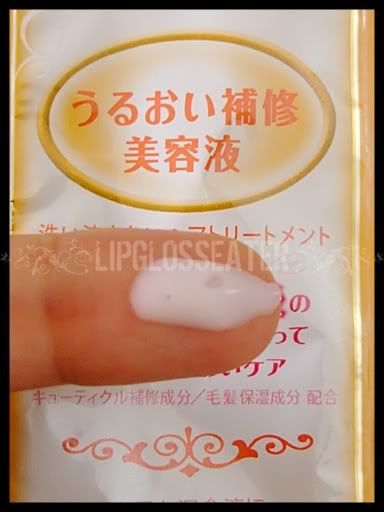 It's quite useless thought IMHO - didn't do a thing for my hair! >.<
Packaging:
This hair dye comes in the usual box! :) The stuff you get with every box: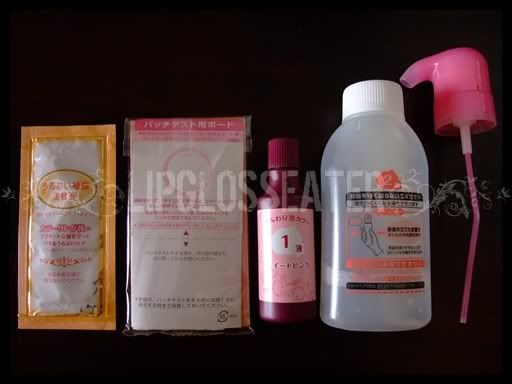 From left: Hair lotion, packet containing a patch test, more instruction and caution leaflets and a pair of gloves, the color solution, the developer solution as well as the pump! :)
Price & Availability:
This hair dye is sold for RM37.80 and is available at Watsons and Guardian outlets! :)
My $0.02:
I got too irked by my dark roots (they should be called a BOB by now! lol!), so i set out to get myself a box of hair dye to actually stop myself from impulsively stepping into a hair salon and spending unnecessary moolah to touch up my hair color, since its like a "tradition" for me to spot a new hairdo (which includes a new shade for my tresses) for the new year and the new year is just barely 2 months away!
I havent DIYed in years - almost 8 years to be exact! Ever since i found the convinience of having my hair professionally colored, i never felt the need to purchase another box of hair dye - until now
because I spent too much on the MAC Fab Felines and Venomous Villians collections which left me penniless but happy
.
I don't know what possessed me to buy this since I've always been a Loreal hair color user back then (and this brand have served me well)! Maybe I was amused by the shade description - Sweet Pink (which you'll see later, is clearly NOT pink - thank God!)! :S
Making a foaming hair dye is a great idea IMHO! It's mighty fun and it makes this brand stand out from the usual liquid dyes. However, the novelty ends there for me. The moment i squeeze my first pump of maroon colored foam out of the bottle, I almost passed out from the strong pungent scent of ammonia! >.<
Ok enough blabbing! Here's a side by side comparison for you too see (left is my old hair color):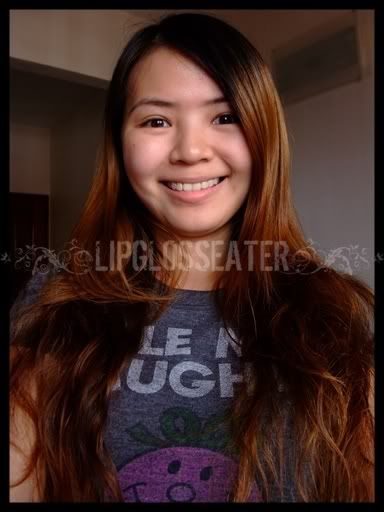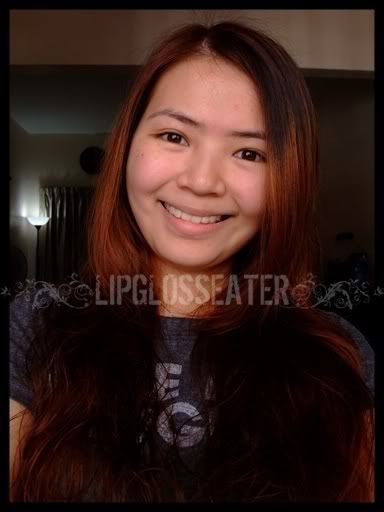 As you can see, its a lovely shade of reddish brown, but it didn't really cover my regrowth (might be my own problem though - maybe my old hair color is too light compared to my natural hair color). Seek and ye shall find the patchy patches too! >.< And oh, see how dry my hair is?? T_T
Its been about a month now since i colored my hair with this product. So to answer your question - yes, the color does fade about two weeks after. It's a rusty shade of brown now!
It's a shame that this hair dye dries out my hair, because I really happen to like this shade despite its atrocious name. I'll most probably not repurchase this one because of this (and partly due to the strong ammonia scent)!
Credits: Product pic from Kao.com.