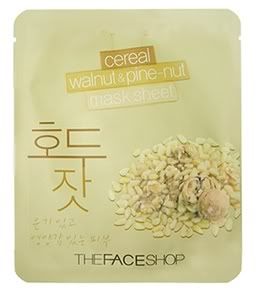 At a Glance:
Price:
RM6.90 (approx. US$2.09)
Website:
http://www.thefaceshopen.com/
Weight:
20ml / 0.67 Fl. Oz.
Made in:
Korea
Likes:
Moisturizes and softens skin well, essence sinks in quickly! :)
Gripes:
Strong scent, mask doesn't fit my face well, doesn't brighten face, contains alcohol!
Repurchase:
No
Jenn's Rating:




3.5 Stars! Not bad!! :D
Ingredients:
Product Description
Walnut & Pine Nut extracts nourish and illuminate dry, rough skin.



The Benefits of Walnut: Though known for promoting brain activity, Walnuts also smooth and illuminate rough skin.
The Benefits of Pine Nut: Used for ages in Korean home remedies to invigorate and nourish, Pink Nuts, hich are rich in Gamma Linolenic acids, soften skin and improve elasticity.
Made from all natural pulp for the gentle delivery of Walnut and Pine Nut extracts, this nutrient-rich cereal mask sheet illuminates and nourishes skin.
Directions:
Actual Product Pic: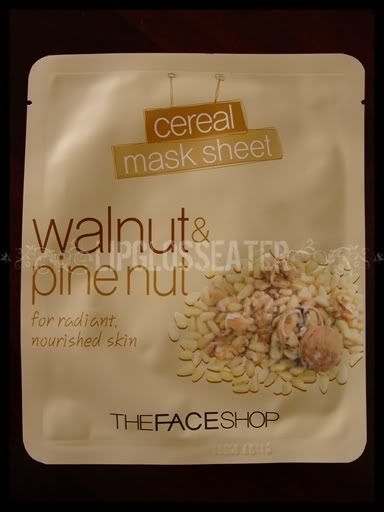 Texture & Scent:
This mask has the right amount of essence in it - it doesn't drip yet it remains sufficiently moist throughout the 20 minute treatment time! :) What I love the most about this mask is that it sinks in super quickly and doesn't leave a sticky feel behind! :D
This one has a similar scent to its
Black Bean sister
, but is less strong. But still strong enough to make my eyes fly open when i smooth this sheet mask on! lol!
Packaging: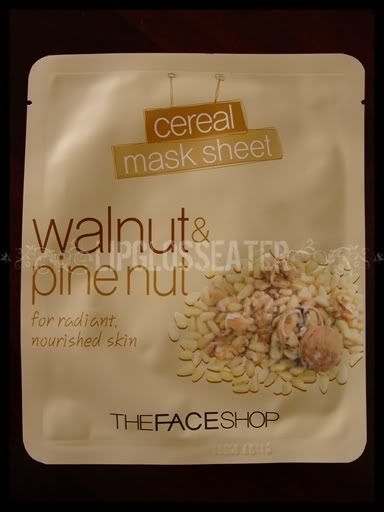 This mask is individually packed into their respective foil packs and is sold by the piece. Like the other masks from this brand, the mouth part is ridiculously huge: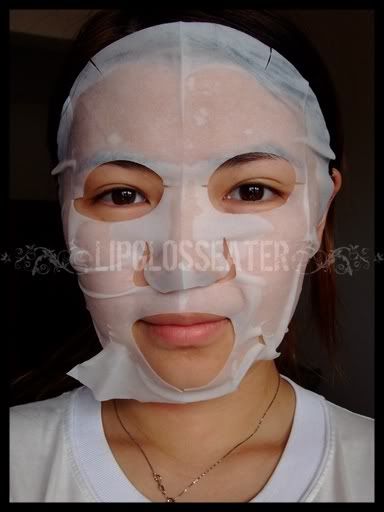 Time Test:
15-20 minutes!
Price & Availability:
This mask is priced at RM9.90 each and is available at all The Face Shop outlets.
My $0.02:

After being let down by the previous few TFS masks i've reviewed, I didn't really have much hope that this one will work for me. But just when I am contemplating chucking the masks from this brand aside for good, this one did surprise me with its goodness! :D
This one moisturizes my skin well and makes it quite soft! The part I loved most about this mask is that it sinks in super quickly with minimal human aid (lol!)! A quick look at the ingredient confirmed my suspicion - this does contain alcohol! Bummer!! :(
I also didn't like how this has quite a strong fragrance to it! It makes my poor nose feel kinda itchy from the insides! lol! And I know i sound like a broken record now, but the mask doesn't fit my face well! :( Last but not least, this doesn't make my face radiant as claimed! :(
This is how i look after using this mask:
In a (Walnut) shell, i think that this is not bad! But at this price, it just gotta be more than just not bad! I will not repurchase because of this! :)
Photo credit: Product photo from
Thefaceshopen.com
.