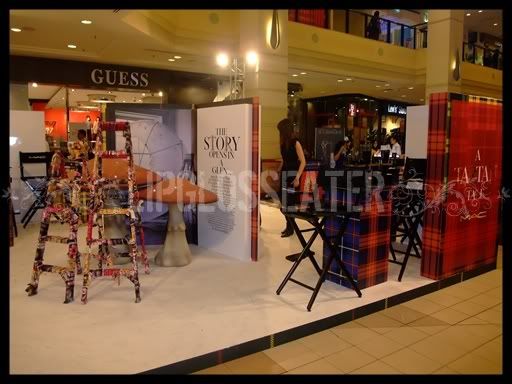 I'm quite happy to know that this holiday collection launched in Penang about the same time as our capital (for once!! lol!!)! :D The sad thing though, is that we did not get the eyeshadows (why always like that huh!!! >:( )!! T_T
Truth be told I'm not feeling this collection at all! :/ I find the packaging abit (for the lack of a better word)
tacky
- I'm sure as heck not bringing THAT sling bag out with me! >.< Don't take my word for it though - I know alot of people loved this year's so do check it out yourself and see if you like it or not yeah? :P
The stars of this collection? Definitely the blushes and the eyeshadows!! :D Elaborate more later! :)
Ok without further ado, lets go straight to the swatches! I'll start with the color story today (stay tuned for the rest)! :D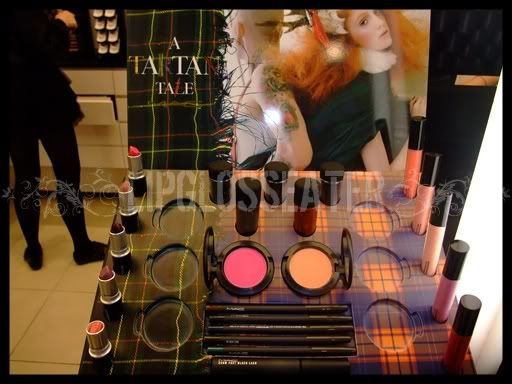 Boohoohoo... No eyeshadows!! T_T
Lipsticks (US$14.50 / RM63):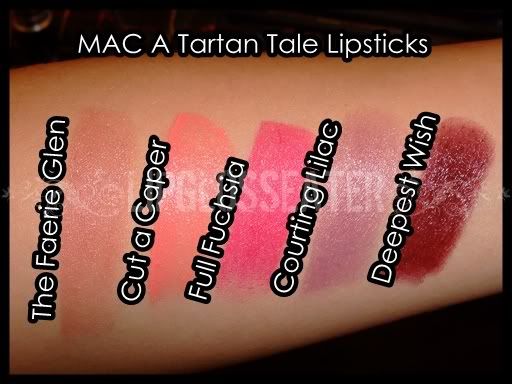 The Faerie Glen (Lustre)
- Pale neutral pink. This is kinda sheer! :(
Cut a Caper (Lustre)
- Midtone peachy pink. This looks scary as a swatch, but on the lips its absolutely lovely! :)
Full Fuchsia (Amplified)
- Bright blue fuchsia. Definitely not for the faint of heart! :P
Courting Lilac (Glaze)
- Sheer lilac mauve with soft gold pearl. This color is kinda unique, though I can't really picture myself wearing it!
Deepest Wish (Amplified) - Deep creamy reddish brown. Methinks that this is more of a fall color than a winter one, but hey it looks great for Christmas yeah?? :P
Dazzleglass Cremes (US$18 / RM80):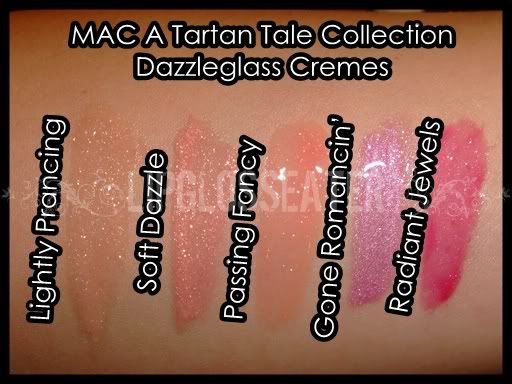 These lipglosses are definitely more pigmented than the usual Dazzleglass, but they also have chunkier glitter (except for Passing Fancy and Radiant Jewels).
Lightly Prancing
- Light peach with gold pearl.
Soft Dazzle
- Midtone peach pink with gold pearl. This is a repromote from the
original Dazzleglass Cremes
collection! :)
Passing Fancy
- Bright orange coral with soft pearl
Gone Romancin'
- Midtone lavender with multidimensional pearl
Radiant Jewel
- Dark sparkly magenta
Blushes (US$18.50 / RM75):
Both blushes are SUPER PIGMENTED (as you can see in my swatch above), but they look absolutely lovely when applied with a light hand! :D
My Highland Honey
- Bright coral with soft gold pearl. This reminded me a more matte version of the
Fun & Games Beauty Powder Blush
from the Hello Kitty collection.
Her Blooming Cheek
- Very bright iridescent blue pink.
Pigments (US$19.50 / RM82):
The pigments this time around are GORGEOUS!! Too bad i don't really use them, otherwise they're definitely coming home with me! :D
Moonlight Night
- Blackened teal with teal pearl
The Family Crest
- Blackened bronze with bronze pearl
Later
- Black with transforming purple pearl
Nail Lacquers (US$13 / RM42):
Both polishes have a super yuck texture and they go on streaky! The colors are probably as exciting as soot too!! >.<
Style Clan
- Dark taupe with red pearl
Sly as a Fox
- Creamy midtone russet/burnt red
Pearlglide Intense Eyeliners ($14.50 / RM62):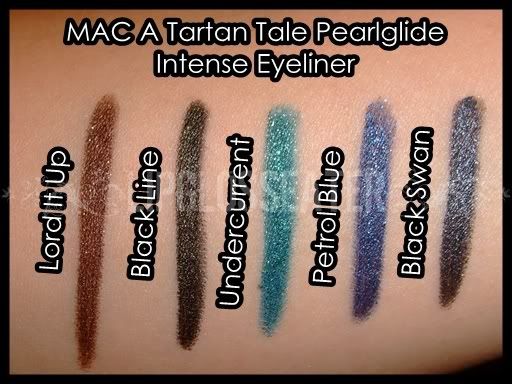 Need me to say more?? These eyeliners are pigmented and the colors oh so gorgeous!! *drools* Black Line, Undercurrent and Petrol Blue are repromotes from the
Art Supplies
collection.
Lord It Up
- Bronze with pearl
Black Line
- Black with gold pearl
Undercurrent
-
Teal with pearl
Petrol Blue
-
Deep navy with pearl
Black Swan - Black with pearl
Eyeshadows (US$ / RM85):

These eyeshadows have a unique texture - they're really soft and smooth, but there're softly pigmented! I'm loving the Tartan imprints on their surfaces too, but i have a suspicion that this will be gone after repeated use! :(
Golden Crown
- Light gold with bronze tartan striping. This one has rather large glitter particles in it.
Enviably Fun
-
Grass green with dark green tartan striping
Follow Your Fantasy
-
Mid-tone peach with chocolate tartan striping
A Wish Come True
-
Dirty mauve with bubblegum pink tartan striping
Semi-Precious
-
Aubergine with chocolate tartan striping
Glamora Castle - Dark grey with teal tartan striping. My favourite color!! :D
That's all from the Colour Story. More to come, so stay tuned!! :D :D Didcha get anything from this part of the collection? :D