Ola people!! :D It's the end of October already, and this means that I have a few of my favourite posts from my favourite bloggers for ya! :D
Beetrice of Reetrice's Reviews
gives us an in depth review of the Biore Cleansing Oil Facial Sheets
! :D
Connie of Skin Deco
writes a super useful Tanning 101
! I covet her amazing skintone!! :O~~
Eli of So Loverly
got her friend to review something that's purportedly made of eel's vomit
. Either that or the product just simply has a really unfortunate name! :P
Nikki of Ask Me Whats
celebrates her 3rd wedding anniversary with us
. Her heartwarming post just makes me smile and feel sooo happy for her!! :D
Paris of My Women Stuff
reviews the forever-sold-out Naked palette from Urban Decay
! So lucky to be able to get that!! :D
Xin of Pretty Beautiful
gets me itching to try out the Skinfood Eff White Pack after seeing some of her "gory" pictures
!! Ooohhhh I like!!! :D :D (ok, you may think that i need help for saying this, but so do you because you know you like it!!! Hahahaha!! XD)
Yani of Red Luscious Lips
reviews the Benefit Porefessional primer
! It looks seriously good!! Oh lemming begone!!!
It's been almost 2 weeks since i got back from
Bangkok
, but I'm stillllll daydreaming about my trip there!! Wish i didn't have to come back!! Oh, what would i do to be able to eat this right now:
Oh glorious grilled squid!! So tasty, so divine and soo CHEAP!!!!! T_T
I'm also running low on this now: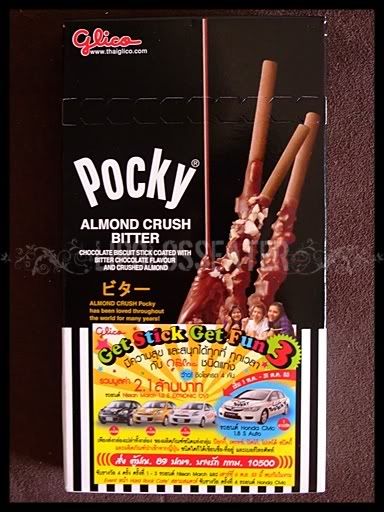 ... which is fast becoming one of my favourite snacks now!! Wish these were as cheap here as they are sold for over there!!
On a brighter side, Borders was having a promo on book authored by one of my favourite authors, Jodi Picoult, so I HAD to stock up! :D :D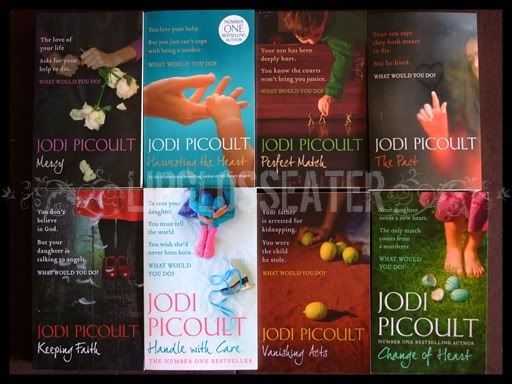 Yay for potty time reading material tax rebates! :P :P :P
Alright thats all for now!! Enjoy your weekend yeah?? :D And if you havent already joined my
Giveaway
, DO IT NOWWWWW!! ok I wasn't yelling at you but speaking in a horribly low voice slowly ya! Can you just picture that?? Close your eyes... Hahaha!! Ok i really gotta cut down on the sugar at 1am in the morning after being sleep deprived for days. Its making me incoherent and revealing things that I shouldn't, so I better stop now! lol!! Have a great weekend people! :D