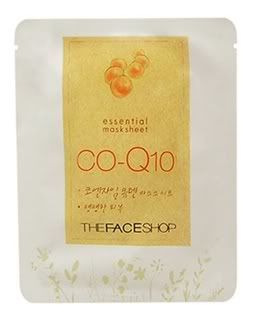 At a Glance:
Price:
RM6.90 (approx. US$2.09)
Website:
http://www.thefaceshopen.com/
Weight:
22ml / 0.74 Fl. Oz.
Made in:
Korea
Likes:
Moisturizes ok.
Gripes:
Contains alcohol, overpowering fragrance, stung my face a little, mask doesn't fit face well.
Repurchase:
No
Jenn's Rating:



2.5 Stars! Didn't notice any visible difference after using! :P
Ingredients:
Product Description
A CO-Q10 Mask Sheet for supple skin
What is CO-Q10?
Coenzyme Q10 (Co-Q10) is a fat-soluble, vitamin-like substance in every human cell. It is involved in key biochemical reactions that product energy in cells, helping to keep skin supple and facial contours beautiful.
The concentrations of Coenzyme Q10 in this gentle mask sheet are effectively absorbed into skin to leave it supple and smooth.
Directions:
Actual Product Pic: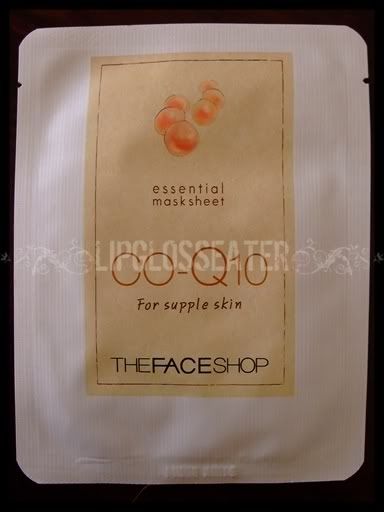 Texture & Scent:
This mask is quite wet fresh out of the pack. Once i smoothed it unto my face, my nostrils are greeting with an overpowering scent of alcohol and flowers!! >.< This stung my face a little too.
Packaging: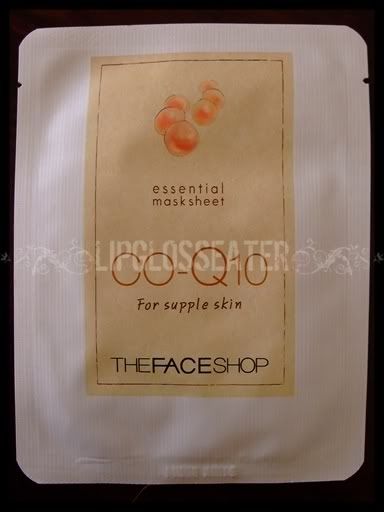 This mask is individually packed into their respective foil packs and is sold by the piece.
Like the other masks from this brand, the mouth part is ridiculously huge:
Time Test:
15-20 minutes!
Price & Availability:
This mask is priced at RM6.90 each and is available at all The Face Shop outlets.
My $0.02:

Oh dear, the masks from this range haven't been doing very well for mua have they?? >.<
First the
Hyaluronic Acid one
, now this one! Each with their own different set of complaints!
While this one didn't leave a sticky film like the former, this reeks of alcohol. Doesn't help that the fragrance in this product is quite overpowering as well! So the end result? Super teary eyes!!
And then came the stinging!! While that sensation was mild, it persisted until the end of the 20 minute mark!! :(
This is how i look after using this: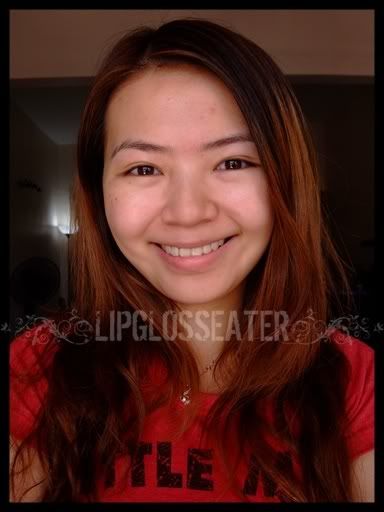 Reddish face from the stinging - thankfully no breakouts!! >.<
Ok enough bashing this product! On the flip side, this does moisturize alright! And the price is not too bad! :) But because I cannot stand the scent and alcohol in this product, i won't be repurchasing!
Photo credit: Product photo from
Thefaceshopen.com
.