A beauty junkie never quite goes on holiday even when she's on vacation! Hehehe!! I'm happy to be able to get a makeover at the NARS counter in Bangkok! I super LOVED the look the MA created!! :D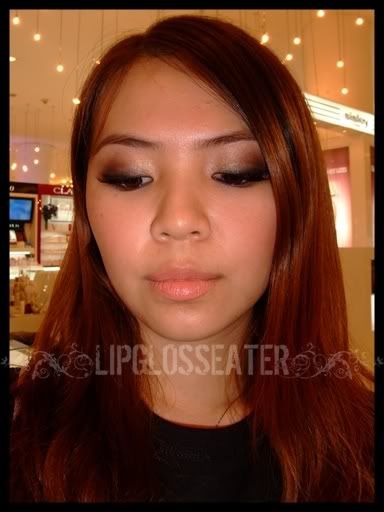 Stuff i used:
Face:
NARS Powder Foundation in Deauville
NARS Loose Powder in Flesh
NARS Albatross
NARS Blondie
Cheeks:
NARS Oasis
NARS Nico
NARS Albatross
Brows:
NARS Bengali
Eyes:
NARS Copacabana (Base)
NARS New York (All over crease)
NARS Pandora (Outer crease)
NARS Abyssinia (Highlight)
NARS Eyeliner Pencil (Upper lashline and tightline)
NARS Iceland (lowerlashline)
Lashes (forgot the brand - not NARS for sure! lol!)
Lips:
NARS Pure Matte Lipstick in Tashkent
NARS Lipstick in Belle de Jour
Arghh... everytime i see these pictures I get lemming attacks! I just love the eyeshadows and lipsticks!! And just about everything the wonderful MA used on myself! >.< Not to mention the cream that costs more than 300 bucks that feels soo amazing!! I had to literally drag myself away from the counter before i do some serious damage to my bank account! lol!!
Thats all for now!! It's flyday again... so rock the weekend people!! :D