At a Glance:
Price:
RM28.90 (approx. US$8.76)
Website:
Hadalabo.com.my
Weight:
100g
Made in:
China
Likes:
Cheap, cleanses well, not drying, a little goes a long way! :D
Gripes:
None!
Repurchase:
Yes! :D
Jenn's Rating:





4.5 Stars!! Me really likey! :D
Ingredients:
Product Description:
3 Steps of Shirojyun Whitening
Deep Moisturizing

Intensive Repair

Double Whitening
Arbutin is an extract from natural plant bearberry, it is natural & safe with effective whitening properties.
This foaming wash gently & effectively removes pore impurities and purifies the skin for a clearer, brighter complexion.

Enriched with Arbutin and plant extracts for double whitening effect. Helps restore and optimize skin's evenness for visibly fair & radiant skin.

Contains Super Hyaluronic Acid that penetrates into skin to hydrate intensely leaving skin soft & supple.

Skin pH balanced. Low irritation

Free of artificial fragrances, mineral oil, alcohol & colorant.
Directions:
Actual Product Pic:
Texture & Scent: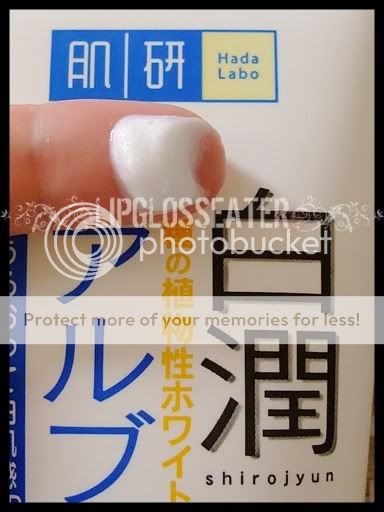 This facial cleanser feels quite "creamy" fresh out of the tube, but once you rub it with water, a fine lather forms:
I like how this cleanser doesn't dry out the skin despite it being a foaming cleanser! In fact, my skin feels quite comfortably moist (strange right?)! :D
Although this is fragrance free, this one has a very light citrusy scent to it! :D
Packaging:
This facial cleanser comes in a squeeze tube with a flip top cap, which i find quite practical to use in the shower! :)
I like the nice big dispensing hole:
Price & Availability:
This facial cleanser is priced at RM28.90 (approx. US$8.76) for a 100g tube. There's a smaller 50g tube available, and that one goes for RM16.90 (approx. US$5.12). This should be available at all Guardian outlets.
My $0.02:

Yes you guessed it right. This is the one i purchased for myself because yeah, i'm biased towards whitening products! So sue me! Haha!! :P
This one feels and works awfully similar to its
Super Hyaluronic Acid sister
- its cleanses well without drying out the skin! I can't tell if this one does brightens the skin though since i'm using almost exclusively whitening products for my face, but it doesn't matter since i can always count on my
Kiehl's Surface Brightening Exfoliator
to do just that! :D
This one is also quite affordable and easily available. It goes on sale quite frequently too! :D I can't really think of a reason not to like this one! :D
In a nutshell methinks that this is a really really good drugstore gem! I'll definitely repurchase this one again! :D
Credit: Product pic from Hadalabo.com.my.