It's the end of the beginning of the 1st month of the 2nd half of the year already! Haha, hope i didn't confuse you there! :D Where did the days go already?? Time truly waits for no man!!
I finally
decided
its high time to do a little cleanup from my stash and am surprised at the amount of junk i had: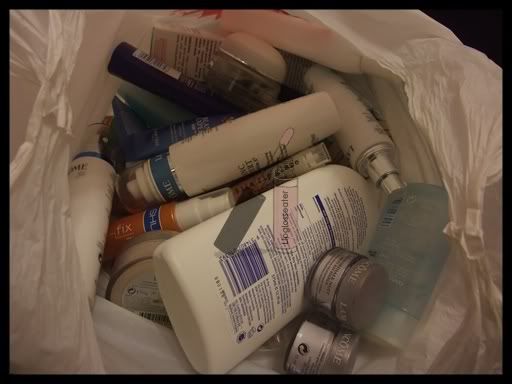 A huge plastic bag of empty bottles, jars and makeup that went rancid already!
It's a good feeling throwing these away! Finally
i can make room for more
my cupboard looks tidier now! :P
Anyways as per tradition, please check out these fabulous posts by these lovelies:

Connie of Skin Deco
makes me yearn for the Hada Labo Tamagohada AHA+BHA Cleanser
. I'll have to see how this one compares to the whitening one (hint hint, review coming up soon!)! :D
Nikki of Ask Me Whats
shows that expensive nail polishes DO make a difference
! BTW didcha notice her new header pic? I thought it was GORGEOUS! :D
Paris B of My Women Stuff
severely tests my self control by posting pictures of the beautiful MAC Petticoat MSF
!
Syen of So Loverly
joins Paris in luring me to the MSF side with her review on the legendary MAC Stereo Rose MSF
! Nooooooooooooooooooo!!!
Xin of Pretty Beautiful
shows you how to get this totally fabulous sponge art nails
! :D
Yani of Red Luscious Lips
reviews the Lancome BB cream
! Her skin is just absolutely flawless!! :O
Thats all for now! I'm soooo looking forward to the weekend when i can do some shopping and catch up on sleep! We'll be celebrating my daddy's birthday too tomorrow too!! Can't wait!! :D
What do you have in store for the weekend? Have a great one k! :D