At a Glance:Price:
RM3 (approx. US$0.83)
Website:
http://www.beautydiary.com.tw/
Weight:
NA
Made in:
Taiwan
Likes:
Cheap, really soothing, moisturizes and softens skin well!
Gripes:
Hard to find locally (horribly overpriced in Guardian)
Repurchase:
Yes!!
Jenn's Rating:
4.5 Stars! Me really likey!! :D
Ingredients:
Product Description
Translation (Please correct if you spot any errors!! My Chinese is really rusty!!):
Effective for: Moisturizing and Smoothing
Suitable for: All skintypes, especially dry and damaged skin types
Directions: After cleansing and toning, remove the protective covering and place mask on face for 20-30 minutes then remove. If there is any residue on your face, you can massage it with your fingers to aid absorption. There is no need to rinse off. Follow with your usual moisturizer / serum after to lock in moisture.
To Note: Place product in places out of reach by young children to avoid being mistakenly eaten (lol!! XD). If there are signs that this product is not suited for you or rashes / swelling, discontinue use immediately and consult a doctor. Do not use on injured skin or if you have rashes / swelling. Not suitable for infants and young children. If you have sensitive skin, please perform a patch test prior to using. If there is no adverse reaction from the test, you may use this mask.
Storage: Place in a cool dark place away from direct sunlight.
Manufacturing Date: Effective date: printed on pack.
Product Description on their website:
Main ingredients:
aloe
- provides skin with adequate moisture content
rose
- improves dry and rough skin texture
amino acid
- nourishes and moisturizes skin
hyaluronic acid
- highly effective in moisture retention
Appeals / characteristics:
moisturizes, repairs, revitalizes and nourishes skin.
For use on normal skin, especially recommended for dry and damaged skin.

Actual Product Pic:
Texture & Scent:
This mask quite wet, but not as dripping wet as some of the other masks from this range! This mask doesnt leave a sticky feel behind after you've removed it, but it does get a bit tacky when you pat it in. Keep patting and that sticky feeling will disappear soon enough! :D
This has a really mild fresh scent which i like! :D
Packaging:
This mask is individually packed into a foil wrapping like your usual sheet masks. It also comes in a box of 2 or 10!
Here's how the box of two looks like: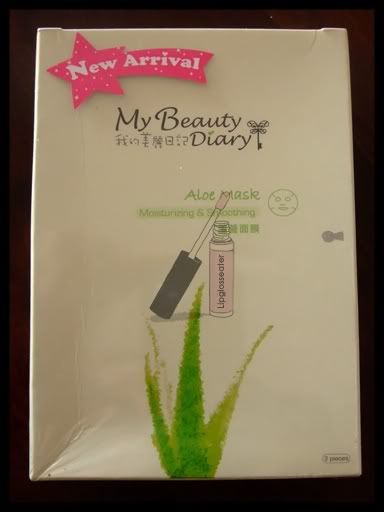 This mask is a little big for my face:
Time Test:
20-30 minutes, which is a little longer than what i'd like!
Price & Availability:
This mask is priced at about RM3 each depending on seller. You can get this from Guardian too for a high price of RM16.90 for two.
Usage:
This is perfect for a relaxing treat after a hectic day... i find that the scent comforts me somewhat! :D
My $0.02:
This is part of my birthday pressie from the very generous Miss
Plue
!! :D Thank you sooo much!! I really appreciate it!! :D
This has gotta be my FAVOURITE one out of all the Natural Line MBD masks I've tried so far!! :D
The first thing that i notice about this mask is the scent - its really mild and fresh! I love it!! :D Once you smooth this mask unto your skin, this wonderful scent really does relaxes you!! :D
This is also very moisturizing! My skin feels really "bouncy" after using this one!! Hehehe!! :D
This is how i look after using this mask: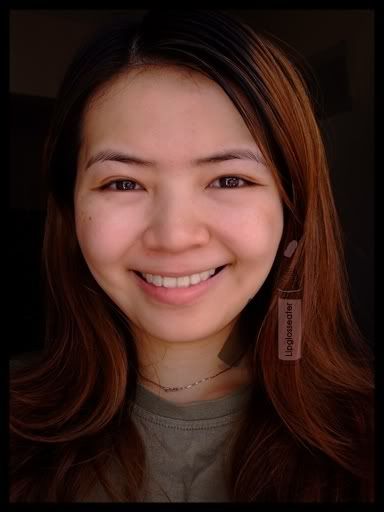 The only thing i didn't like about this one is its availability. I know its available at Guardian, but its so grossly overpriced that its obscene!! :( I'll definitely repurchase this one if i get the chance to snag it at a reasonable price!! :)
Credit: Product photo from Bonboncosmetics.com