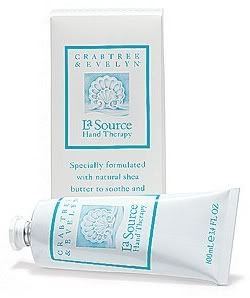 At a Glance:Price:
RM75 for 3
Website:
Crabtree-evelyn.co.uk
Weight:
25ml
Made in:
USA
Likes:
Absorbs quickly with no sticky feel, wonderful scent, really moisturizing!! :D
Gripes:
None!
Repurchase:
Yes!! :D
Jenn's Rating:
4.5 Stars!! Me really likey!!! :D
Ingredients:
Product Description
:
Our award-winning shea butter hand cream formula leaves your hands feeling incredibly smooth and soft.
Award winning shea butter hand cream
Soothes
Conditions
Moisturizes
Purse-size Tube
Scent: Relaxing sea air fragrance
Actual Product Pic:
Texture & Scent:
This hand cream glides unto your skin smoothly, and it sinks in really quickly which is great!! :D This doesn't really smell like the sea, but it smells really nice!! haha!! :D
Packaging:
The one pictured above is the travel size (25ml). Its almost the same as the full sized tube - it comes in a metal tube with a screw off cap. I don't really recommend keeping this in your handbag though, because your keys or other sharp object might actually puncture the tube and make a big (but aromatic) mess in your bag! lol!
The dispensing hole: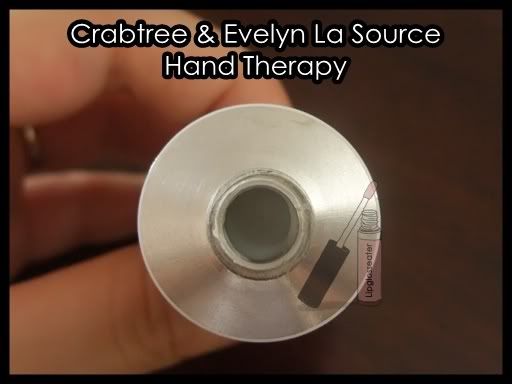 Time Test:
This hand cream sinks in really quickly, and i find that applying twice a day is enough to keep my hands in good shape! :D
Price & Availability:
This hand cream goes for RM75 for 3 travel sized tubes. If you want to purchase a full sized tube, there're two sizes available - a 100ml one and a 250ml one. They go for RM73 and RM145 each respectively. This should be available at all Crabtree & Evelyn stores! :)
Usage:
I keep this in my desk drawer at work - the wonderful scent cheers me up when i'm having a lousy day! lol!! :D
My $0.02:
This was a gift my husband got from his counterpart, so automatically it became mine!! Wahaha!! :D
Like the
Rosewater one
, this one does what it promises - moisturizes, soothes and conditions!! :D The scent is wonderful too!! I wish they would release a home fragrance of the same kind - i would love to come home to this amazing scent!! Hehehe!! :D
There's nothing that i dont like about this hand cream, and i would certainly repurchase it... when i finally figure out which one (this or the Rosewater one) i would repurchase first!! hehehe!! :D
Credits: Product photo from Sweetiesswag.com