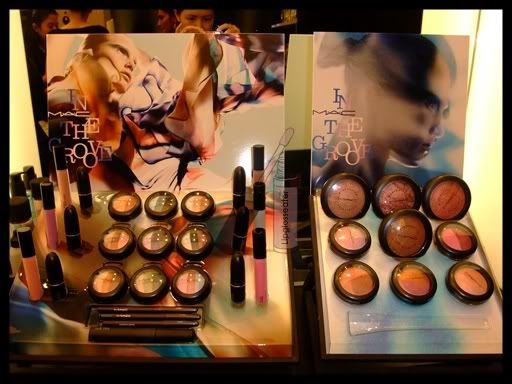 This much talked about collection brings back the highly sought after Stereo Rose MSF which was released in 2005 and reportedly sold for obscene amounts of moolah on ebay! Naturally, i HAD to check this one out. I will give you my $0.02 on how this compares to the original, but first, lets take a look at the swatches for the other stuff in this collection! :D
Mineralize Eyeshadows Trios (US$19.50 / RM80):


As you can see from the pictures above and descriptions below, only the middle colors are frosty. The shimmers for the first and last colours are somewhat muted, but enough to keep them from being blah and flat. All 9 shadows have a really wonderful smooth texture too!! :D
Making it Easy
- Satin dark beige/Pearly beige rose/Satin red brown
Blue My Mind
- Satin light blue/Pearly deep teal/Satin black
Soften the Mood
- Satin light blue/Pearly rose/Satin light brown
In the Groove
-Satin green/Pearly burgundy/Satin coral
Togetherness
- Satin lavender/Pearly purple/Satin grey
Style Influencer
- Satin silver/Pearly deep blue/Satin mauve brown
Love to Love
- Satin beige/Pearly bronze/Satin brown
Calm, Cool & Collected
- Satin beige/Pearly green/Satin deep green
Fresh & Easy
- Satin pink/Pearly burgundy/Satin grey
Lipsticks (US$14 / RM63):

All 6 lipsticks are Cremesheen lipsticks, so they have good pigmentation and texture!! Definitely worth buying! :D
Jazzed
- Bright coral pink. Hmmm, i don't see any pink in this color though! :P
I Like it Like That
- Deep blue pink.
Call My Bluff
-Midtone creamy coffee.
All Styled Up
-Bright yellow pink.
Creme d 'Nude
- Pale muted peach beige. This is a beautiful nude color! This is permenant so you can take your time to get this one! :D
Go For It
- Midtone blue purple.
Cremesheen Glasses (US$18 / RM80):

I personally adore cremesheen glasses because of their wonderful texture and the fact that they're not that sticky compared to the MAC lipglasses.
Fashion Whim
-Light beige.
On the Scene
-Light coral beige.
You've Got It
-Dirty silver grey. This color definitely looks more brown than grey! :P
Going Casual
-Sheer lilac.
Right Image
-Midtone blue pink.
Chillin'
- Light white blue.
Mineralize Blushes (Duo) (US$23 / RM100):

I'm happy to report that these blushes are overly shimmery, and all have beautiful buttery smooth textures! The price for this blush is raised yet again to RM100 this year (was RM95 last year)!! Some of you may argue that you're actually getting 3 colors per pot so its ok, but since the shades they release this time around are not terribly unique, i honestly cannot recommend this to anybody! :(
Here're the swatches of the 3 colors you'll get from each blush (left is top color, middle is bottom color, and the right color is all 2 colors blended together):


Hang Loose
- Satin bright pink / Pearly lavender
Happy Together
-Satin caramel / Pearly beige
A Little Bit of Sunshine
-Satin light brown / Pearly beige
New Vibe
- Satin deep rose / Pearly bronze
Band of Roses
- Satin blue pink / Pearly light plum
Powerpoint Eye Pencils (US$14.50 / RM62):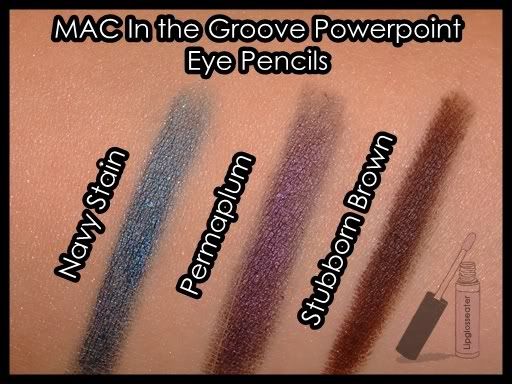 These pencils are permenant! :)
Navy Stain
- Royal blue with shimmer
Permaplum
- Deeply plum with pink shimmer.
Stubborn Brown
- Deep rich brown.
Read my review here
.
Last but not least, the
Mineralize Skinfinishes (US$28 / RM115):

All 4 MSFs this round are repromotes. I'm never into this product previous because they're known to be gritty discoballs, but i'll have to admit that MAC has come a long way since those days. These MSFs are really smooth now!! And no thanks to
Paris
and
Syen
I'm itching to get my first MSF!! T_T
By Candlelight
- Golden pink.
Petticoat
- Pale rose with gold and amber veining. The tester i swatched has quite abit of Rose veinings in it, so it is so much more darker here. Do pick one with less dark veinings if you would like a lighter blush! :D
Stereo Rose
- Coral with golden/bronze shimmering nuances.
Ok, i said i will be giving my 2 cents worth on how this Stereo Rose MSF compares to the original one, so here it is now. From memory, the original Stereo Rose is grittier in texture and rosier in color. This new one is more peachy, but the texture is far superior! HTHs those who're wondering about this product! :D
So what did i get from this collection? Nothing! Ok, nothing
so far
, cuz its not launched here yet! T_T I did manage to get the Well Prepared kit! :D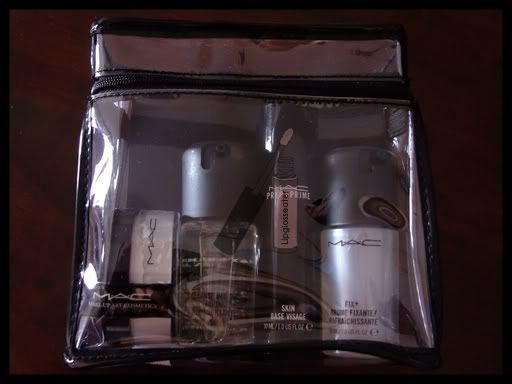 The main reason i got this set is because i covet the mini Cleanse Off Oil and Fix+ bottles! They're perfect for travelling, plus they look totally adorable too!! Hehehe!! :D I'm selling the Prep + prime skin
and powder
(unboxed as you can see, but 100% brand new off the set) at RM20 off retail each at RM80
and RM70
respectively, so give me a hola if you want to buy k! :D
ETA: A dear reader requested for a short description of the stuff i'm selling, so here it goes! :D
Prep + Prime Skin (retails at RM100 / US$25 - I'm selling it at RM80) - 30 ML / 1.0 US FL OZ:
From the website:
An ultra-fluid lotion formulated with special-effect silicones. Calms and soothes the skin, blots away excess oil, and evens out skin redness. Improves the laydown and application of foundation or powder.
Basically this works as a primer and is excellent for oily skin types as this reportedly makes your makeup last longer! :)
Prep + Prime Transparent Finishing Powder (retails at RM90 / US$22 - I'm selling it at RM70) - 8 G / 0.28 US OZ:
SOLD
From the website:
A silky finishing powder that provides an invisible way to set makeup. Reduces shine while optically minimizing the look of pores, lines, imperfections. Available in one universal colour that suits all shades. Wear over makeup or on bare, moisturized skin.
I'm personally using this one (will try to get the review up soon) and i love it! It's just another loose powder with a fancy name, but this does gives a lovely "soft focus" look! :D
Ok thats all for now! :D I'm off to convince myself that i dont need to get any MSFs! Wish me luck!! lol!! Have a great week ahead all of you!! :D