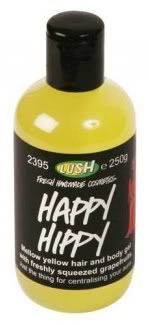 At a Glance:
Price:
US$9.95 for 3.3 Fl. Oz (RM35.62) /£2.80 for 100g (approx. RM13.60) / Rs. 330 for 100g (approx RM26.93)
Website:
Lushusa.com
Weight:
100g
Made in:
England
Likes:
Wonderful smell, cleanses well! :D
Gripes:
Abit hard to squeeze out from the bottle, not available locally, expensive!!
Repurchase:
Whenever i'm feeling generous!
Jenn's Rating:





4.5 Stars!! Me really likey! :D
Ingredients: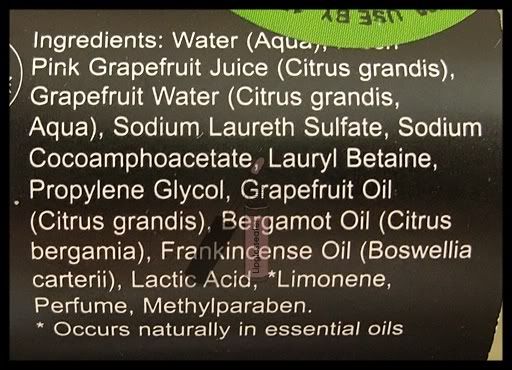 Product Description:
Happy Hippy smells like revitalizing grapefruit lemonade to give your senses a real ZING in the shower. Fresh pink grapefruit juice, grapefruit water and grapefruit essential oil combine for skin-cleansing action and set off the alarm in your brain that says it's time to wake up. We take the word 'fresh' very seriously and when you see 'fresh pink grapefruit juice' on Happy Hippy's ingredients we mean it! If you stopped by the factory you'd see our staff reaming pounds of grapefruits right into the mix!
Actual Product Pic: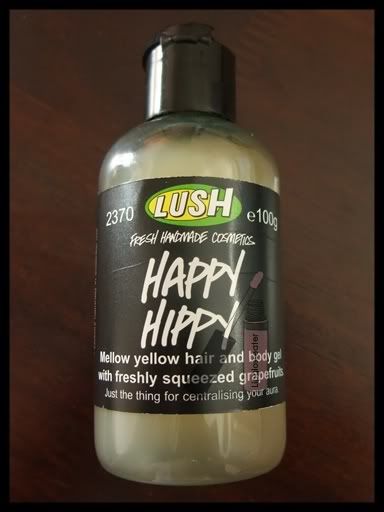 Texture & Scent: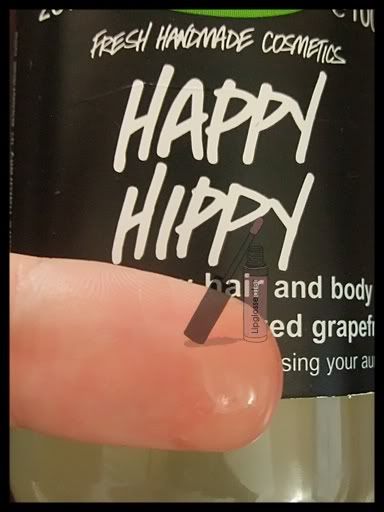 This shower gel is more "solid" than most shower gels, hence its abit hard to squeeze out from the bottle. When rubbed with water, it foams up nicely: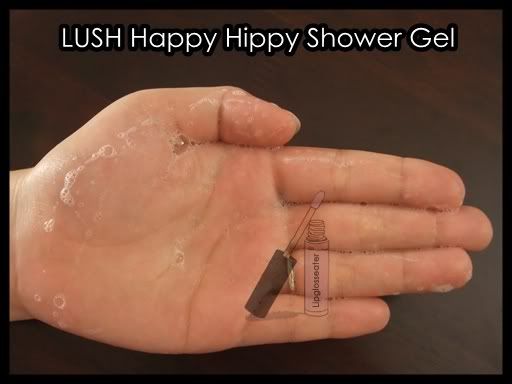 This has a really nice citrusy scent that i love!! There aren't any products that i've came across that smells similar to this one!! :D
Packaging: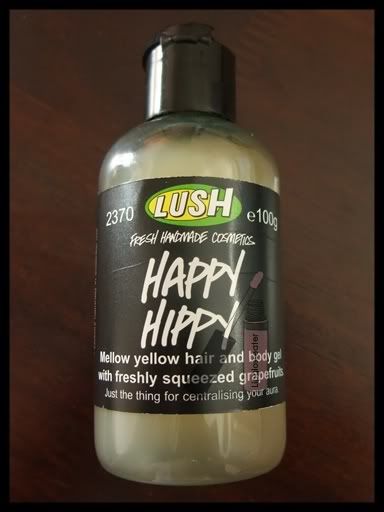 This shower gel comes in a rather hard plastic bottle, which is quite annoying considering how hard it is to squeeze out the product! It comes with a with a flip top cap which is super fragile... mine broke in transit:
Price & Availability:
This shower gel is priced at US$9.95 for 3.3 Fl. Oz (RM35.62) /£2.80 for 100g (approx. RM13.60) / Rs. 330 for 100g (approx RM26.93) each, so if you have friends visiting the UK, do buy this from there as it'll be alot cheaper!! :D This should be available at all LUSH stores, as well as on their website! There're 2 bigger options available - US$17.95 / £5.50 / Rs. 610 for 8.4 Fl. Oz / 250g and US$26.95 / £9.60 / Rs. 1150 for 16.9 Fl. Oz / 500g respectively.
My $0.02:

This is the other Christmas pressie i got from the super generous
Miss Plue
! She knows how reluctant i was to shell out $$$ for this one, so she got it for mua during Christmas!! Thank you sooooo much!! :D
Me loves this one to bit!! From the amazing grapefruit scent (which smells NOTHING like
the one from The Body Shop
), to how nicely it cleanses, right down to the cute name!! Whats not to love about it?? :D
Unfortunately, a few things! Firstly, its not available in Malaysia (cries)!! 2ndly, the cap breaks super easily as you can see in my pic above! Mine is now replaced with an old cap from a TBS shower gel which thankfully, fits! Finally, it's quite expensive to pay so much for that miniscule amount you get!! :(
Thankfully, the product itself does not disappoint, so i'll repurchase it - when i don't feel so poor! lol!! :D I'm using this one only during trips or whenever i feel like a treat (read: sparingly) to make it last as long as i can!! :D
Credit: Product pic from Lushusa.com.