ps: loooong, picture heavy post ahead! Please be patient! :)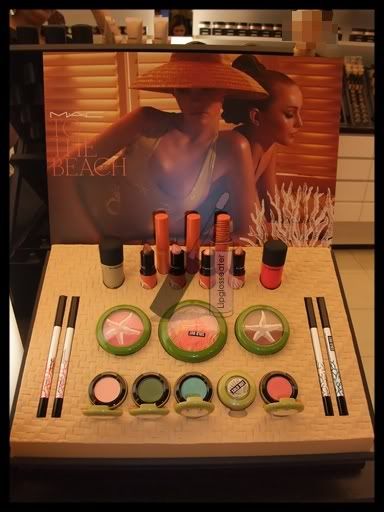 You know its summer already when cosmetic brands start to come up with Beach themed collections (which is my favourite for collections because of the bright colors)! :D The MAC To the Beach collection is a typical one - bright summery colors, beachy names and repromotes of bronzers and luminizers to give you a post-summer vacation glow! Whats not to like? :D
Ok enough blabla for now! Lets go straight to the swatches! :D
Eyeshadows (US$14.50 / RM58):
Sand & Sun (Matte)
- Light Peach. This has amazing texture for a matte! :D
Firecracker (Veluxe Pearl)
- Frosted mid-tone red orange. What a hot color this one is, but i personally think that i won't have much use for it! :D
Sweet & Punchy (Veluxe Pearl)
- Bright yellow green. This is a dead ringer for the Rated R eyeshadow from the
Love that Look collection
last year! :) This is sold out in Penang already.
Shimmermoss (Veluxe Pearl)
- Green with green pearl. This one looks more teal-ish to me than straight up green though! This is part of the permenent line, so if you're not into limited edition packaging, you can wait to get this one! :D This is sold out as well.
Humid (Frost)
- Intense green with shimmer. I'm so glad that MAC released this in limited edition packaging because i had wanted to get this color since forever, but never gotten around to just because i didn't feel the urgency to get it since it's permenant! :D
Lipsticks (US$14 / RM63):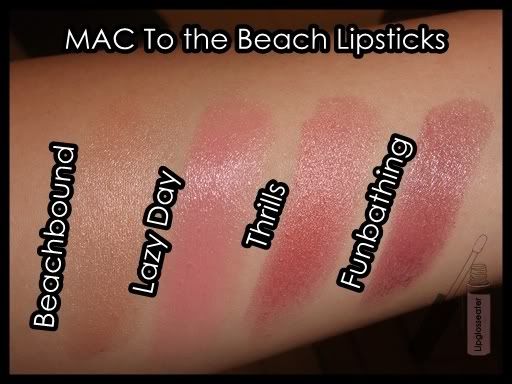 Beachbound (Glaze)
- Sheer frosted pale peach. This one will look beautiful layered over other lipsticks! :D
Lazy Day (Lustre)
- Light dirty blue pink. Not a very unique color, but this is sheer enough to fit most skintones i think! :D
Thrills (Frost)
- Rosy copper with gold pearl. This color is amazing, and the gold sheen just makes this shade DIVINE! :D
Funbathing (Cremesheen)
- Mid-tone bronzed plum. I personally think that this doesn't belong here - it looks more like a fall color no?? :D
Lipglasses (US$14 / RM63) & Lip Pencils (US$13 / RM:
Easy Lounger
- Light baby pink with multidimensional pearl. Another of those universal flattering but utterly boring shades MAC is so fond of putting out so very often, this however, looks absolutely beautiful layered over any lipsticks! :D
Flurry of Fun
- Sheer sparkly peach. This one is more orange that i pictured it to be!
Splashing
- Mid-tone blue pink with soft gold pearl. The most pigmented of the lot - this one goes on opaque! :)
Life's a Breeze
- Soft pink. This is quite a lovely color! :D
Temperature Rising
- Loudmouth orange. This color is definitely not for the faint of heart! :P
Eye Kohls (US$14.50 / RM62):
Float on By
- Dark green turquoise. This shade is stunning!! :D This is sold out as well.
Rosemary & Thyme
- Mid-tone olive gold with shimmer. This is permenant! :D
Blushes (US$18.50 / RM75):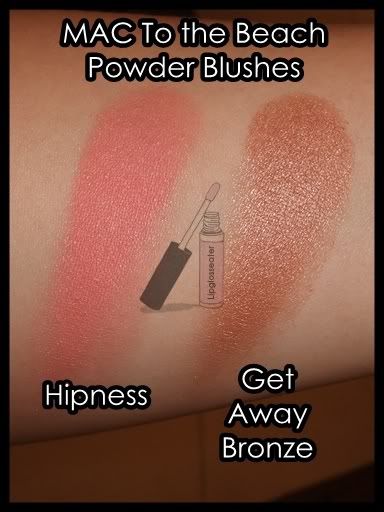 Hipness (Frost)
- Intense coral with soft white pearl. This is such a lovely color! A repromote from Fafi. Read my review
here
. This is sold out already.
Get-Away Bronze
- Mid-tone suntan. Yes, this one is a bit frosty, but with a light hand, it looks really really nice! :D
High-light Powder (US$26 / RM90):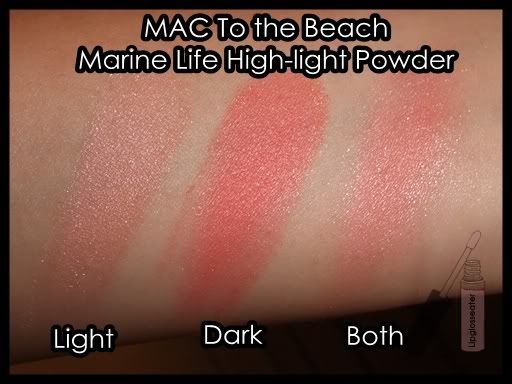 This is probably one of the most pigmented highlight powders ever! :D I don't think i'll be using mine anytime soon though... i'll be so heartbroken when the gold sheen is gone!! :P This is sold out already btw.
High-light Powder (US$12 / RM42):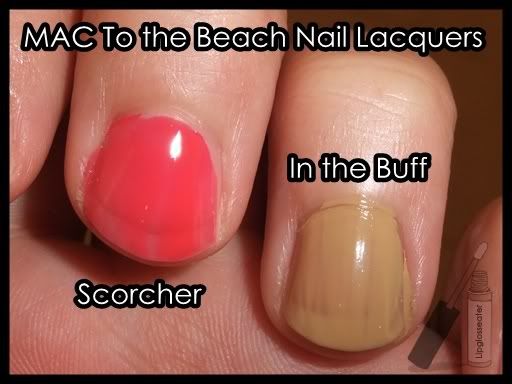 One coat each. Please excuse the sloppy application - will explain more later.

Scorcher
- Creamy bright coral red. This is such a hot color!! :D
In the Buff
- Muted taupe avocado. Not really a fan of this color... it looks like poo imho!! =X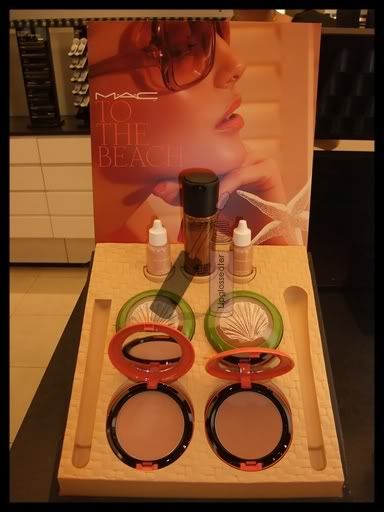 The next part of the collection consists of bronzers, luminizers and two limited edition brushes! :D
Bronzing Powders (US$22 / RM90) & Creme Bronzers (US$25 / RM105):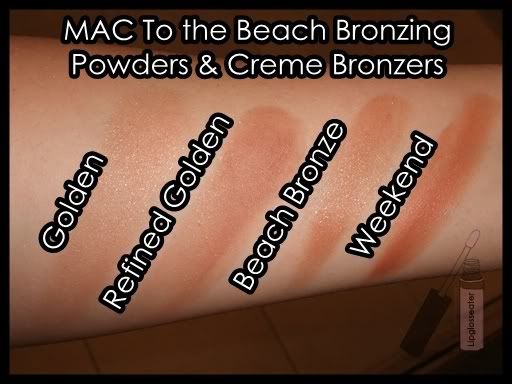 Golden
- Muted golden tan-beige with golden shimmer.
Refined Golden
- Finely spun golden with soft pearl finish.
These two powder bronzers are from the permenant line, and are almost always repromoted in LE packaging for the summer collection! :D
Beach Bronze
- Golden glow with soft gold finish
Weekend
- Mid-tone deep orange brown with soft pink pearl
The creme bronzers are new and limited edition! They have a wonderful texture and finish, but i wonder how well will they hold up in the heat and / or on oilier skins!
Lustre Drops (US$18.50 / RM75) & Bronze Body Oil (US$22 / RM95):

Pink Rebel
- Blue pink with gold pearl. I don't detect any blue tones in it though!
Sun Rush
- Peachy bronze with gold pearl. This one is beautiful as a highlighter!! :D
Both lustre drops are repromoted from last year's
Style Warriors collection
! :)
Bronze Body Oil
- It adds a nice tan to the skin, but i think you'll need to be thorough with blending it into your skin to avoid patchiness! :) This one's sold out already as well.
That's all for To the Beach! Let's move on to Superglass! :D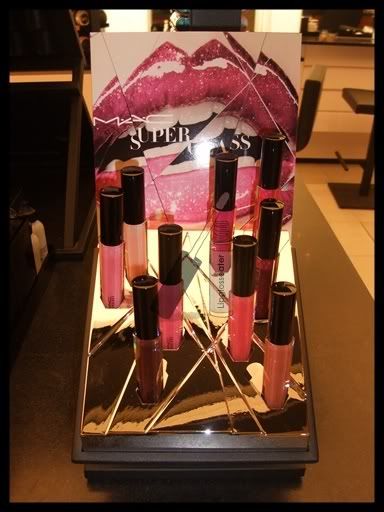 I personally find the particles are a little too big for my liking, and the color choices are not too exciting as well! :( These glosses go for US$18 / RM80 each.

Gift Wrap
- Light pinky peach.
Disco Blend
- Light tan.
Sugar Overload
- White beige.
Sweet Tart
- Baby pale pink.
Superflash!
- Mid tone yellow pink.
Cherry Electric
- Bright cherry pink.
Totally Bang!
- Fuchsia.
Fab Frenzy
- Deep blue purple.
Tunnel of Love
- Deep blue brown.
And i'm done with the swatches!! :D I know, some of you wanna know what i got right?? Here's a teaser pic for you all! :D
Guess what i got?? :D :D
Oh before i forget, somewhere up in this post i said i will explain why the nail polish application was so horrid right?? I was totally distracted by this baby: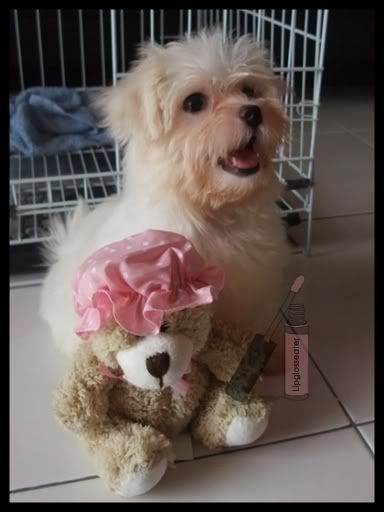 Yes, Jenn finally got her own puppy!! :D The husband brought her to MAC to surprise me when i was swatching the stuff above!! I'm super happy!! :D
This is our first time raising a puppy, so please share any tips that you thought it'll be useful for me to know!! I'm totally clueless now!! hehehe!! :P