At a Glance:Price:
US$18.50 / RM75
Website:
Maccosmetics.com
Weight:
6g / 0.21 US Oz.
Made in:
Canada
Likes:
Lovely color, amazing texture, great staying power
Gripes:
None!
Repurchase:
Yes, if i ever run out (and its being repromoted)! :D
Jenn's Rating:
4.5 Stars! Me really Likey!!! :D
Ingredients:

Product Description
Colour for the cheeks and face. Various formulas. Different looks.
Actual Product Pic (Mine was from the Fafi Collection, so it looks different from the stock pic):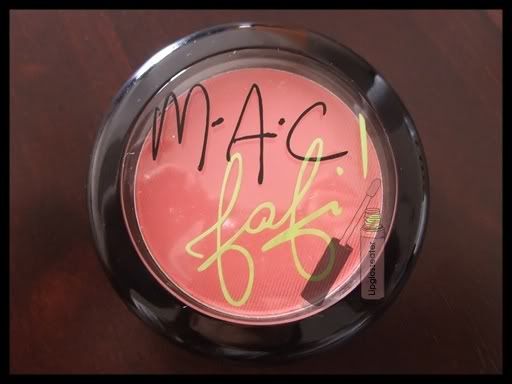 Pigmentation & Color:
This blush is really pigmented, so its wise to adopt a light hand whilst applying this! :D This shade is described as a
intense coral with soft white pearl
, though i personally think that it looks more peachy when applied than coral though! :D
Swatch:
This is how it looks on my NC20 skin (left side. Right side purposely left bare for contrast :D):
This is one gentle swipe with the MAC 187 skunk brush, so you have an idea of how pigmented it is! :D
Texture:
The texture of this one is quite smooth, and it blends easily!! :D
Packaging:
I got mine from the Fafi collection, so this one has a different packaging. The size however is the same as the usual pot blushers from MAC :)
Time Test:
This blush lasts about 8 hours on me, which is really great!! :D The swatch that i did on my arm above actually lasted 11 hours (with 5 hours tending to a BBQ pit! lol!!), which is really amazing! :D
Price & Availability:
This blush is priced at US$18.50 / RM75. This is a LE item, but its going to be repromoted soon, so keep your eyes peeled! :D
Usage:
This is one of my fool-proof colors to use! :D
My $0.02:
With the
MAC To the Beach collection
coming up soon, i thought i'd give my review on this blush which will be repromoted with this collection! :D
I'm actually glad that i managed to get my paws on this baby because if i remember correctly, this blush did not make it here to Penang when they launched the Fafi collection, so i'm really grateful to my friend for helping me purchase this! :D
This is a wonderful blush which for my skintone, goes with EVERYTHING! Blue eyes, green eyes, smokey eyes, neutral eyes, also can! haha!! :D
I also love how pigmented this blush it. Just one swipe with the skunk brush on each cheek and i'm done! The texture's lovely too! :D
There's nothing i don't like about this blush, maybe except that it's limited edition! :D Such a lovely shade should be made permenant already!
Photo Credits: Product pic from Specktra.net.