I got to check out stuff from this collection on Thursday! I wasnt very excited about this one, and seeing it in person confirms my indifference towards this collection! :P The only thing i was remotely interested in was the Instant Chic blush, but even that one didn't scream "wow" at me! :(
Unfortunately we did not get the Chromagraphic Pencils, so i apologize for not having swatches for them!
Ok, lets go straight on to the swatches! :D
Eyeshadows (US$14.50 / RM58):
Tissueweight (Frost)
- Frosted pale peach. This one is not terribly unique, but it has a lovely texture! :)
Bamboo (Matte)
- Light beige with peach. The texture is quite smooth for this one despite it being a matte shade! No hurries to get this one though, it's permenant! :)
Cut to Fit (Frost)
- Frosted red bronze. This has the best texture out of the 5, and the color is gorgeous! :D
Memorabilia (Matte)
- Dirty purple. This one is kinda chalky! This is repromoted from the Originals collection.
Gazette Grey (Velvet)
- Dark green grey with gold pearl. What a unique color!! Unfortunately its a bit chalky :(
Impeccable Brow Pencils (US$15 / RM62):
Dirty Blonde
- Cool light brown.
Taupe
- Mid tone dirty taupe
This is a repromote from the
All Ages, All Races, All Sexes collection
. As i have mentioned in my earlier review, these pencils go on patchy. I felt they were kinda hard too!! :(
Paint Pots (US$16.50 / RM70):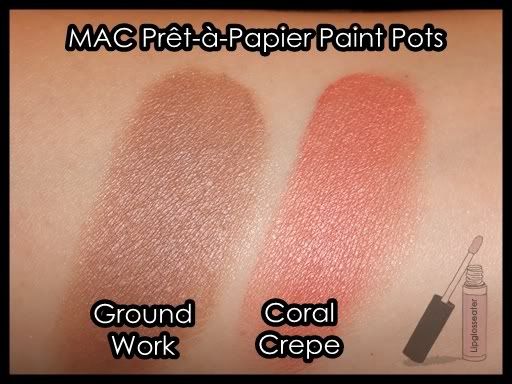 Ground Work (Satin) - Mid tone neutral taupe. This one is permenant
Coral Crepe (Satin) - Soft coral. This is such a lovely color, but i dont see myself having much use for it!
I'll have to say that i'm pretty impressed with the texture of these two paint pots! The ones i've tried before are hard and difficult to spread, but these just go on like buttah! :D
Lipsticks (US$14 / RM63):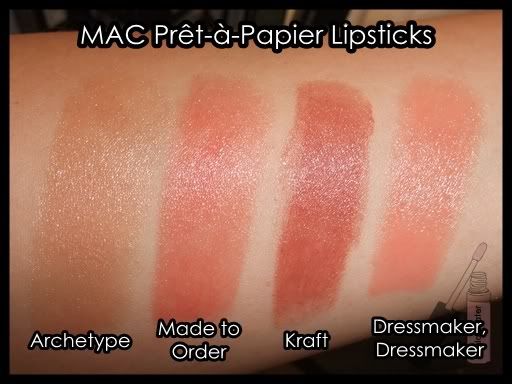 Archetype (Lustre)
- Sheer light gold. This one is such a disappointment! The color is blah, and it is terribly sheer! :(
Made to Order (Lustre)
- Creamy mid tone dirty coral. This color takes several swipes to show up.
Kraft (Amplified)
- Creamy mid tone brown. This color will look beautiful on darker skintones!
Dressmaker, Dressmaker (Lustre)
- Creamy light peach coral. My favourite of the bunch!! So pretty! :D
Lipglasses (US$14 / RM63):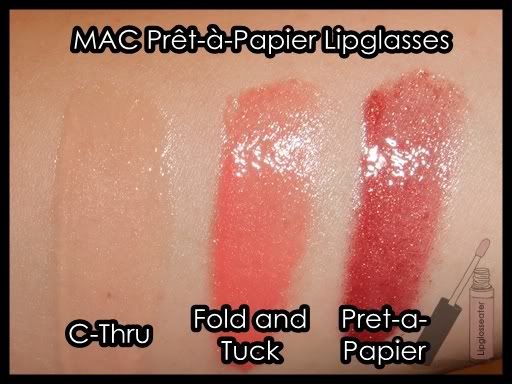 C-Thru
- Peachy beige with shimmer. This one is permenant! :)
Fold and Tuck
- Mid tone bright coral with soft pearl. Methinks that this color will look good on most skintones!
Pret-a-Papier
- Dark reddened brown with pearl. What a hot color!! :D
Blushes
(US$18.50 / RM75):


Instant Chic (Sheertone)
- Mid tone muted coral. This one is quite powdery, so if you have it remember to buff it into your skin!
Garb (Sheertone)
- Light golden suntan. I'm quite surprised with this one - i thought it'd be darker in person!! :D
Mineral Blush Duo
(US$23 / RM95):


From left: Marbelized side, solid side, both sides mixed
Light Over Dark
- Orange yellow mélange / deep brown. Hmm... i don't remember this one being this light, but i thought that this one's lovely! :D This is repromoted from the
Grand Duos collection
.
Nail Lacquers
(US$12 / RM42):
Two coats each. Please excuse the sloppy application!
Originality (Frost) -Sparkly copper bronze. This is such a beautiful color!! :D
Brown Bag (Cream) - Mid tone warm dirty beige. I'm not really feeling this color...
Thats all for now? What'dya think about this collection? Do you like it, or like me it felt a little blah to you too? BTW this collection is coming out on the 11th of May in Penang, so head on to MAC then if you want to grab something! :D Have a great weekend people! :D